BWW Review: ABIGAIL'S PARTY is One Drinks Party You Simply Cannot Miss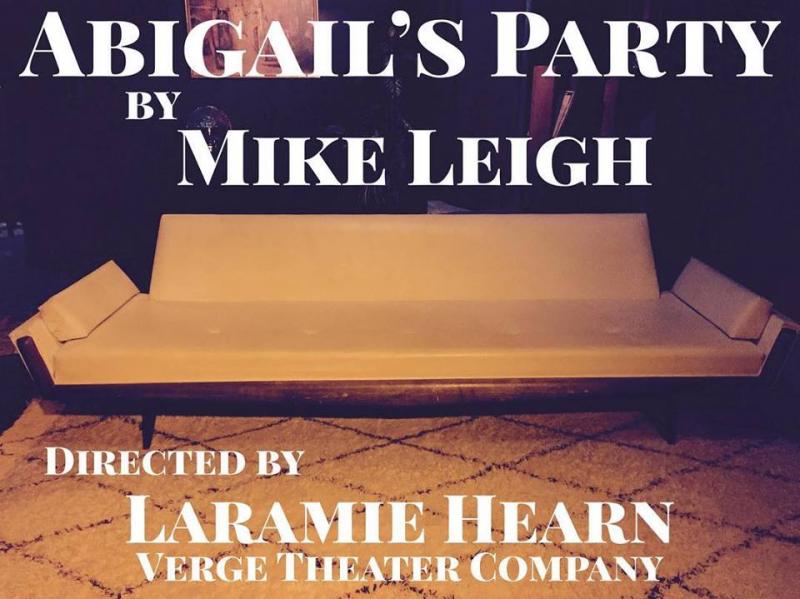 What better way to spend a Saturday night - or any other night of the week, for that matter - than at Abigail's Party, the latest theatrical offering from Verge Theater Company? Featuring a wonderfully engaging ensemble of actors, Abigail's Party is now onstage through February 17 at The Barbershop Theater.
Director Laramie Hearn's affectionate (yet incisive and intuitive) production of Mike Leigh's 1977 comedy takes audiences on a not-so-sentimental journey back to the year of Jimmy Carter's inauguration, the launch of the Apple II, Elvis' death and my junior year of college during which time I was photographed wearing a Nazi SS uniform, thus upending any hope I ever had of running for public office, the 1988 photo of me in Confederate uniform notwithstanding.
On the particular 1977 Saturday night in question, 15-year-old Abigail Lawson is throwing a party for her mates while her mum is down the street at Beverly's drinks party (what we'd call a "cocktail party" on this side of the pond), a gathering of five neighbors that starts out fun and frivolous, but ends in tragedy that's limned with gallows humor and enough irony to make Virginia Woolf weep. In fact, the bickering between the slightly blowsy and bossy Beverly (played to the very hilt by the luminous Kim Bretton) and her condescending, if hard-working, estate agent husband Laurence (the pained and resolute Michael Roark) is almost certain to invite comparisons with Edward Albee's 1962 play Who's Afraid of Virginia Woolf, although drinks at Beverly and Laurence's is decidedly more comedic in tone and the intramarital sniping isn't quite so vehement. (Interesting factoid: Roark directed ACT 1's stellar version of Albee's play in 2010).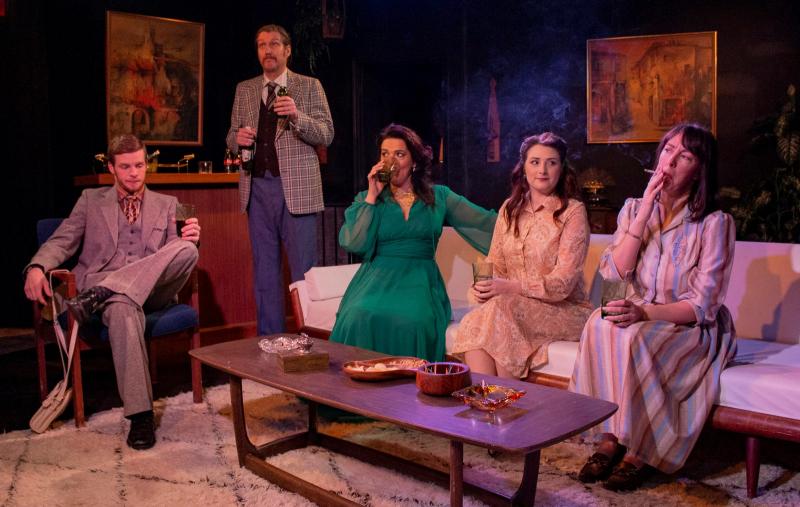 Leigh's 1977 play, which grew out of a series of improvisations overseen by the playwright as his actors played out the situations in which the characters found themselves, is a modern drawing room comedy which proved so successful in its initial production that the BBC snapped it up for an equally noteworthy television broadcast. Now, some 40+ years later, Leigh's script is as trenchant and as entertaining as ever, proof of which may be found in Verge Theater's rendition - a delightful midwinter offering sure to provoke much discussion among the theaterati lucky enough to crash the fete on Indiana Avenue over the span of a far-too-brief three weekends.
With her superb direction, Hearn delivers an engaging comedy that comments on ever-present British class struggles and the changing roles of women and men in contemporary culture, whatever or wherever that may be, and she keeps the play's action flowing at a terrific pace that keeps audiences on the veritable edge of their seats. Grab yourselves a G&T or a glass of lager and settle in for a wild ride to challenge Mr. Toad's decidedly less frenetic jaunt.
Bretton's easy charm allows Beverly's most abrasive personality traits to be laughed off as too eager or too liquored up - depending upon one's perspective, we suppose - and her ability to morph from one seemingly unforgettable character to another shows off her chameleon-like skills to absolute perfection. Whether in Vincent in Brixton, Becky's New Car, Hand of God or any of the other productions that have benefitted from her estimable abilities, Bretton proves herself the very picture of theatrical versatility. For all intents and purposes, she owns whatever stage she is on at whatever particular moment she's on it, and she swans about in Abigail's Party with so much sex appeal and sensual charm to prove her stageworthiness with alacrity and vigor.
In fact, Bretton elevates any script with her energy - and her bravery renders any character she plays as authentic and thoroughly believable. Perhaps most important, however, is her generous onstage rapport with other actors: If Kim Bretton reading the phone book could sell tickets (and I have no doubt, it would be a blockbuster box office hit), you might rest assured that other actors recruited in support of her performance would achieve remarkable acclaim even if they were simply turning pages for her.
Of course, it doesn't hurt - in the case of Abigail's Party - that Bretton, the expatriate Brit who now calls Nashville home, can easily identify with her character (Beverly previously presided over a department store cosmetics counter) and delivers her enviable dialogue with the British accent called for by Leigh's script, y'know what I mean? Likewise, her presence (along with that of Nettie Kraft, one of the region's best-known dialect coaches, as Abigail's mum Susan Lawson) ensures that everyone "talks right" in Hearn's excellent evisceration of social-climbing, middle-class British values.
If not for the fact that I would drink Bretton's bathwater three days old, so enraptured am I of the actor's talent, I could wax equally rhapsodic about the performances of her four castmates, each of whom deliver terrific, on-the-mark portrayals of Beverly's cohorts.
In addition to the aforementioned Roark and Kraft, their number includes Britt Brown and Kit Bulla (making his Nashville stage debut) in the roles of Angela and Tony, the young couple who've recently decamped to Richmond Road to make their home among the denizens of the estate who've come before them. Brown's Angela is a nurse, while her husband Tony is "in computers" (he's just an "operator," so he's not pulling in the big bucks just yet) and a former footballer who stopped playing at 20 despite being on the first team and a burgeoning star to boot. Like Who's Afraid of Virginia Woolf's Honey and Nick before them, Angela and Tony are mere innocents (especially in comparison to Beverly, less so in contrast with Roark's rather straitlaced Laurence) and the convivial neighborhood gathering that kicks off the evening quickly spirals into something less frothy and more substantive.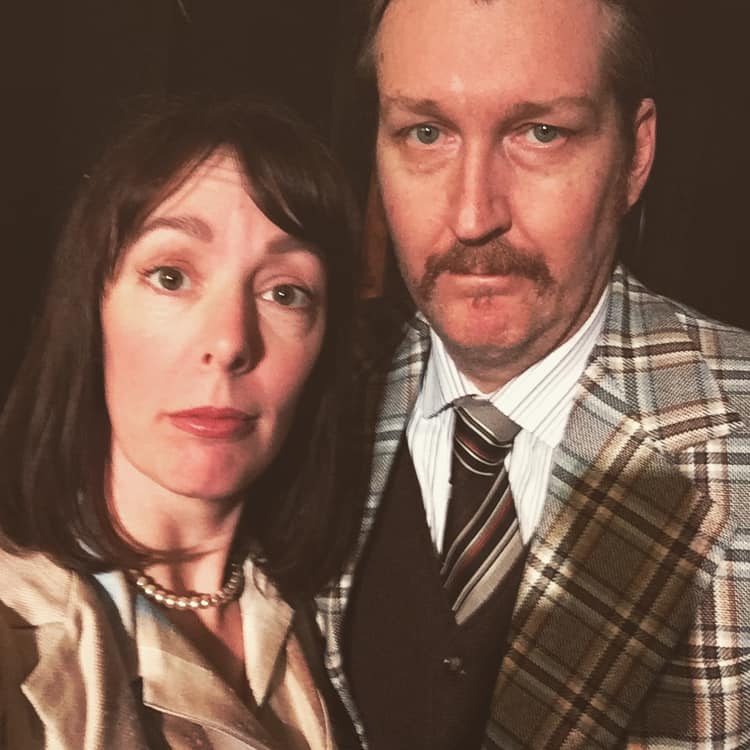 The recently married (in real, offstage, life) Brown has never been better than she is as Angela. Confident and assured, she plays the wide-eyed young married (she and Tony have been Mr. and Mrs. for three years, we learn early on) with poise, allowing herself to devolve into a beautiful mess after seven or eight of Beverly's gin and tonics with ice and lemon. Intelligently, Brown never allows herself to become too much of a lush, retaining at least a modicum of control over her actions, and convincingly becomes more inebriated with each passing moment.
So inebriated does Brown's Angela become that she seems to overlook - or maybe she chooses to do so - her hostess' flirtation with the young and virile Tony, played with barely contained, seething rage by Bulla, whose local debut is something to see indeed. When he enters the arena that is Beverly and Laurence's nicely appointed (what with its late 1970s Ideal Home-inspired décor) home, Bulla plays Tony with an intensity that instantly telegraphs there's more to be divined beneath the surface of his middle-class good looks. It's up to the audience to discern exactly what Tony is hiding beneath his three-piece suit (both metaphorically and physically), but Beverly clearly takes notice and when she and the younger man engage in a dry-humping kind of partner dance (while their spouses watch), the mystery only deepens.
Roark's portrayal of Laurence as a slightly churlish and diffident workaholic is spot-on and, from the moment we meet him, during which Beverly derides him for essentially everything he says or does, you can sense his barely contained rage simmering beneath the surface of his officious demeanor. Yet instead of the expected eruption of his temper, Roark - ever the controlled gentleman - manages to keep his anger just under the boiling point, thereby making Laurence all the more memorable and fun to watch.
Kraft is wonderful as Susan, showing off her character's tense behavior and uncertain tone to perfection. With her impeccable timing and self-assured delivery, Kraft makes even the most decorous of moments almost shockingly amusing and off-kilter, and her expressive eyes allow Susan to become the ideal conduit for the story to be told to the audience only a scant few feet from the onstage action. Kraft's stage presence is so potent, in fact, and her commitment so palpable, I'd watch her read the yellow pages in concert with Bretton on the white pages.
As delicious as the actors' performances - and they really are meant to be savored - are their costumes, designed by Colleen Garatoni: Beverly is clad in a beautiful emerald green hostess gown, while Angela and Susan are dressed in dresses more pedestrian and mundane (and far less colorful), while Laurence wears a hideous plaid sport coat with blue slacks that are emblematic of the height of 1970s fashion, however questionable is my use of that word, and Tony wears his well-fitted suit with a casual elan that befits him. Kudos to Garatoni for her fashion-conscious sleight of hand that activates the time machine that takes audiences to the time and place of Abigail's Party.
Daniel DeVault's lighting is impressively designed, while Nettie Kraft's artfully decorated set provides the right and proper setting for the onstage hijinks. In addition, Kaitlyn Barnett's sound design provides the aural ambience that keeps the audience engaged, while Sarah Bolek's props are right on target for the 1970s.
Abigail's Party. By Mike Leigh. Directed by Laramie Hearn. Presented by Verge Theater Company at The Barbershop Theater, 4003 Indiana Avenue, Nashville. Through February 17. For details, go to www.vergetheaterco.org. Running time: 2 hours (with one 15-minute intermission).
Related Articles View More Nashville

Stories

Shows
Jeffrey Ellis is a Nashville-based writer, editor and critic, who's been covering the performing arts in Tennessee for more than 35 years. In 1989, Ellis (read more...)