Review: THE PROM at Chanhassen Dinner Theatres
The Prom runs through June 10, 2023.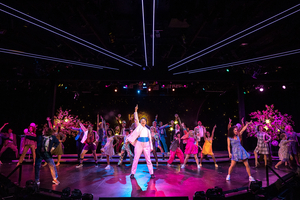 Glitz, glam, and heart fill the main stage of Chanhassen Dinner Theatres (CDT) where a new production of The Prom is being mounted. Close on the heels of a successful Broadway run and a flashy Netflix film starring the likes of Meryl Streep, Nicole Kidman, Ariana DeBose and Keegan-Michael Key, The Prom has come to a regional theatre near you and it is certainly one that is not to be missed.
Loosely based on true events, fictional Emma Nolan, finds herself embroiled in a so called scandal when she makes it known that she wants to bring her girlfriend to prom, resulting in the PTA cancelling it for everyone. When news of the cancellation reaches four recently unemployed broadway actors, they decide to travel to Indiana to make a stand and hopefully gain some positive press in the process. Setting the stage for a clash of cultures, the fight for what is right, and a plethora of jazz hands.
The Prom is a story that is at it's strongest when the actors are able to settle into the roles and share the authenticity that has been written into them. The script is very clear who each character is and what their motivations are, but it is clear that the team at CDT has taken the time to allow the cast to dig in and fully realize these characters. Bringing them to life in glorious fashion.
Seeing a cast of such diversity breathe life into this show creates a sense of ease, allowing the audience to feel like they are a part of the story that is being told. The Prom is a flashy musical at times, with "fiery songs and dance breaks" but the intimacy of CDT's main stage provides this production the ability to share it's message as if we are in the room with these characters. For that reason, The Prom that is currently running at CDT rivals the Broadway production. Not to mention the talent that is on display.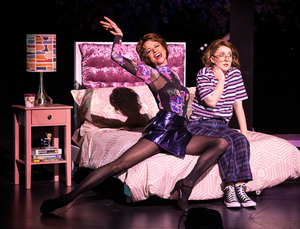 The cast is stacked with rising stars and veterans of the stage. It is a cliché but in this case it is true, there isn't a weak link within the cast. Leading the charge is Monty Hays who gives a brilliantly authentic portrayal of Emma. They navigated the role with such grace and ease that you would be convinced that they were a real person that was plucked out of high school and thrown on this stage to live their truth. Hays knows just when to land a comedic line but can turn around and break our hearts just as easily. A true rising star in our midst.
Shining alongside Monty the entire way is the sensational Tod Petersen as Barry Glickman. His characterization of Barry is nothing short of astounding. He had large shoes to fill after Brooks Ashmanskas' performance on Broadway but Petersen is a triumph. He knows just how to walk the fine line of Barry's flamboyancy and charm, which is a breath of fresh air after the film's portrayal of the character. Through Petersen's heartwarming performance, everyone can agree that he would be the best "middle aged" gay best friend.
The messages shared throughout this production seem to resonate more today than ever before as our current social climate seems so focused on labels and pulling us apart, while limiting other's rights. It is no wonder that Chanhassen Dinner Theatres selected this show to open 2023. It is wonderful to watch a group of actors work together to create a story that, at it's core, is all about what makes us the same and how we all just want to be loved for who we are.
The entire production is a blessing to the world. The dancing is top notch, the singing is transcendent and the acting is hysterical and heartbreaking. The Prom truly is a perfect night out at the theatre. So, iron your tux, press your dress, grab a date and your corsage/boutonnière and head to Chanhassen Dinner Theatres for a night out at The Prom running through June 10, 2023.