Interview: Atlas O Phoenix of TRANS - LATE at Bryant Lakebowl Theater
This production will be on Friday, February 3, 2023.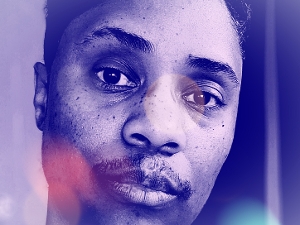 FOMO in community? Come to Trans-LATE! Trans-LATE! is a fun, new low-key bimonthly wellness event and community fundraiser created, founded, & produced by Atlas O Phoenix.
This event centers Trans, Intersex, Asexual, and Nonbinary folx with QTIPOC majority representation in our rotating cast of performers. See that anywhere else? We didn't think so! Talk about FOMO! All are welcome! Please, be respectful of those in the center.
We chat with Trans- LATE! Producer Atlas O Phoenix [ they/them ] about this event.
What inspired you to put on Trans-LATE?
The inspiration for Trans-LATE! came to me when I had my 52nd birthday and therapy graduation costume party at Bryant Lake Bowl last November 5th.
I rented out the theatre space for a private party. My friend Kori made a fun playlist to play on Spotify, The Original AOP. The theme was to dress up as your trauma or traumatize us!
The costumes were fantastic! Someone came cleverly dressed as gig economy and their partner was a woman in a jogging suit with a pearl necklace. We had a terrifying Siamese cat. We had a "Karen." Two people showed up as religious trauma! I gave out prize money obviously to "Karen," and the religious trauma survivors.
What I noticed was that we were all either trans, intersex, nonbinary and queer, except for my straight friend and ally, Melissa. So here we were: us community members and our ally. By the end of the night people were friending each other on Facebook!
There were only ten of us, but it was so fun, chill and relaxing. When I came home, I thought, "Wouldn't it be cool to have something like this for my communities on a regular basis?"

I was a cast member in the legendary 21-year-running drag show, Dykes Do Drag, which was held at Bryant Lake Bowl. I talked with my friend Jem, who came as depression to my costume party, and together we tried to come up with a cool name. Originally, Trans-LATE! was going to be a dance party, like my birthday party, so we thought most of our community members are some version of neuro-spicy, and we are often losing track of time and are late to things. I've been late most of my life; I was born two months late! That was the first problem between my mother and I!
We also considered that it was late at night because it was supposed to be 9-midnight. So Jem came up with the name Trans-LATE!.
I still wasn't sure. How would I fund it? After a little bit of gentle pushing from Jem, I decided to contact Bryant Lake Bowl. I figured it was a long shot, but I tried anyway. We got a night: February 3rd. Then the Minnesota Transgender Health Coalition and RARE Productions stepped in to finance it, because it is considered a wellness event because of the covid precautions. Trans-LATE! requires masking. We have David Birchard-Weissman of Twin Cities Gay Scene and Transcendence Cabaret and the entire community helping us promote the event! All this came together in a matter of weeks.
I had reached out to Transcendence Cabaret, at the beginning of December. This is a BIPOC centered drag troupe, headed up by the wonderful Eun Bee Yes. I figured this was also a long shot, too. They were more than thrilled to join Trans-LATE! as our entertainment and promotions sponsor. I am proud to say that everyone working this event is getting paid what they asked for or more if I felt it was appropriate for the services they provide. Paying my artists and staff was imperative to me.
The other inspiration came from my participation in reading the month of March during the Trans Day of Remembrance last November with my co-host Gender Meowster for our gender diverse talk show, Genderful. We celebrate and talk with gender diverse people from all over the world.
I read over 30 names of individuals who were either murdered, medically neglected in a way that led to their death, or had completed suicide. The youngest person on that list was a 10-year-old trans girl across the pond. She had completed suicide. In her picture, she looked to be in so much pain.

These were beautiful people trying to be who they were born to be. There were over 380 names on that list from October 2021 to October 2022. Some had no name, no city, no age, no picture but we honored them because they had a life worth remembering.
Three young people were from Minnesota. My heart is broken. I hope I am never on this list. If creating a space like Trans-LATE! can give a voice to my communities, a place to feel loved and deserving, then maybe we won't feel so all alone.

What does this production in entail?
First, I should say that Trans-LATE! is a hybrid event. The cabaret can be seen in person and on Zoom. Some folks are still a little leary of coming into public spaces due to being immune-compromised or simply wanting to stay safe.
I wanted to extend an olive branch and invite them to join us. And anyone in the world can see this cabaret! They can purchase a ticket and email transcendencecabaret@gmail.com to get the Zoom link emailed to them a half hour before the show.

The production entails a cabaret from 7-9pm featuring troupe members of Transcendence Cabaret. We are also introducing our Newbie Draggons (new to this, drag, and dragon) to join us for their second performance in their new drag career. I will also be showing my film, Ordinary.

The theme of the night is, "What is Love?." I asked the performers to create an arc that moves from dark to light in the expression of all the kinds of love there is from romantic love, platonic love, and self love. The cabaret will end with my film.
From 9ish to midnight, there will be a disco and house music Valentine's Day dance Party. It's a red/yellow/green/purple light dance party. We're giving out neon glow-in-the-dark bands for people to make necklaces and bracelets in whatever color they desire! Red is unavailable, yellow is it's complicated, green is available, and purple is the wild card!
There will be a food buffet consisting of 2 pizzas, a taco bar, hummus and pita chips, and a Valentines Day Costco cake complete with a rainbow, sunshine and big puffy clouds! The buffet is for everyone, but also intentionally placed for those experiencing food insecurity.
How does this production support the community?
Trans-LATE! is also a community fundraiser. This month the show is fundraising for TIGERRS and for The Phoenix Ascension Grant. I am designing this grant for BIPOC transmasculine and nonbinary folx. I recently had a bad experience with trying to find an electrolysis service provider in preparation for my bottom surgery later this year. I need the hair removed from my left arm.
It was a harrowing experience to find a provider but I eventually found an amazing provider in St. Paul, MN. We are interested in creating change so that insurance companies will cover this necessary service so that providers can get paid their full fee and someone like myself can get the service covered.
We are in talks to create a gift card that will cover up to 12 appointments. I need to raise funding for the grant in order to give out not only gift cards for electrolysis, but needle kits, binders, and financial assistance for those experiencing homelessness.
TPAG is being financially managed by RARE Productions. It is new and I hope to have applications ready to go in late spring so we can help people in early fall.
TIGERRS and TPAG will each receive 10% of our ticket sales! So even if folx can't make it that night buying a ticket offers direct help to our communities.
We are looking for ASL interpreters for the cabaret to have them sign the lyrics of the songs being performed. We will have four available spaces for wheelchair users and their guests. We will also have the first row, four of these seats held for those who are hard of hearing or deaf. They will be seated in front of the ASL interpreters. Zoom audience members will be able to pin the performers and the ASL interpreters on their screen.
There is a gender neutral bathroom inside the theatre. It is not ADA compliant, but a smaller wheelchair can fit. There are hold bars and a scald guard on the sink pipes.
We also created accessibility statements for the audience and cast thanks to Minda Mae our statement writer. You can find the statement on the event in Facebook: https://fb.me/e/3q0OYgGwB
Youth are encouraged to join us. We will have some teens in the audience. Some teens are going to be joining us, so I am giving out rainbow roses with handwritten affirmations. I gave these out last Pride when I dressed up as a Phoenix and did my best to spread love. I was not prepared for the love I got back. It was a beautiful experience. I am doing this again this Pride.
What do you hope anyone who attends this event takes away from it?
I wanted to create a space for the "invisibles" in our community: trans, intersex, agender, nonbinary, bisexual, pansexual, and gender queer individuals and more. My hope is that our community members and our allies feel at home in this environment.

Although I have resigned from the following identities, and simply wish to be identified as a human being, I am identified as transmasculine, nonbinary, homosexual, Black, and biracial. The cabaret features an even split of BIPOC and White performers. Our DJ, Drew Untethered is BIPOC and nonbinary.

In light of the LGBTQIA2S+ Club Q and Pulse Nightclub shootings, we will also have security by SeQueerity, a queer owned security company in Minneapolis.
While there's no such thing as a "Safe Space," I want to create a space were people can feel free to be themselves; A space where Life, Liberty, and the Pursuit of Happiness lives and breathes within these walls, even if it's just for one night. February's show is a test to see if we can bring it back again as a bimonthly showcase at Bryant Lake Bowl.

They have been absolutely wonderful is assisting us through this process. My show has been dubbed the most complicated show ever held at BLB! It's their first hybrid show and all the things we're doing are unprecedented.
What are your favorite local spots?
Ooo! So many! Bryant Lake Bowl, of course! Amazing Thai, Origami, Matt's Bar and Grill - those Jucy Lucy's! BResale, Cheapo's, Five Watt, Butter, Lotus, Smitten Kitten, Bondesque, Woullet's, Galaxy Pizza, Lagos Tacos, and Chicago's Very Own just to name a few. Lol.

Thank you Atlas O Pheonix for your time!
For more ticket and show information, please click the ticket link button below.
Instagram:
@trans_late_mpls
@beautiful_boi_atlas_phoenix
Email:
trans.late.mpls@gmail.com
Website:
www.beautifulboi.com