BWW Review: LOVE NEVER DIES sequel fails to bring back that loving feeling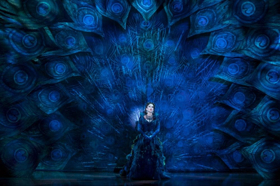 Who knew there was a sequel to PHANTOM OF THE OPERA, the hit Broadway show running since 1986? Not this writer, until Hennepin Theatre Trust announced LOVE NEVER DIES as its season closer, running through Sunday, July 1 at Minneapolis' Orpheum Theatre. While PHANTOM is a well-loved show that's still playing Broadway and recently toured the country again (it played Minneapolis again in December 2017), this national tour never played Broadway, and likely won't ever grace the Great White Way.
Like every successful creative venture in the current day, a sequel (or two, or three... or nine) is sure to follow. Sir Andrew Lloyd Webber reportedly started this one in 1990 and since has gone through iterations of the show which started and stopped many times. It played London's West End and other international stages in Australia, Denmark, Germany, Japan and Austria. The current North American tour is its debut across the pond after planned productions in the U.S. and Canada never took off.
The story takes place 10 years after PHANTOM left off in Paris with the Phantom, Madame Giry and Meg Giry now living and working in 1907 Coney Island in an odd showplace that's a mix of circus and burlesque. Phantom (now played by Bronson Norris Murphy) has continued his obsession of soprano diva and star Christine Daae (Meghan Picerno) and writes a song for her, then writes to invite her to New York under the guise of an false invitation from Oscar Hammerstein for her New York debut. Christine arrives on a ship with husband Raoul (Sean Thompson) and son Gustave (Jake Heston Miller) thinking they'll meet Mr. Hammerstein and instead are whisked away to Coney Island.
The Phantom reveals himself to her, and they reveal they shared a night of passion in Paris 10 years ago that both apparently remember fondly and we learn Christine may have stayed with him but he chose to leave her rather than risk her not wanting to be with him again when she sees him in the light of day. This turn in the story from PHANTOM is one you really need to suspend disbelief to continue believing in the world of LOVE NEVER DIES.
Christine feels she must take Phantom up on his offer to sing "one last time" for him when he threatens her loved ones. Her precocious son is oddly entranced by the Phantom's eerie world of Coney Island. Her husband is revealed to be more interested in drinking and gambling. The lure of the music of the night draws her back to Phantom as she was 10 years prior.
It's a "will she or won't she" moment (she will) that determines her and her family's fate from then on. I won't give away the other secrets of the story because you will figure those out for yourself soon into the show, and you may need something to occupy yourself with.
While the cast are talented singers and the sets and costumes are spectacular and eye-catching, the show does not have the spark or urgency you get from the original story. The music, while solidly in Webber's wheelhouse, is not as haunting or engrossing.
Christine's solo showstopper, "Love Never Dies," is a lovely song and Picerno looks and sounds lovely; her costume and this set are the highlights of the show, along with the sparkling lights of the Coney midway in an otherwise industrial looking set.
Murphy is a singer with the chops to do Phantom but lacks much passion and the creepy factor is hard to get past. His obsession with Christine never feels like love as he manipulates her and her family. He and Picerno are singing the majority of the score and there's just not enough variety between songs to tell them apart. Some of this could be remedied by listening and learning the score before seeing the show but I'm betting most people won't have done that.
Thompson is a solid Raoul in voice but is never given much of a chance with Christine; gone are the romantic numbers that made you root for the young lovers in the original and in are the realities of a life and marriage strained by what now is an apparent lie that's been between them for 10 years.
Mary Michael Patterson's Meg Giry is an interesting distraction from the heavy operatic numbers with her burlesque teases but these moments also feel out of sorts with the rest of the show. We also have no background or reason to understand or empathize why she has spent 10 years trying to win the heart of the odd Phantom, whom she and her mother chased after from Paris.
Overall the cast does a good enough job with the material but the material is not enough, and there's just no reason for this sequel to have happened other than what the skeptical mind immediately figures--that it was a way to extend the moneymaking of the long-running (still running) hit first production. The relationship between Christine and her angel of music feels less like a love affair and more like a co-dependent and mostly abusive situation, perhaps more noticeable in this age of "#MeToo." Without buying into this coupling, the spark you need to feel to get past this situation is just not present. Without love, this show dies a long, slow death.
LOVE NEVER DIES closes in Minneapolis July 1. (This review was delayed significantly due to technical issues during a short run but you may be able to run out and get last-minute tickets to check it out for yourself at www.hennepintheatretrust.org.)
Photo:
Meghan Picerno ("Christine Daaé")
Photo by Joan Marcus