Review: Fifty's Nostalgia Sparks Satire in Interact's HOT DOG DAZE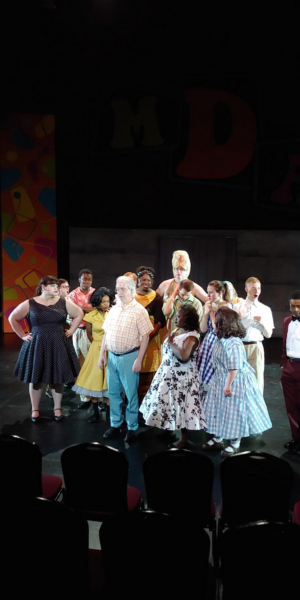 Take a trip back to the 50's on these summer nights and days at Interact Theater's beguiling Hot Dog Daze. Minneapolis's unique theater company offers "radical inclusivity" for the 40 plus cast members along with familiar nods to past MDA (Muscular Dystrophy Association) telethons, bomb shelters and beat poetry. If these themes appear radically unlikely. or strange "script fellows," Directors James Lekatz and Heather Bunch working at the The Lab Theater present fifty fun minutes of melodies and merriment complete with a live band comprised of four talented musicians.
During the performance that begins in Suzy's (Suzy Sauter) bomb shelter, the absurdist comedy focuses on a riff of comedian Jerry Lewis' annual Labor Day telethons, which ran for decades. In this production, the female host Rosie Garland (Shanan Custer) and a composite of Frank Sinatra and Sammy Davis Jr. named Sammy Sinatra Sr. (Kory LaQuess Pullam), misname the initialism MDA, or acronym, several times to comic effect. The two hosts humorously play off of each other to center the skits and themes of the show.
Composer Aaron Gabriel creates or reworks several catchy songs in the production including "I Belong in a Dress," and "Stage Fright." The songs literally dance with Kymani Kahill's clever choreography, a pleasure on the huge Lab stage in a feat to accommodate every actor. So does Costume Designer Rhiannon Fiskradatz with her full skirted, dirndl dresses for numerous cast members. Several great sketches include the Beat Poetry scene that recites a poem on birds and missed drum beats. In another, after an informercial speaks to successful dating tips, the cast performs the enchanting ballad "When the Stars Come Out," a lyrical ode to love.
Perhaps some audience members missed the 1950's building of bomb shelters due to the Cuban Missile Crisis together with the threat of another nuclear war. At that time, families were encouraged to build a bomb shelter accessible through their basements, well stocked with clean water, canned goods and clothing to survive an atomic bomb attack. Several shelters can be discovered today in random basements across the country. Interact places a parody on this era when a "Home and Gardens" host offers a decorative tour for television that also includes the curious interplanetary visitors. With everyone racing to see America's Area 51 and possible Unidentified Flying Objects, these skits ring true. While the audience laughs, these scenes that tickle the funny bone tap incredibly close to 2020, 70 years later, where no nuclear treaty has been completely negotiated as of today..
While Jerry Lewis' tactics have been scrutinized for his blatant pleas to help the "disabled," Muscular Dystrophy was a devastating disease, still incurable, and the telethons raised money for research. In the 50's, polio caused tremendous disability and Thalidomide, a drug prescribed for women to prevent miscarriages, offered both hope and defeat. Also included in this era was the popular March of Dimes, a seventy year old organization, which offered monies to these affected children, much as the MDA did, and today still assists in promoting maternal and children's health, a compelling issue in health care.. As in the 1950's and on the cusp of 2020, society circles back to these debates on vaccinations regarding measles, or low rates of maternal and infant survival statistics. Striving for change and respect to help every human being, society struggles with these political and social challenges in contemporary culture.
What can be agreed upon is the wonderful ability of Interact to be inclusive--a theatrical and visual space where any and every person discovers a place for their artistic dreams, goals and talents. This current beguiling cast embodies those nostalgic times for the beloved hot dog, staple of backyard barbecues, baseball games and campfires. Remember when that hot dog fell off the stick and into the campfire's ashes?
As the audience leaves the theater, a vintage hot dog wagon complete with Vienna Dogs and drinks can be enjoyed on The Lab's terrace along with a few colorful reminders of bygone days--- or those lazy, hazy 'daze" of summer's past. Please enjoy yourself on a summer night through July 27 and support Interact's commitment to "radical inclusivity." This absurd, diverting evening, in the best sense of the word, engages every individual and audience member in the company's heartfelt Hot Dog Daze.
Interact Theater presents the original production of Hot Dog Daze at The Lab Theater, 700 North 1st Street, Minneapolis. For information on Interact's programming or tickets to this performance, please visit: www,interactcenter.org.