South Florida Symphony Orchestra Presents An Evening Of Dvořák Masterworks This March
SFSO's 25th anniversary season concert closer will be Rachmaninoff and Bruckner on April 26 at The Parker in Fort Lauderdale.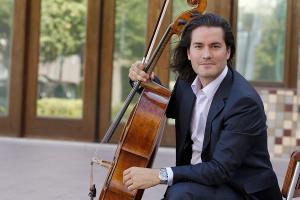 South Florida Symphony Orchestra will present a bold and daring evening of Dvořák Masterworks, featuring his love letter to America, Symphony No. 9 in E minor: "From the New World" as well as Cello Concerto in B minor, the greatest of all cello concertos, performed by Grammy Award-winning artist Zuill Bailey - who also appeared during the Symphony's inaugural concert 25 years ago.
Led by Music Director Sebrina María Alfonso, the concerts will respectively take place at 7:30 p.m. on Wednesday, March 22, at The Parker in Fort Lauderdale, on Thursday, March 23, at New World Center in Miami Beach and on Saturday, March 25, at Tennessee Williams Theatre at The College of the Florida Keys in Key West. Tickets are on sale, now.
"Twenty-five years ago, my dream of bringing the music I love to my community in Key West came to be. As we celebrate our silver anniversary, bringing these cherished works to our expanded audiences throughout South Florida is an absolute thrill. And what an even greater joy it is to have my dear friend and acclaimed cellist, Zuill Bailey, back with us to mark this momentous occasion," said Alfonso. "'From the New World' may be Dvořák's love letter to America, but this program is our love letter to you, the many supporters who have journeyed with us, helping us to become the region's preeminent orchestra. It takes a village, and we are grateful to have you with us."
Maestra Alfonso and Zuill Bailey have known each other since their days at Peabody Conservatory. Over the years, he has become a frequent SFSO guest artist and a favorite among audiences. He is widely considered one of the premier cellists in the world and is an internationally renowned soloist, artistic director, and teacher. His illustrious recording career consists of over 20 titles. His CD, Dvořák Cello Concerto is listed in Penguin's Guide as one of the Top 1000 Classical Recordings of All Time. He also won a GRAMMY for Best Solo Performance for his live recording of Tales of Hemingway by composer Michael Daugherty. A consummate concerto soloist, Bailey has been featured with symphony orchestras worldwide, including Los Angeles, Chicago, San Francisco, Toronto, Israel, Cape Town, Russia, Hong Kong, Jordan, Mexico, South America, the United Kingdom, and Austria. He has collaborated with such conductors as Itzhak Perlman, Alan Gilbert, Andrew Litton, Neeme Jarvi, Giancarlo Guerrero, James DePriest, and Jun Markl, to name a few. Classical Net calls Bailey "easily one of the finest cellists alive today," and states that he "commands a simply lovely tone, passionate and full of vigor," in a review of his Dvořák Cello Concerto recording.
In 1892, Antonín Dvořák was recruited to be the director for the National Conservatory of Music in New York City, which opened in 1888 to make music education available to talented students from every background, including marginalized communities and fostering the creation of American national music. In his quest to bring the sounds of America into European classical music, his most famous work was born, the four-movement Symphony No. 9 in E Minor, better known as "New World Symphony." In the lead-up to its 1893 premiere by the New York Philharmonic at Carnegie Hall, Dvořák commented that he thought the core of an American sound could be found in Native American communities and African American spirituals, which you can hear in the composition. Upon its premiere, a reporter for the New York Herald observed that the new symphony was "a noble composition...of heroic proportions."
Cello Concerto in B minor, the most widely regarded and also the last solo concerto by Antonín Dvořák, will be performed by Zuill Bailey. Written in 1894 for Dvořák's friend, the cellist Hanuš Wihan, it premiered in London in 1896 by the English cellist Leo Stern. Dvořák wrote the concerto while in New York City for his third term as the director of the National Conservatory. After hearing composer Victor Herbert's Cello Concerto No. 2 in E minor, Op. 30, Dvořák was inspired to complete a cello concerto of his own. Herbert had been principal cellist in the New York Philharmonic that premiered Dvořák's "New World Symphony" in 1893.
SFSO's 25th anniversary season concert closer will be Rachmaninoff and Bruckner on April 26 at The Parker in Fort Lauderdale. Tickets for the Dvořák Masterworks program start at $15 for The Parker, and $25 for New World Center and Tennessee Williams Theatre at The College of the Florida Keys. Tickets may be purchased by visiting southfloridasymphony.org/masterworks-iv-2022-2023 or by calling (954) 522-8445.
For additional information, visit southfloridasymphony.org, call (954) 522-8445 or email info@southfloridasymphony.org.