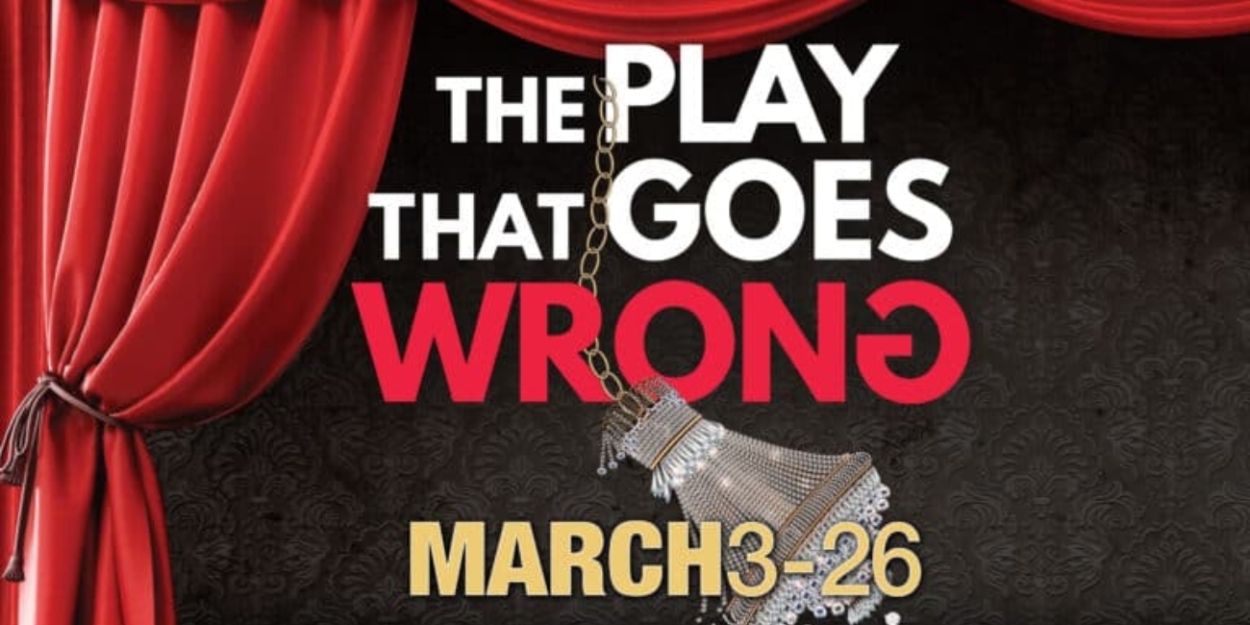 Review: THE PLAY THAT GOES WRONG at Theatre Memphis
It's So Wrong, It's Right!
Comedy is hard. The ability to elicit a guffaw from another human being requires an almost indefinable combination of words, actions, timing, and luck. Complicating matters even more is the seemingly random ingredients that can cause one viewer to fall on the floor laughing while another to stare blankly and wholly unamused. Both witnessing the same event, both having opposite reactions. It's complicated. Advertising your art form as a vehicle built to guarantee laughter is almost asking for trouble, but Theatre Memphis' current smash hit THE PLAY THAT GOES WRONG now through March 26, 2023, not only asks for trouble, but then does a spit take in its face. There is so much comedy (pound for literal pounding) in this production, it's impossible to take it all in. It's a remarkable achievement in its ability to come out hard and fast, yet somehow still sustain the laughs till the end. If you're not laughing at any given moment, I guarantee someone around you will be. With the plot of the murder-mystery-play-within-a-play being the least important aspect of the show, THE PLAY THAT GOES WRONG has an extremely talented cast of actors who stumble, struggle, and fall in the truest example of Murphy's Law. Just when you think things can't get any worse, it somehow does, in spectacular fashion.
Under the direction of arguably Memphis' most physically gifted comedic actor, Ann Marie Hall, this production wrings a laugh out of every line, prop, set piece, and muttonchop. With expertise casting, Hall has assembled a top-notch group who knows how to commit to their characters, no matter the situation. None of them "lean on" or "borrow" from each other, but instead commit wholeheartedly to experiencing the pain of live theatre in their own hilarious ways. Taking this comedy from the stage to the page is a gigantic feat, yet Hall pulls it off gloriously and in ways that are likely to make this a frontrunner for the Ostrander Theatre Awards come August.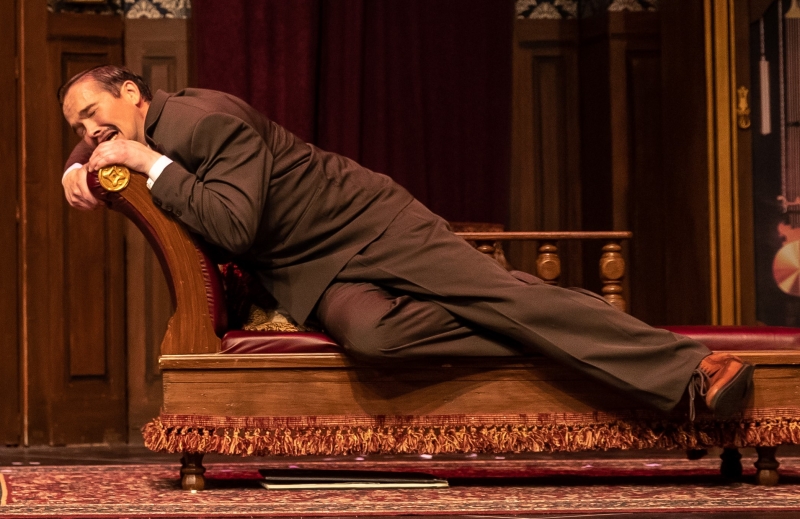 Kinon Keplinger is marvelous as the exasperated troupe director (Chris Cumberbatch Hemsworth Bean CBE) acting in his own presentation after finally having enough actors to produce a show "as written" after having to change the names of previous productions from CATS to CAT and JAMES AND THE GIANT PEACH to just JAMES. The harder he tries, the worse it gets as he struggles to keep it all together minute by excruciating minute. Keplinger delightfully vacillates between repressed anger, anxiety, and desperation in the face of disastrous calamities. He's perfectly cast.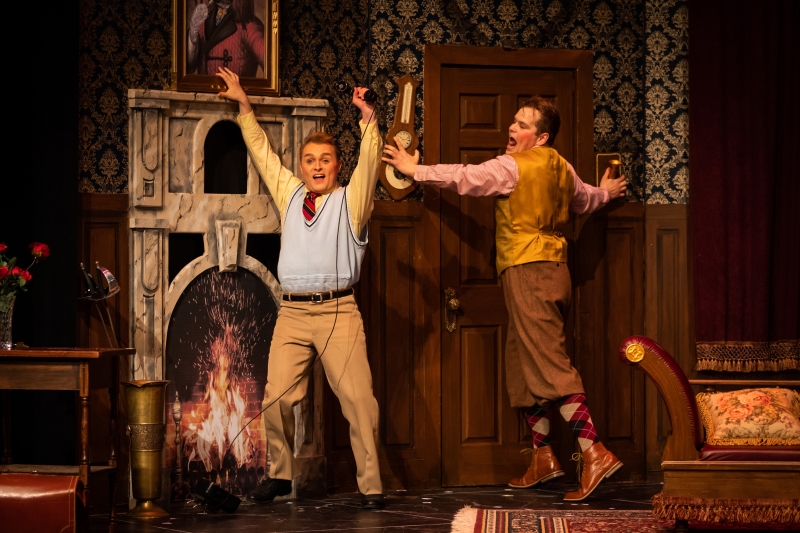 Bruce Huffman will have you cackling for days as the male ingenue, Max Bennett (playing Cecil Haversham)-a former chorus boy who overemphasizes every gesture, reaction, and choreographed movement. He's an actor committed to his choices and even prouder of his abilities. He simply can't help but LITERALLY clap for himself anytime he "executes" a challenging maneuver. He's unabatedly self-aware in strikingly oblivious ways. A gem!
Kevar Maffitt plays leading man, Robert Grove (portraying Thomas Colleymoore) in this British whodunit. He's a serious actor who tries to remain above the fray, but struggles mightily to suppress his rage as the disasters somehow continue to top each other. He's a fledgling Atlas as the onstage world (literally) falls apart around him. Maffitt has incredible comedic timing and maintains full command of the stage (as he slides off it). He's top notch.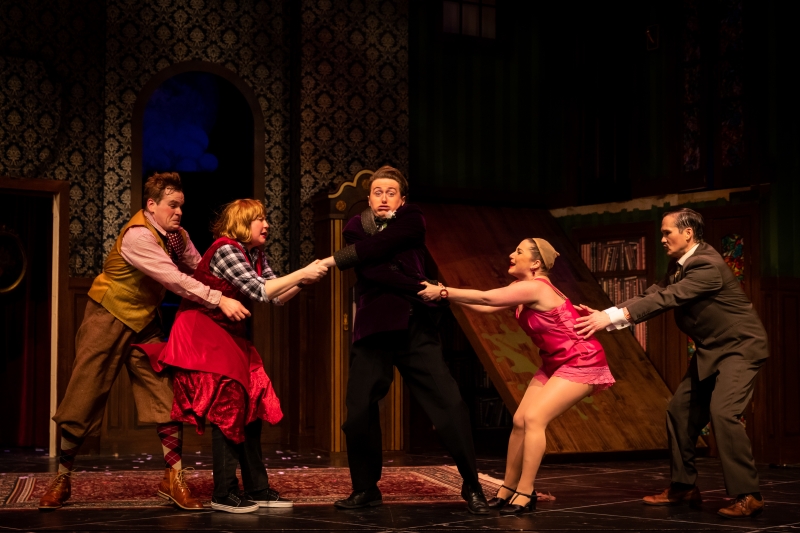 The rest of the ensemble is just as strong portraying outlandish characters in even more outlandish situations. Gabriel Kestrel plays Dennis (playing Perkins the butler) as a character actor who never seems to know where he is and is forever unperturbed at the bedlam surrounding him. John Hemphill shines as the lighting/sound operator (Trevor) who's more interested in finding his lost Duran Duran CD than keeping things on track. Hugh Boller-Raup portrays Jonathan (the murder victim) who endures what can only be called "corpse abuse" and Meghan L. Lewis and Amy Rush battle it out WWE style (actress versus stage manager) to play the female lead Florence Colleymore.
Theatre Memphis has done something fun in that the actual program not only displays the Memphis actors and their bios, but also the characters they play (within the play) and their bios. It's a gimmick that you can take home and read which will keep you entertained long after you've left the theatre.
Amie Eoff's stuffy British murder mystery costume design fits everyone to a tee and Nicole Northington's lighting design supports the comedy without pulling attention. But it's Jack Nerzel-Yates set design that plays an actual "character" in the show in ways you've never seen before. Without giving anything away, audible gasps/shrieks echoed throughout the audience multiple times and for multiple reasons. It all culminates in a breathtaking homage to silent movie star Buster Keaton's most death-defying moment on screen and will leave your jaw on the floor. Astounding!
THE PLAY THAT GOES WRONG is perhaps the funniest play you'll ever seen in your lifetime. As hyperbolic as this might sound, it's true. Sure, there are plenty of plays in the world that are funny, but never have you seen a show that generates a laugh from the opening second straight through to the closing second. Miraculously, the laughter never stops-it's a constant low roar which simply crescendos from time to time. Hall's cast nails every moment and it's hard to tell who's having more fun-the audience or the cast. With so many good things going on with a comedy such as this, it's hard to recommend seeing it just once. In a world of whodunits, it's a mystery that kills.
Photos by Carla McDonald