Review: Totally Immersive ONE FLEW OVER THE CUCKOO'S NEST Draws You Realistically into the Psych Ward Experience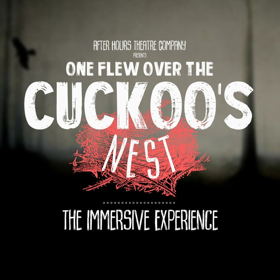 When I first heard about After Hours Theatre Company presenting a unique immersive experience of ONE FLEW OVER THE CUCKOO'S NEST, I knew I had to there to experience what it must really be like to be a patient in the Psych Ward with the loony characters in Dale Wasserman's adaptation of Ken Kesey's novel, produced by Graham Wetterhahn and directed by Jonathan Muñoz-Proulx. Of course, I had seen the movie starring Jack Nicholson, as well as several staged productions, but the idea of actually being able to interact with the Cuckoo's Nest characters intrigued me to the max. And I was not disappointed.
Driving to the location, situated in a rental studio under a freeway bridge in Burbank where trains pass close by, the immersive experience began the moment I checked-in at the sidewalk front desk where a large "Welcome Patients" banner
greeted audience members. Asked to fill out an intake questionnaire on which you are required to identify the cause(s) of your commitment as well as being over the age of 21 (alcohol is served inside the ward), we were ushered to the back of the non-descript building where we were issued our patient medical scrubs. I was curious to find out why there were two different types of clothing to be worn, and soon found out that those in two-piece ensembles were identified as curable "Acute" Patients, allowed to sit at tables on and around the stage, having the opportunity to interact with the characters and the space during the performance, while "Chronic" Patients in traditional hospital gowns, who were identified as being incurable, were seated in risers behind the tables, required to be stationary throughout the performance while enjoying the show from a more traditional theatrical vantage point.
After our intake interview with the Asylum's Dr. Spivey (Trent Mills), we were invited through the loading dock door into the showers where two asylum staff members required us to don our patient wear. Once we learned the rules for the evening's entertainment, double doors opened to reveal the Psych Ward, marvelously realistic with wired cage doors opening into the space where patients sat playing games at the tables around the center stage area. Nurses walked around handing out "medication" while new patients interacted with the actor-patients playing cards or other games at tables, after which we were directed to look for clues to discover the secrets around the "ward" which would lead us to our reward. No - I am not going to tell you what that reward was nor how to solve the clues. That is part of the fun!
I do encourage audience members to visit the pharmacy (the well-stocked bar with medical-themed adult beverages available for purchase) as soon as you enter the asylum so you can put aside your fears and just enjoy all the possibilities this truly immersive experience will bring to you. Once all the audience patients are admitted (arrive early!) and given some time to interact with the other patients in the ward, audience members are asked to be seated, the lights dim and the play begins.
After meeting the mystical Chief Bromden (Eduardo Fernandez-Baumann), the half Native American son of the chief of the Columbia Indians who has been in the Oregon psychiatric hospital longer than any other patient, allowing others to think he is deaf and dumb even though he can hear and speak just fine, shy stutterer Billy Bibbit (Frank Gullihur), acerbic, college-educated patient and president of the Patients' Council, Dale Harding (Curtis Scott, with whom I won a game of "Go Fish"), imaginary bomb-making Peter Scanlon (Paul Stanko who even put bits of wire in his beard), and a few others, new patient Randle Patrick McMurphy (attention-grabbing Mick Torres ) arrives after being transferred to the mental institution. His ongoing encounters with Nurse Ratched (Courtney Lloyd), who runs the psychiatric ward with an iron fist in order to keep her patients cowed through abuse, medication, and sessions of electroconvulsive therapy, set up the battle of wills which drives the play to its inevitable conclusion, leaving no one in the ward unscathed.
Along the way, McMurphy arranges for a Candy (Giselle Gilbert at the performance I attended), a sweet, local low-class prostitute, to visit the ward to initiate shy virginal Billy into the joys of sex. Accompanying her on one visit is Sandy (Anica Petrovic), another short-skirted loose woman who is all in forgetting the party going until she realizes just how dangerous the situation might be for her. And of course, as the alcohol flows, the situation gets more rowdy, turning into a free-for-all until interrupted by Ratched who turns her wrath on McMurphy, ending his fun with the mind-altering methods she so expertly prescribes for patients who do not follow the rules.
I especially enjoyed watching when the "Acute" audience patients were asked to join into group therapy sessions, each then moved to different table seat from where they started. This allowed audience members to get to know each other better, sharing our experiences during scenes and intermission when many pulled out cell phones and took selfies in the various asylum locations. Especially popular was the Chief's office with its hidden room reached by crossing through file cabinets, and of course, the glass-enclosed Nurse's office which was fiercely protected by Asylum Aides at all times.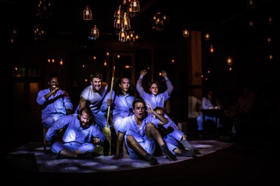 Kudos to the entire cast (in alphabetical order) for their dedication to playing by the rules and keeping it real: Megan Barker as Sandra; Dominic Bournes as Aide Williams; Eduardo Fernandez-Baumann as Chief Bromden; Giselle Gilbert as Nurse Flynn; Frank Gullihur as Billy Bibbit; Martin Head as Turkle; Courtney Lloyd as Nurse Ratched; Lexi Pappas as Candy; Jonny Perl as Cheswick; Paul Stanko as Scanlon; Al Rahn as Ruckley; Curtis Scott as Dale Harding; John Sweet as Aide Warren and Mick Torres as Randle P. McMurphy.
While all the actors were extremely adept at realistically presenting this random assortment of mental patients,
I must say that Lloyd's portrayal of Nurse Ratched was a bit too nice for my taste and needed to be a lot more hard-edged in her line delivery to give the patients more reason to want to take revenge against her. Lloyd was dressed and made up to perfectly look the part but needs to work on letting the audience see Ratched's real back-stabbing nature hidden behind her overly-friendly, looking-down-her-nose demeanor.
Overall, the artistic magic of the performance sits in the hands of director Jonathan Munoz-Proulx, Artistic Director/Producer Graham Wetterhahn, and the amazing Design team, including Set Design by Victoria Tam; Immersive Experience Design by Sara Ashley Beil; Choreography by Jen Oundjian; incredible mood-enhancing Lighting Design by Andrew Schmedake; Sound Design by Austin Quan; Costume Design by Lena Sands; Projection Design by Shelva Khalily; Props Design/Production Manager: Shen Heckel; Fight Choreography by Edgar Landa; Technical Direction by Kate Harrow, along with Stage Manager Summer Grubaugh and the entire backstage team, all of whom combine their brilliant skills and imagination to create this truly amazing and exciting immersive experience.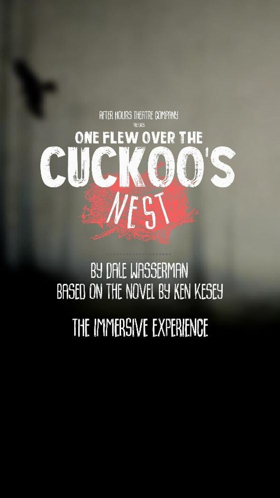 But ultimately, it is Mick Torres' attention-grabbing interpretation of McMurphy, along with all the other talented actors involved in the production, who will keep you talking about this immersive experience for a long time to come... not to mention the joy you will feel being able to escape from all the ward craziness and get back into the real world when it ends!
ONE FLEW OVER THE CUCKOO'S NEST, Adapted by Dale Wasserman based on the novel by Ken Kesey, directed by Jonathan Muñoz-Proulx for After Hours Theatre Company, continues through Sunday, July 22 on Thursdays at 8pm, Fridays at 9pm, Saturdays at 8:00pm, and Sundays at 7:00pm.
Performances are held in the SIX01 STUDIO, 630 S. Flower Street in Burbank with free street parking available. Tickets are $55 for "Chronic Patients; $75 for "Acute Patients." For tickets or more information, please visit www.CUCKOOSNESTLA.com.
Facebook at https://www.facebook.com/AfterHoursTheatreCompany,
Instagram: https://www.instagram.com/afterhourstheatreco/,
Twitter: https://twitter.com/afterhoursthtr
Photo credit: KJ Knies