Review: DESSA ROSE Musical Performed to Perfection Saluting Black History Month at Chromolume Theatre
During February each year, many theaters present plays and musicals honoring Black History Month. When I heard that Chromolume Theatre was presenting the Los Angeles premiere of Dessa Rose, with a score by the multi award-winning song writing team of Lynn Ahrens and Stephen Flaherty, I knew I was in for a real treat. With their latest creation, ANASTASIA, now on Broadway, these two have the golden touch when it comes to creating musicals that are incredibly entertaining while offering insight into historical time periods from the viewpoint of everyday people.
First of all, kudos to director James Esposito for discovering the musical Dessa Rose, based on the 1986 novel of the same name by Sherley Anne Williams. This awe-inspiring musical received its New York premiere at Lincoln Center in 2005 and it's a wonder no other theater group has decided to produce this timely exploration about the universal need for freedom and equality. With book and lyrics by Lynn Ahrens and music by Stephen Flaherty, it tells the story of a young black woman (a runaway slave) and a young white woman (an abandoned mother) beginning in the years just prior to the Civil War and continuing through their journey to acceptance in the antebellum South. The audience has the role of playing their grandchildren, to whom the elderly pair tell their story as it is presented to us.
Before I go on any further, I must tell you that the Chromolume's production is one the best shows/musicals I have ever seen, hands down, with a cast of 12 talented triple-threat performers, led by two amazing women with voices that inspire the angels: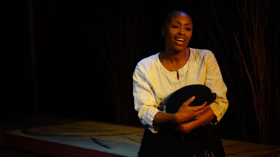 Shaunté Tabb as Dessa Rose, the terribly mistreated (and pregnant) slave longing to escape to freedom, and Abby Carlson as the Charleston-raised white aristocratic Ruth who has been abandoned with a baby on a rundown farm. These two women play both characters in their youth through old age by changing their gait and posture, moving a shawl wrapped around their waist when young to over their shoulders as they slouch as elderly matrons. Kudos to designer Kara McLeod for her dedication to time period and class appropriate costumes in the show.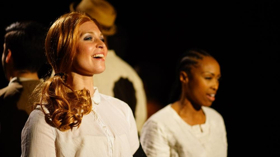 All the while, Dessa Rose and Ruth share the story of their lives, independently and together, to their grandchildren so their family history will not be forgotten and passed down from generation to generation. I was hooked from the opening number "We Are Descended" which had me thinking about my own grandparents' migration from Eastern Europe to make a better life for their future generations here. Dessa Rose is truly a universal story of the struggle for freedom all of our families have endured, no matter where we originated.
The two women meet when Dessa Rose in on the run with other escaping slaves Nathan and Harker,
who find Ruth on her rundown farm as they endeavor to go North to freedom. While from opposite sides of the spectrum, the two sides soon realize how they can assist each other survive during such hard times by caring for Ruth's home, orchards, and fish which will keep them from being hungry and raise the necessary funds for their escape. When Ruth finally agrees to sell the farm and set off with them, the two women join forces and play roles along the way in order to secure safe hotel rooms or meals for the entire traveling group. It's their own version of the Underground Railroad, leading them to new lives "Just Over the Line."
Along with Carlson and Tabb, the Dessa Rose cast (in alphabetical order) features Mykell Barlow, Ambrey Benson, Margaret Berkowitz, Claire Buchignani, Zach Campa, Matt Mancuso, Ken Maurice Purnell, Mikhail Roberts, Kymberly Stewart, and Bradley Alan Turner. Each portrays many interesting characters who come and go through Dessa Rose and Abby's lives.
Each is a standout in their noteworthy roles, notably Matt Mancuso as Nehemiah, the writer who interviews Dessa Rose in prison and then dedicates his life to finding the runaway slave, sharing his determination in "Capture the Girl." Mykell Barlow as Nathan, the outspoken slave who leads Dessa Rose and shy slave Harker (Ken Maurice Purnell) from the plantation on their journey to freedom, sings about "The Scheme" to get them all to freedom.
In the humorous "Ten Petticoats" sung by Ruth as she tries to figure out what to take on her journey to freedom, and Claire Buchignani as Ruth's class-conscious mother and Kymberly Stewart as her "mammy" Dorcas, just a slight wink, shrug of the shoulders, or glaring side stare denotes how each of the three feels about the kind of life in which Ruth was raised and her total lack of understanding of her hard journey ahead.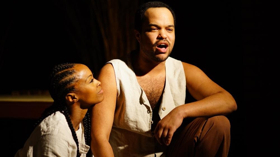 One of the musical staging highlights occurs during "In the Bend of My Arm" during which three couples: Dessa Rose and Kaine (Bradley Alan Turner as the deceased father of her baby), Ruth and Nathan (whose interracial love is doomed by pressure from both sides), and Nehemiah (who heartbreakingly sings of losing his fiancé) from opposite corners of the stage. Their deeply emotional renditions demonstrate how important love is in their lives and how tragic it is when lost.
Along with Espositio's expert small stage direction and multi-level scenic design, musical director Daniel Yokomizo leads an unseen band of musicians to extraordinary perfection accompanied with cast harmonies that will touch your soul to the point of joy and tears. Choreographer Michael Marchak infuses both sides of the cast's movement to perfectly reflect their social standing or lack thereof. The entire production provides a joyous display of dedication to perfection and get it right!
You have just four more chances to see Dessa Rose this weekend on Fri 2/13 at 8pm, Sat 2/24 at 8pm, and Sun 2/25 at 3pm and 7:30pm. Tickets are $30 and may be purchased online at www.crtheatre.com or by telephone at (323) 205-1617. Chromolume Theatre at the Attic is located at 5429 W. Washington Boulevard (between the 10 Freeway and Hauser Boulevard), in Los Angeles, 90016. Street parking is available. For more information, visit www.crtheatre.com or call (323) 510-2688.
Photo credit: Tyler Vess