REDCAT Presents World Premiere of New Work By Choreographer David Roussève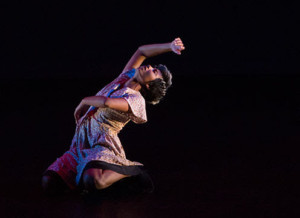 REDCAT, CalArts' downtown center for contemporary arts, is pleased to present the World Premiere of Herb Alpert Award-winning choreographer David Roussève's newest work, Halfway to Dawn, for four performances from Thursday, October 4 through Sunday, October 7, 2018. Written, choreographed and directed by Roussève, this vibrant dance-theatre work will be performed by his wildly diverse nine-member company REALITY. Halfway to Dawn illuminates the story of African American jazz composer Billy "Sweet Pea" Strayhorn. Relatively unknown, Strayhorn was Duke Ellington's main arranger/writing partner, instrumental to the creation of a vastly important body of work in American music history. Gay, out, and living in Harlem in the 1940's-60's, Strayhorn chose to lead a remarkably private life, allowing Ellington to take the spotlight and much of the credit for their joint oeuvre. The arranger/composer was also a passionate activist involved in civil rights causes (and a committed friend of Dr. Martin Luther King Jr.). The core of Halfway to Dawn is Strayhorn's music as interpreted through a dynamic dance vocabulary melding jazz, modern/postmodern, and social dance forms. A surreal sonic design by d. Sabela grimes surrounds vintage recordings of Strayhorn's songs, while video art by Cari Ann Shim Sham* gives the production a rich visual dynamic. For more information on the work, please visit https://www.davidrousseve.com/halfwaytodawn.

Halfway to Dawn's limited engagement runs over four consecutive dates with showtimes at 8:30pm for the first three nights - Thursday, October 4, Friday, October 5, and Saturday, October 6 - and one matinee at 3:00pm on Sunday, October 7, 2018. General admission tickets are $25 for the first two nights and $30 for the last two with discounts for REDCAT members, students ($20/$24) and CalArts students/faculty/staff ($12/$15). REDCAT is located at 631 West 2nd Street, Los Angeles, CA 90012. For tickets, please call 213-237-2800 or visit https://www.redcat.org/event/david-rouss-ve-halfway-dawn.

This is Roussève's third project with Cari Ann Shim Sham* (video), Chris Kuhl (lighting), and Leah Piehl (costumes); and his second with L. MSP Burns (dramaturgy), and d. Sabela grimes (sound design). REALITY performing company members include Bernard Brown, Raymond Ejiofor, Dezaré Foster, Jasmine Jawato, Kevin Le, Julio Medina, Samantha Mohr, Leanne Iacovetta Poirier and Kevin Williamson.

Halfway to Dawn -The Work & The Meaning:

Responsible for writing such famous hits as "A Train," "Satin Doll," "Chelsea Bridge" and "Lush Life," Billy Strayhorn (1915-1967) remains largely unknown. Halfway to Dawn seeks to capture the "truths" of the elusive artist's life by layering video-projected text conveying the biographical facts of Strayhorn's life, projected abstract video art exploring the emotional undercurrents of his journey, and expressionistic physical theater expanding the political urgency of his narrative into our own lives. Moveable screens are surfaces for the projection of historical footage that grounds the work in the Strayhorn era, even while lighting design moves the piece fluidly between past, present, and fantasy. A score including recordings from the '40-'50s of Strayhorn songs allows the famously private artist to emerge and "speak for himself" through his music. The songs are immersed within a larger sound design that - like the video element - references historical material, but ultimately creates a contemporary, abstract, and wholly original digital tapestry.

Issues of fame, privacy, and creative authorship have never been more resonant than now, when popular culture has redefined fame - not art - as the goal itself, when social media over-sharing has obliterated privacy, and when digital platforms have further blurred the line between composing and arranging. Committed civil rights worker Strayhorn is a supreme example of artist as activist. Ultimately, Halfway to Dawn redefines 'biography' as the intersection of fact, conjecture, comment, abstraction, and fantasy; as it seeks to uncover the complicated emotional 'truths' of Strayhorn's life while creating a dialogue on urgent social 'truths' of our own.

2018-2019 Halfway to Dawn Performance Calendar:

October 4-7, 2018 (World Premiere)
REDCAT
Los Angeles, CA

October 26, 2018
Open Spaces 2018
Gem Theater
Kansas City, MO

November 9, 2018
ArtPower
University of California, San Diego
San Diego, CA

December 5-8, 2018 (East Coast Premiere)
Brooklyn Academy Of Music 2018 Next Wave Festival
Brooklyn, NY | info

February 1-2, 2019
Kelly Strayhorn Theater
Pittsburgh, PA

March 2, 2019
NC State LIVE
Raleigh, NC

March 30, 2019
Moss Arts Center
Virginia Tech University
Blacksburg, VA

April 5-7, 2019
Contemporary Arts Center New Orleans
New Orleans, LA

April 13, 2019
Northrop Auditorium
University of Minnesota
Minneapolis, MN

Visit https://www.davidrousseve.com/calendar for the most up-to-date confirmed booking schedule.
Related Articles View More Los Angeles

Stories

Shows
More Hot Stories For You