REDCAT Presents FAC XTRA RETREAT, February 17-18
A performance by seven Asian American artist-educators.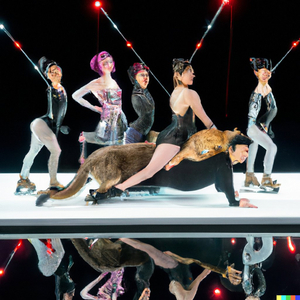 On Feb. 17 and 18, 2023, Roy and Edna Disney CalArts Theater (REDCAT), CalArts' center for contemporary arts in downtown Los Angeles, presents FAC XTRA RETREAT (FXR), a studio art pedagogy-themed performance by a temporal grouping of seven Asian American artist-educators based in L.A.: Ei Arakawa, Patty Chang, Pearl C Hsiung, Amanda Ross-Ho, Anna Sew Hoy, Shirley Tse, and Amy Yao.

Inspired by the many mandatory online training modules and follow-up quizzes required of instructors by their teaching institutions, FXR promises "learning outcomes" with a series of weird, hard, soft, informative, and sometimes physically challenging multiple-choice problems with answers deeply associated with each artist's teaching philosophy. With the help of suspicious polling devices, costumed performers and all members of the public take on-stage votes. The results of the polls will be acted out, branched out, and change the destination of the performance. Participants will be awarded an FXR certificate of completion at the end.

Sample questions can be found on the REDCAT website!

About the Artists

Ei Arakawa is a Japan-born American performance artist based in Los Angeles, teaching at ArtCenter College of Design. Arakawa's performances are often created through fervent collaborations with artists (and at times their artworks) and audience members themselves.

Patty Chang is an artist, educator, and parent who resolves to spend more time in close attention and teaches at USC Roski School of Art and Design.

Pearl C Hsiung is a Taiwan-born American artist based in Los Angeles teaching at Pomona College. Hsiung's painting, video, and installations summon landscapes to question human-nature dualisms and explore the speculative space of our physical, energetic, and temporal entanglement.

Amanda Ross-Ho is an artist and educator based in Los Angeles. Motivated by an archival compulsion, she develops intimacy with artifacts that populate commonplace encounters, elevating them into monuments and speculative ecologies that diagram the complex collateral of time. She is a professor of Sculpture at the University of California, Irvine.

Anna Sew Hoy is a New Zealand-born American artist based in Los Angeles who utilizes sculpture, ceramics, public art, and performance in order to examine the world and our relations in it. She is a professor of Art at the UCLA School of the Arts and Architecture.

Shirley Tse is a Hong Kong-born artist based in California. Working in the media of sculpture, installation, photography, and text, she at once deconstructs the world of synthetic objects and constructs models in which differences might come together. She teaches at CalArts.

Amy Yao was in the '90s punk band Emily's Sassy Lime and is a contemporary visual artist based in Topanga, California, working in many different mediums informed by ideas of waste, consumption, and identity. Yao is teaching at Princeton University.


Performed by Ei Arakawa, Patty Chang, Pearl C Hsiung, Amanda Ross-Ho, Anna Sew Hoy, Shirley Tse, and Amy Yao
Friday, Feb. 17 at 8:30 p.m.
Saturday, Feb. 18 at 2 p.m.

Ticketing:
$20 for General admission
$16 for REDCAT members and students
$10 for CalArts students, faculty, and staff

Tickets can be purchased at:
https://cloud.broadwayworld.com/rec/ticketclick.cfm?fromlink=2223316®id=9&articlelink=https%3A%2F%2Fwww.redcat.org%2Fevents%2F2023%2Ffac-xtra-retreat-fxr?utm_source=BWW2022&utm_medium=referral&utm_campaign=article&utm_content=bottombuybutton1



REDCAT, CalArts' downtown center for contemporary arts, is a multidisciplinary center for innovative visual, performing and media arts founded by CalArts in the Walt Disney Concert Hall complex in downtown Los Angeles. Through performances, exhibitions, screenings and literary events, REDCAT introduces diverse audiences, students and artists to the most influential developments in the arts from around the world, and gives artists in this region the creative support they need to achieve national and international stature. REDCAT continues the tradition of the California Institute of the Arts, its parent organization, by encouraging experimentation, discovery and lively civic discourse.

California Institute of the Arts (CalArts) has set the pace for educating professional artists since 1970. Offering rigorous undergraduate and graduate degree programs through six schools-art, critical studies, dance, film/video, music, and theater-CalArts has championed creative excellence, critical reflection, and the development of new forms and expressions. As successive generations of faculty and alumni have helped shape the landscape of contemporary arts, the institute first envisioned by Walt Disney encompasses a vibrant, eclectic community with global reach, inviting experimentation, independent inquiry, and active collaboration and exchange among artists, artistic disciplines and cultural traditions.

Institute of Contemporary Art, Los Angeles (ICA LA) is an epicenter of artistic experimentation and incubator of new ideas. Founded in 1984 as the Santa Monica Museum of Art (SMMoA) and reestablished in 2017 with a new identity and home in Downtown Los Angeles, ICA LA builds upon a distinguished history of bold curatorial vision and innovative programming to illuminate the important untold stories and emerging voices in contemporary art and culture. The museum's 12,700 square-foot renovated industrial building-designed by wHY Architecture under the leadership of Kulapat Yantrasast-features ample space for exhibitions, public programs, retail pop-ups, integrated offices, and special projects.
ICA LA's mission is to support art that sparks the pleasure of discovery and challenges the way we see and experience the world, ourselves, and each other. ICA LA is committed to upending hierarchies of race, class, gender, and culture. Through exhibitions, education programs, and community partnerships, ICA LA fosters critique of the familiar and empathy with the different. ICA LA is committed to making contemporary art relevant and accessible for all. Admission is free.

REDCAT is located at 631 West 2nd Street, Los Angeles, CA 90012, within the Walt Disney Concert Hall complex. For current program and exhibition information, visit redcat.org.