'Ode To Ova' Will Run Concurrently With MENSTRUATION: A PERIOD PIECE at LA LGBT Center
Performances are from March 17 – April 16, 2023.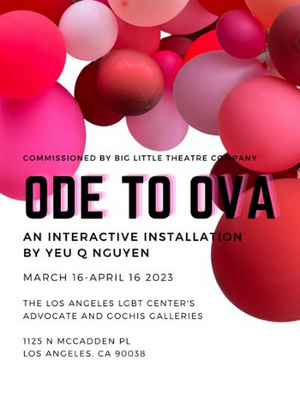 Big Little Theater Company in association with the Los Angeles LGBT Center, with support from We the Women, has announced Ode to OVA (aka OOVA), an interactive art installation by Yeu Q Nguyen, will run in The Center's Advocate & Gochis Galleries concurrently with the world premiere production of Menstruation: A Period Piece by Miranda Rose Hall, directed by Katie Lindsay, with music by Tova Katz, and produced by Camille Jenkins, in the Davidson/Valentini Theatre, from March 17 - April 16, 2023.

Commissioned by Big Little Theater Company, the interactive installation pays homage to the ova's journey through the reproductive cycle by using latex egg galloons. Participants take part in every single step of the process - from growing their balloon ova with air, to decorating them with hand-written DMA codes of gratitude, to implanting these egg ells onto the inner walls of the womb space. Over the one-month period of exhibition, each ovum will deflate and shed from the wall lining in its own time, making space for another to be implanted ad for the cycle of gratitude to start anew.

Said creator Nguyen, "Before we became us, we were ova. Each of us came from a simple egg cell that underwent years of rigorous development to transform itself into the complex and unique beings we are today. Ode to OVA (aka OOVA) invites us to reflect upon this journey of personal growth and participate in a collective ritual of radical gratitude and self-acceptance. In doing so, we celebrate and take pride in who we are becoming and in those who will inherit our legacy."

The world premiere of Menstruation: A Period Piece will immerse you ... inside the uterus! It is an ensemble-driven, bold musical that theatricalizes the menstrual cycle with a queer love story at its center and told through the cells of the body. Claire is desperate to figure out if a lesbian period is the ultimate lesbian tragedy. Emily, a hormone inside her body, decides to take matters into her own hands. In a comedic, musical, and poetic rendering of the menstrual cycle, Claire and Emily leap between the living room, the uterus, the ovaries, and the fallopian tubes to test the limits of love, the limits of the body, and the limits of what any single organism can accomplish alone.

The cast features (in alphabetical order) Kaci Hamilton, Audra Isadora, Kate Lý Johnston, Jane Hae Kim, Jo Lampert, Bibi Mama, and Marnina Schon. Performance length is 90 minutes with no intermission.

At a time when governments are cutting funding for sex education, rolling back reproductive rights, and surveilling teenagers' menstrual data, projects like Menstruation: A Period Piece, which centers the lived experiences of menstruating people, are more important than ever. It's time to break the cycle of silence and shame around periods.

The galleries will open one hour prior to curtain time and remain open after the show. Tickets are $25 for previews and $35 for regular performances and may be purchased online at www.lalgbtcenter.org/tickets. Previews are Friday 3/17, Saturday 3/18, Sunday 3/19, Wednesday 3/22, and Thursday 3/23, at 8pm. Opening is on Friday 3/24 at 8pm, and the engagement runs through April 16 only. The regular playing schedule is Thursday, Friday, Saturday, and Monday at 8pm, and Sunday at 2pm. The LGBT Center's Davidson/Valentini Theatre is located at 1125 N. McCadden Place (one block east of Highland, just north of Santa Monica Boulevard), in Hollywood, 90038.