New Art Gallery Exhibit At Jewish Women's Theatre Captures Mysteries Of Life And Death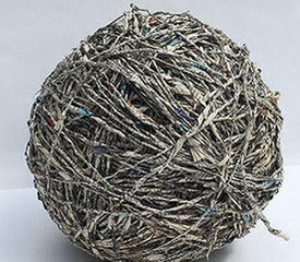 Death is mysterious and unexplainable. Yet, throughout time, artists have strived to unravel and explain it in ways that bring comfort to the living. Five artists will share their explorations of life and death through different mediums in It's a Life, a new Gallery exhibit, opening March 9 at 6:30 p.m., at The Braid, Jewish Women's Theatre's (JWT) Performance & Art Space in Santa Monica.
The new show features photographer Nancy Kaye, textile artist Smadar Knobler, mixed media artist Marleene Rubenstein, painter Doni Silver Simons and photographer Sarah Reynolds. This new art exhibit will complement the JWT performance on the same theme that opens that night.
The It's a Life art exhibit opens on March 9 and will begin with a reception and art talk featuring the artists at 6:30 p.m., prior to the opening night of JWT's new salon show of the same name, which begins at 8 p.m. There is no charge for the gallery show or art talk, but tickets are required for the performance. They are $45; $50 at the door and may be purchased at www.jewishwomenstheatre.org.
Additional arts talks featuring exhibitors will be held at the Braid at 6:30 on Monday, March 18 and Tuesday, March 19 preceding performances of It's a Life.
"Artists and playwrights share a need to express their deepest emotions through their individual craft," explains gallery director Marilee Tolwin. "The artists in our new show use a variety of visual elements to evoke intense emotional feelings. They portray life's uncertainty, but help viewers arrive at a place they often have difficulty reaching on their own."
Ronda Spinak, JWT's artistic director explains, "It's a Life stems from the belief that art and storytelling are vital to every community. At JWT, we feel we have an obligation to broach subjects that are often difficult and challenging. But like everything in life, all of us benefit from seeing, listening and talking about subjects that, at first, might seem taboo. When we share, we grow, and often, heal," she said.
Participating artists in The Gallery show:
Nancy Kaye is a photographer and educator. She has worked for The Washington Post, New York Times and Associated Press and her work is included in many books, including Bob Woodward's Wired. In her work, she seeks to capture bits of what makes us all human. She looks for authentic found moments - unposed and unaltered.
Smadar Knobler's work as a textile artist was greatly influenced by her parents, who infused her with a love and appreciation for textiles, colors and one-of-a-kind art. The silk sculptures on display at The Gallery were inspired by the Pine Forests in the High Sierras. She seeks to move the viewer to experience the same awe and appreciation for nature that inspired her to create it.
Sarah Reynolds will display a haunting photo. She explains, "This was my Aunt Eliana's last supper. Pancreatic cancer had taken its toll. Surrounded by family members sharing our last meal together, we were about to clear the table when I was struck with a moment of creative grace. Though frail and exhausted, Eliana was still up for the impromptu photo shoot."
Marleene Rubenstein is a painter, sculptor and installation artist. Her work, across media, is characterized by the evidence of a slow, ritualized process and the use of materials that are carefully chosen for their psychological and emotional impact. She will display drawings and a 16 inch sculpture entitled Revolve, and made entirely of obituaries twisted together.
Doni Silver Simons is an internationally exhibited painter, installation and performance artist whose work has been shown throughout the U.S. and in Israel. For The Gallery show, she has created a unique iconography describing the interface between time, memory and identity. Quietude and repetitive variations of form, intent and action inform her pieces.
The debut performance of the Salon show, It's a Life, will follow the gallery opening. The new salon show, co-directed by Susan Morgenstern and Shelly Goldstein, will present stories about the many facets of death and how memories, fears, and new understandings can transform grief into thoughts and actions that are positive and healing. It's a Life opens March 9 at 8 p.m. at The Braid in Santa Monica and travels throughout the state until March 28, in homes, artful venues, synagogues, and JCCs.
"We all instinctively understand that life has an infinite number of shadings and emotions. I think audiences will be surprised at how many different shadings can be found in the subject of our final destination, beyond this world," said Goldstein. "Audiences at this show will find surprise, they'll laugh and they might shed a tear or two. This show is about humanity, spirituality and love, which we learn, never dies."
For tickets, times, and Salon locations near you, visit www.jewishwomenstheatre.org. The Braid is located at 2912 Colorado Avenue #102, Santa Monica 90404.
JWT's The Braid, voted one of the "Best Live Theatres on the Westside" two years in a row by The Argonaut, stages original dramatic performances, contemporary art exhibits, classes, and other events showcasing the diverse community of writers, artists and creators who celebrate Jewish life, one story at a time.
Related Articles View More Los Angeles

Stories

Shows
More Hot Stories For You