Interview: Peter Noone Talks Touring with Herman's Hermits
Appearing at the Saban Theatre in Beverly Hills on January 27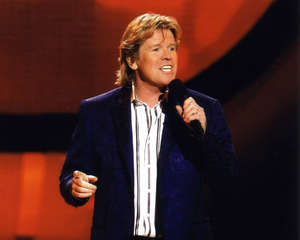 Herman's Hermits featuring lead singer Peter Noone (pictured) formed in Manchester in 1964 and then took the world by storm during the Beatles-inspired British Invasion era. The group's success continues internationally, with the group touring to entertain not only fans from the 1960s but their children and grandchildren as well. No doubt Peter Noone's extraordinary talent, disarming wit, handsome features, and compelling stage presence will continue to delight fans of all ages for a long, long time to come. Peter also hosts the weekly radio show Something Good with Peter Noone each Saturday from 2-5pm (Pacific) on SiriusXM 60s Gold channel 73 where he plays 60s hits and reminisces about the times and the music.
So when I heard Herman's Hermits was set to appear at the Saban Theatre in Beverly Hills on January 27, I decided to speak with Peter about the group's beginning and how life on the road has kept the band going for so many years. And of course, I made plans to be at the concert!
Thanks so much, Peter, for speaking with me today. I have to admit to being a fan for many years and have always wondered where the band's name originated. Did it really have something to do with a cartoon character?
We were playing in a pub near Manchester and the owner was not impressed with my Buddy Holly voice and the horned rim glasses. And he said, "That's nuthin' like Buddy Holly. More like (S)Herman on The Bullwinkle Show." We laughed and he looked at the group, called The Heartbeats, and said, "You aren't anything like Heartbeats. You look like bloody hermits." And so, we were named.
How did the band members become the original Herman's Hermits in 1964? Were you all friends before forming the group?
We found each other because we all liked the same kind of music. And we were all in other groups looking for a way out. But none of us knew each other before we joined the group that became Herman's Hermits.
Are any of the other original band members on tour with you now?
Sadly no. Keith Hopwood retired in 1971. Derek Leckenby went to Rock and Roll heaven, and Karl Green retired.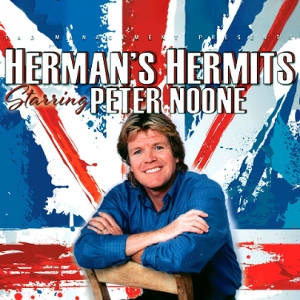 How often do you go out on tour internationally?
I am on tour constantly as I have only ten more years and lots of places I want to play, like at the Saban Theatre!
Then congrats on making it there this weekend and I think you can continue this more way more than just ten more years! It must certainly be different traveling now than it was back in the 1960s. Can you tell me a bit about how the group's touring has evolved over the years?
We have no set list and know 300 songs. We shuffle them a bit so they are always fresh and I surprise the group by shouting out which songs to do. You should see it - it is fab!
I have not heard that word in a long time, and I am sure it is! I am curious, since you travel around the world entertaining, are there a few cities you consider to be the most enthusiastic at your shows?
Beverly Hills has always been my favorite place to play - and I have a tee shirt!
I bet you say that about each city you are in! And you must have quite a tee shirt collection! Since your songs are so well known, are audience members invited to sing along with you?
They are required - although some of my songs are more complicated than I'm Henry the 8th and some of them have three verses and 11 words!
And I bet most of the audiences know every word to every song! Is your concert at the Saban Theatre part of a worldwide tour? And if so, where do you go from here?
Yes we are doing 108 concerts this year, mostly in the USA, Canada and Mexico. Some UK, some France.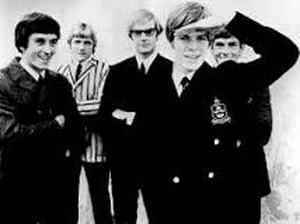 Pictured: The original members of Herman's Hermits
I have to admit, my favorite Herman's Hermits song is "Kind of a Hush." But I've always wondered, how did your first hit song, "I'm Into Something Good" come into being?
Mickie Most found the song and said, "This is a blinkin' number one!" And he was, as usual, correct. I relive the recording session every night onstage when I was 16, two Hermits were 17, and one was 18 - and we had a geezer who was 20!
Calling a 20-year-old a geezer makes me laugh! I was wondering if you have any favorite Herman's Hermits songs? Or are there songs by others you enjoy performing?
Because we have 300 songs ready to go, I usually do all the hits interspersed with some jolly good fun songs by my Dad Mick Jagger, some Dave Clark, some Gerry and the Pacemakers. And people think I wrote them all and I am sayin' nuthin'.
And I won't tell. (wink)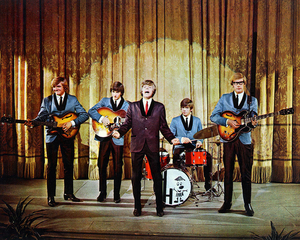 Pictured: The original Herman's Hermits performing onstage in 1965.
Is there anything else you would like to share with your fans about the upcoming show at the Saban Theatre or tour in general?
Please join us for a singalong, laughter-packed concert (we laugh in every song), and please bring the grandchildren - they are safe at the Saban!!!
And now readers - take my advice - hurry and get tickets to the Herman's Hermits concert starring Peter Noone, presented by Sterling Venues at the Saban Theatre, 8440 Wilshire Blvd. in Beverly Hills 90211, this Friday, January 27 at 8pm (and upcoming shows at The Canyon in Montclair on April 14 and The Canyon in Agoura Hills on April 15). Doors at the Saban open at 6pm, with an opening set by The Malibooz. Tickets run $38-$68, available at https://wheremusicmeetsthesoul.com/saban-beverly.../events/. All audience members under 18 must be accompanied by a paying adult.
And on that same link, be sure to check out upcoming exciting shows in February including Paul Anka, Stephanie Mills and El DeBarge, Cinderella by the World Ballet, and Pink Floyd tribute band The Gilmore Project performing Dark Side of the Moon, and many more in the months ahead.
To view Herman's Hermits 2023 tour dates, visit https://peternoone.com/pages/concert-dates