Interview: Director Paula Kelley On Neil Simon's LITTLE ME Musical At Manhattan Beach Community Church Theater
Little Me runs March 24-April 2.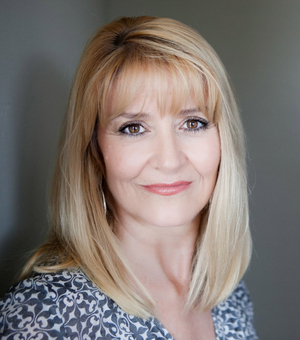 The soon-to-open production of the Neil Simon musical Little Me at Manhattan Beach Community Church Theater (MBCC), the longest running theater in the South Bay since 1956, is directed by Paula Kelley (pictured) with choreography by Angela Asch. Originally scheduled to open in the Spring of 2020, I decided to speak with the director about the production's three-year delay and how she envisions presenting a musical full of comic vignettes featuring such a large cast, especially since it was written specifically for Sid Caesar to play multiple roles as all the heroine's husbands and lovers.
Thank you, Paula for taking time out of your busy rehearsal schedule to speak with me. First of all, is this your first time directing a production for MBCC? If not, what else have you directed for the group?
Yes. I have been in many productions at MBCC, the last one playing Momma Rose in Gypsy in 2018, but this is my first time directing for this theater.
I understand Little Me was to be presented three years ago but got postponed until now. Were you set to direct it back then? And/or how were you brought into the 2023 production?
I have been involved with this production since the beginning. When MBCC asked me if I would be interested in directing the Spring musical in 2020, I thought of all the shows I had done in my past. Many years ago, I played Young Belle in a production of Little Me in Boston and it has always held a special place in my heart. I brought it to the board and got the green light. And then we all know what happened.
We sure do. I am most curious if just one actor be playing all of the husbands and lovers as Sid Caesar did in the original production? And if so, how did you find an actor willing to take on that challenge?
Yes! It is definitely a challenge, but I think it is one of the things that makes this show so unique and fun. Michael Hovance (pictured) will be playing all of Belle's loves. I directed It's a Wonderful Life: A Live Radio Play at Surf City Theater and Mr. Hovance played Freddie Filmore and did about 22 different voices. I knew I had my Noble et al.
Tell me about the actor portraying Belle Poitrine and how you found her.
Jonni Swensen will be playing Young Belle. I have worked with her in other productions including It's a Wonderful Life, so she's no stranger to Mr. Hovance either! Ms. Swensen has the innocence and charm necessary that will endear her to the audience.
How are you planning to feature each member of such a large cast during the production? Are there big production numbers or just a series of smaller vignettes in which each of them appears?
There are a few big production numbers as well as some smaller group numbers. Val du Val has his Boom Boom Girls, the soldiers will be singing Real Live Girl which was one of the hits from this show back in 1962, and there are many others. The entire cast is having a blast working on these numbers.
Has MBCC produced others plays or musicals by Neil Simon before this one?
They have done three straight plays by Neil Simon; Barefoot in the Park in 2012, Plaza Suite in 2006, and The Odd Couple in 1999.
What do you think will surprise fans of Neil Simon when they see Little Me?
Neil Simon is a genius at writing comedy, and I think everyone would agree to that. With Little Me, however, I think it is one of the most playful things he's ever written. Quite often Simon writes dark moments interspersed throughout his comedies, but this is purely a good laugh! The music is by Cy Coleman and Carolyn Leigh who have written some of the best musical numbers of their time. I actually had an actor audition for me who said when they saw the music was by Coleman and Leigh they had to try out.
Have you worked with choreographer Angela Asch before?
I have. I love her work and the way she works. She is able to find the best in her dancers and accentuate that. It's quite a talent, and she has given me exactly what I was looking for in Little Me.
As they say, team work makes the dream work! Little Me is being presented with an in-person orchestra conducting by Rick Heckman (pictured). Have you worked with him before?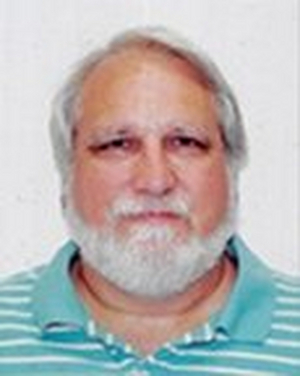 No, this is my first time. As Musical Director I have been working with the cast since day one and now I am able to turn the reins over to Mr. Heckman. What I have learned is we speak the same language and it's been a joy working out the music cues together. He has music directed and conducted tons of shows all over the South Bay and I am so fortunate to have him at the helm steering the orchestra!
Are there others on the technical crew that you have worked with before? Perhaps your costumer, scenic designer, or lighting director?
My costumer is Susan Norris and yes, I've been lucky enough to work with her before. She did the costumes for Gypsy. I have never worked with anyone as prepared and researched as she. She is making by hand, from scratch, 16 dresses and men's knickers and vests for the villagers from our fictional kingdom of Rosenzweig! Also, Michael Thorpe is my Stage Manager/set builder who has built our SS Gigantic which we will sink every night! Creating this was no small feat!
That promises to be a scene to remember. What else do you hope audiences will be talking about after seeing Little Me?
I hope the audiences will leave with their cheeks and sides hurting from the laughter and feeling utterly and completely entertained. That's our job.
Would you like to share what's next on your schedule?
Right now, I don't have anything planned. This turned out to be three years in the making due to Covid, and I hadn't even considered what would come next!
Is there anything else about Little Me you would like to share with readers?
The cast I have assembled is incredibly talented. I will find them working diligently on their own in a corner somewhere when not working on stage. They have committed themselves fully and I know they will all give a spectacular performance! Little Me is pure entertainment at its finest!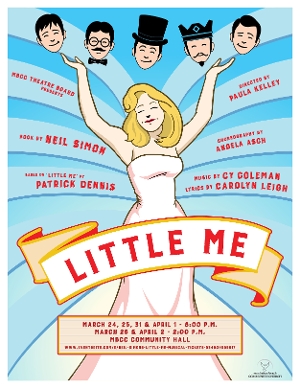 Little Me is produced for MBCC by Victoria Bailer Alfvin, Susan & Steve Norris, running for two weekends, March 24-26, March 31-April 2, on Friday and Saturday evenings at 8pm, Sunday matinees at 2pm, at the Manhattan Beach Community Hall, located at 303 S. Peck Avenue, Manhattan Beach 90266. Run time is two hours. General admission tickets are $25, available online at https://www.eventbrite.com/e/neil-simons-little-me-musical-tickets-544786730777?aff=ebdssbcategorybrowse or at the door.
The cast features (in alphabetical order) B. Alexander, Vikki Alfvin, Angie Asch, Jeff Asch, Jerry Bennett, Nancy Brennan, Sue Brennan, Sarah Cohen, Brigit Comeau, Lyn Coulter, Madison Cowmeadow, Azel Eddings, Kelly Gov, Michael Heidner, Michael Hovance, Rebecca Lynn Hurt, Richmond Staunton Keeling, Matt Landig, Bob Manning, Larry Moreno, Nakasha Norwood, Emma Puglia, Katyana Rocker-Cook, Judy Rosenfeld, Michele Selin, Perry Shields, Donna Stogryn, Jonni Swensen, Dan Ullfig, Rhonda Yeager-Hutchinson, and Sebastien Young.