Heidi Duckler Dance Presents The World Premiere Of RAMONA At The San Gabriel Mission Playhouse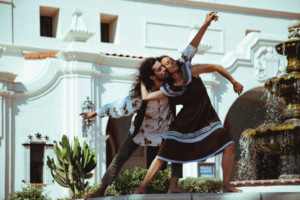 Heidi Duckler Dance presents the world premiere of The Story of Ramona for two nights only on Sunday, September 16 & Sunday, September 23 at 7:00pm at The San Gabriel Mission Playhouse, 320 S Mission Dr, San Gabriel, CA 91776.
RAMONA is inspired by the quintessential California story of the same name, written in 1884 by Helen Hunt Jackson. A west-coast coming-of-age story, Ramona was wildly popular across the country during a time when pageants were all the rage at the turn of the 19th century. Amplifying the golden romantic myth of California, Ramona became used as a branding tool for the state, and was a leading driver for people to migrate there from all across the country. Prophetically, the novel articulates themes of female empowerment; themes that are still relevant today. Now, more than ever, it is essential that people in our communities - especially young women - be exposed to stories that celebrate strong female role-models who have played a major part in shaping the history of California, like Ramona. Setting the production at the historic Mission Playhouse, which is said to be the birthplace of Ramona, provides the perfect opportunity for audiences to discover the cultural significance of the story through dance and contemporary American music.
Choreographed & Directed by Heidi Duckler, this work features Heidi Duckler Dance's company dancers, Lenin Fernandez, Roberto Lambaren, Ryan Walker Page, Rafael Quintas, Rosanna Tavarez and Himerria Wortham accompanied by live indigenous instrumentation by Chris Garcia, live violin by Israel Heller and live Spanish guitar by Gabriel Deutsch alongside celebrity goats, Spanky & Pippin!
This production is part of the Mission Playhouse's Community Engagement Program, Engage! and is supported by 5th District Supervisor, Kathryn Barger, Board of Supervisors County of Los Angeles.
Tickets:
$50.00 - General Admission
$35.00 - Heidi Duckler Dance Members
$25.00 - Students & Seniors (60+)
$15.00 - Youth (13 and under)
Purchase tickets at:
www.heididuckler.org/upcoming-events/
More Hot Stories For You