Heartwarming and Humorous QUARTET Opens at Little Fish Theatre, 3/9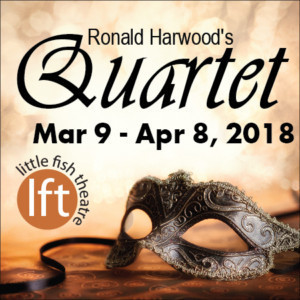 The return of one of opera's brightest stars upsets the equilibrium at a home for retired singers in Quartet, Little Fish Theatre's second show of its 2018 season. Written by Academy Award-winner Ronald Harwood and directed by Little Fish Theatre Company Member Margaret Schugt, Quartet is a funny and poignant play that is sure to strike chords in audiences of all ages.
Cecily, Reggie, and Wilfred, once well-known opera singers, reside in a home for retired musicians. As the days march on, the house is abuzz with preparations for the concert to celebrate Verdi's birthday and about a new arrival, Jean Horton, a diva of the first order and the one-time wife of Reggie. Jean refuses to sing at the concert -- but as we know, the show must go on. In Quartet, we watch these four characters make peace, make waves, tell some off-color jokes, and remind us that life is for the living and it doesn't begin and end with the footlights.
Quartet is the second show Little Fish Theatre has mounted by acclaimed playwright and screenwriter Harwood. LFT's 2015 production of post-WWII drama Taking Sides won over critics and audiences alike. In 2003, Harwood won the Academy Award for Best Adapted Screenplay for The Pianist. He was also nominated for 1983's The Dresser and 2003's The Diving Bell and the Butterfly, for which he also won the Humanitas Award.
Three LFT Company Members and one newcomer to the LFT stage comprise the Quartet cast. Taking on the role of Reggie, the thoughtful ex-husband of Jean, is James Rice, last seen in LFT's The Night Before The Night Before Christmas. LFT audience favorite Mary-Margaret Lewis* plays diva Jean Horton. Lewis' long list of credits include appearances on TV's Mad Men and Black-ish and most in LFT's Pick of the Vine. Sweet Cecily is played by Shirley Hatton*, a StageSceneLA award winner as Mrs. Lovett in Sweeney Todd. Rounding out the cast as lovable rogue Wilfred, and new to the LFT's stage, is Gregg Lawrence* recently seen as Voltaire in Candide at the Pasadena Opera.
"As a young girl, I fell in love with the opera and I knew instantly how special those singers were. They opened an emotional world for me, and now I'm getting to tell a story about their journeys from star to retiree, which feels beautifully full circle to me," says director Schugt. "Quartet is equal parts humor and heartbreak that tackles the question of what happens as we become old and how do we respond to life when we can no longer do what we once could? It's nice to work on a play that embraces the aches and pains associated with getting older, and it's nice to be able to laugh at them as well. This play, and this cast do both so well." She adds, "Quartet is sure to be enjoyed by everybody who can't help but make sounds getting in and out of chairs. Let's laugh at aging together. After all, it's better than the alternative."
Little Fish Theatre's Producing Artistic Director Lisa Coffi says, "What drew me to Quartet was how the characters look back at their younger selves, when they were shining and brilliant, and how they aspire as septuagenarians to get another taste of what used to be. The brilliance in this script is that we get to witness them going for it wholeheartedly."
Quartet will run Fridays and Saturdays at 8:00pm March 9 through April 8. One Sunday 2:00pm matinee on April 1 features a special Talkback session where the actors and creative team will be available for 10 to 15 minutes for a post-show discussion with the audience.
Founded in 2002 as an artists' ensemble, Little Fish Theatre presents classic and contemporary plays in an intimate setting on Centre Street in downtown San Pedro.
*This production is presented under the auspices of the Actors' Equity Los Angeles Membership Company Rule.