Review: Timeless Classic HELLO, DOLLY! Returns in Lustrous Revival at OC's Segerstrom Center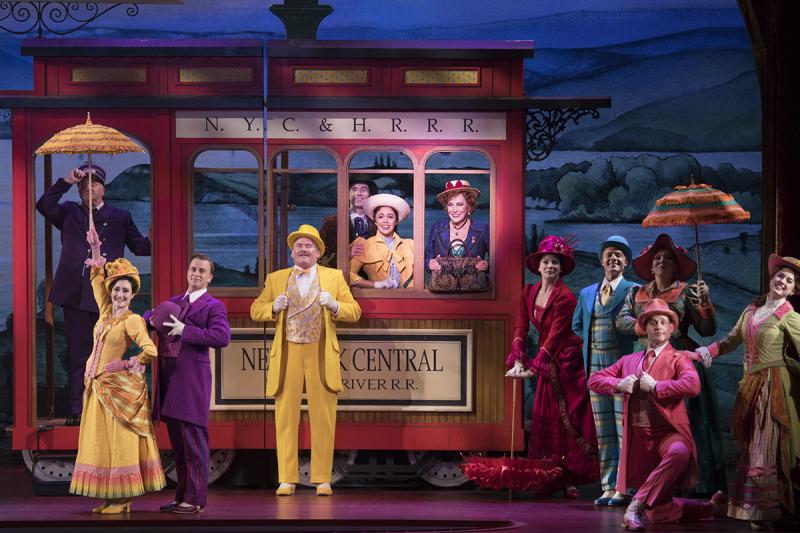 It's a rare phenomenon to have a big marquee star headline a Broadway show's national tour, so it is certainly understandable that such an occurrence would initiate excitement and buzz when it happens---especially when that big marquee star is a beloved stage-and-screen star that's also attached to a well-liked, much-talked about stage musical.
Thus, when it was announced that the Tony Award-winning 2017 revival of the ever-enduring classic HELLO, DOLLY! was hitting the road with Tony winner Betty Buckley (CAT's OG Grizabella) attached to star in the title role, the anticipation to revisit this utterly delightful, timeless chestnut as it travels across the United States became even greater. Of course, the hype for this new Jerry Zaks-directed production already reached the highest of highs when the Broadway run not only featured the celebrated return of Bette Midler to the stage, but also the welcome return of two glorious Dollys that followed---Donna Murphy and Bernadette Peters---paving the way for the need to have an equally big name to don Ms. Levi's frocks on tour.
But, as most people know with live theater, there is also an underlying risk in promoting a specific star to a specific project---mainly that this star will be there at every single performance, as advertised. Unfortunately, that's simply not realistic nor is it always going to be the case, due to a multitude of factors beyond anyone's control (heck, just ask the producers of the recent planned RENT "live" TV broadcast on Fox)---which is why every stage show always staffs its cast with standbys and understudies with the clear intent of fulfilling that old theatrical adage: "the show must go on."
Alas, this is what transpired for most of HELLO, DOLLY!'s scheduled week-long engagement at Orange County's Segerstrom Center for the Arts in Costa Mesa which concluded Sunday, January 27. Due to an unfortunate illness, Ms. Buckley could not appear in the show for several consecutive nights, starting with its planned OC opening night on January 22 (she was reportedly back in the role, the brave trooper that she is, by the final Saturday evening performance, much to the delight of those that had the opportunity to see her at all).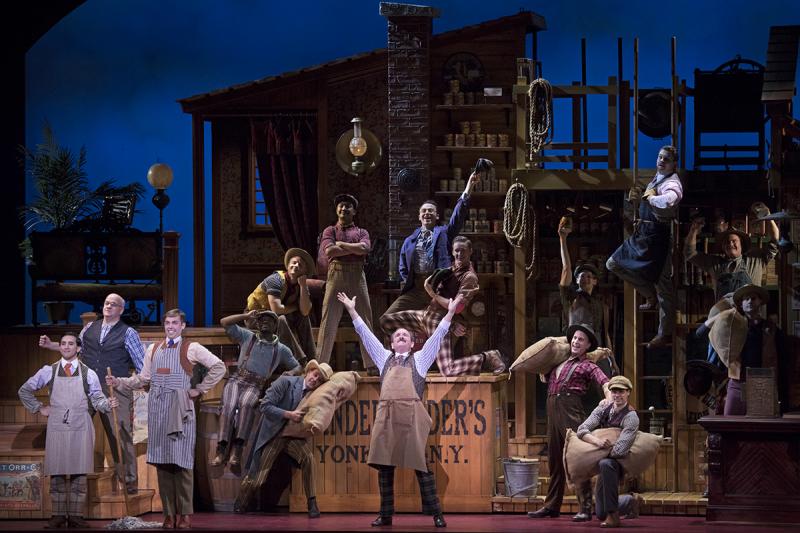 Yes, a few (very few) patrons decided to exchange their tickets for a different performance night, hoping she'd return for a later date. But for the most part, most audience members stayed to watch during the first four days of performances---willing to experience the show with Ms. Buckley's understudy Jessica Sheridan, who had the (now) unenviable task of having to essay the role so many people had expected someone else to play. I, myself, couldn't risk missing the show altogether, so I ended up experiencing HELLO, DOLLY! on the last Friday evening show of its OC run.
To those worried about a future date in the national tour's run in which they will have to miss Ms. Buckley in the title role for any reason, I have two words for you: don't worry. As bummed as I was not being able to see Ms. Buckley's long-anticipated take on musical theater's most infamous matchmaker outside of Anatevka, Dolly Levi (and I really really wanted to see Ms. Buckley), her admirable understudy Ms. Sheridan---joyfully cheeky and adorably spunky as one might expect in the role---is a terrific, wonderfully game substitute, earning every bit of her raucous standing ovation that greeted her during the final bows of Friday evening's performance.
A superb actor and singer, she's got a mighty strong voice enhanced with remarkable comic timing and a set of playfully ferocious growls that fit the very essence of a long line of past Dollys---from the dearly departed original, Carol Channing (who had just left our world two weeks ago), to the likes of Pearl Bailey, Ethel Merman, and, yes, Ms. Midler.
From her first appearance disembarking a trolley car at Yonkers to her stunning, Busby Berkeley-like welcome at the Harmonia Gardens fit for royalty, Sheridan brought charm and a palpable uplifting spirit to her enchanting portrait that audiences really ate up and enjoyed. She even channels Barbra Streisand's rat-at-tat cadence from the film at times and nails that infamous poultry-feasting scene that truly stopped the show and had everyone in hysterics.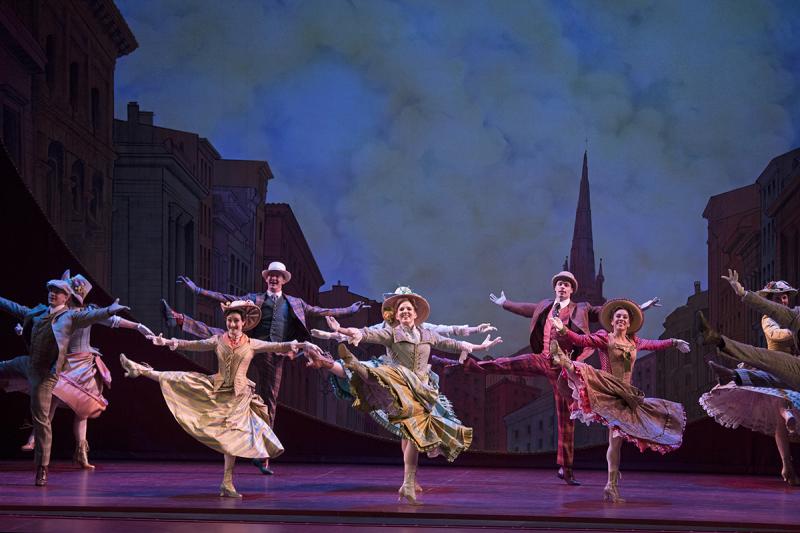 But as much as Ms. Buckley was, perhaps, a huge draw for many to come check out yet another production of this timeless classic, what audiences will end up experiencing as a whole when they stay is just as equally important a reason to see this brand new revival.
Aside from Buckley, the cast features an excellent collection of other standout Broadway vets, including Lewis J. Stadlen as Yonkers' half-a-millionaire Horace Vandergelder, Dolly's most important, most top-paying client and the unknowing target of her affections; the terrific, love-struck comedic duo of Nic Rouleau and Jess LeProtto, who play Horace's overworked, under-appreciated store minions Cornelius Hackl and Barnaby Tucker, respectively; and as the boys' would-be paramours (blessed with lovely voices), there's NYC hat-shop owner and proprietor Irene Molloy, played by the delightful Analisa Leaming, and Ms. Molloy's nervous nelly clerk Minnie Fay, played by the humorous Kristen Hahn. Limber Garett Hawe and the funny Morgan Kirner round out the main cast respectively as starving artist Ambrose Kemper and his love, shrill crybaby Ermangarde (Horace's niece).
The remaining cast members are every bit the definition of triple-threat talents: dancing and singing like a harmonious, jaw-droppingly athletic ensemble that sounds like a gorgeous choir that can leap across the stage like their feet were on fire. I could not stop smiling during the entire show as I watch the hijinks and shenanigans unfold.
This cast's aim is clearly to entertain, and they do so effortlessly. All together, in their capable, talented hands, HELLO, DOLLY!'s signature numbers such as "It Takes A Woman," "Put On Your Sunday Clothes," "Before the Parade Passes By," and, of course, the ubiquitous ear worm "Hello, Dolly!" explode with epic bombast.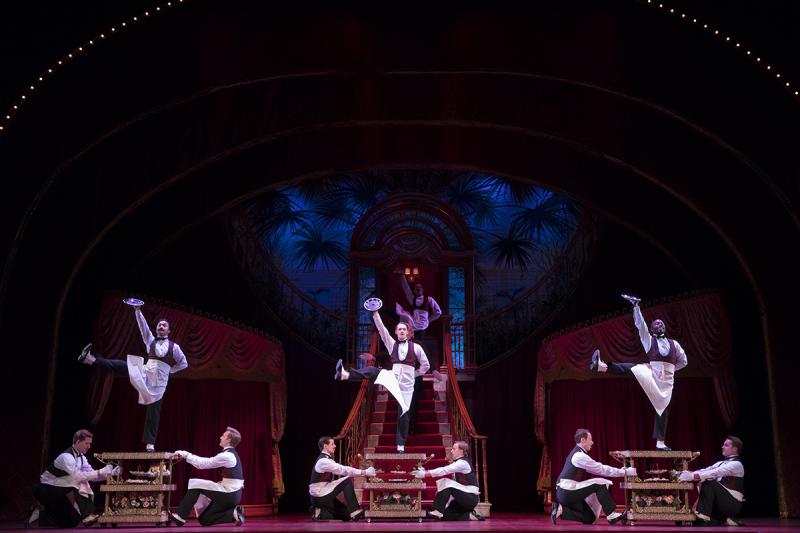 Every inch and every corner of this new production---directed with a nostalgic, old-fashioned nod to classic Broadway showy-ness by Zaks---is bursting at the seams with pure, dazzling joy and incredible, top-notch production values. To borrow a song from this very show, HELLO, DOLLY!'s got elegance.
Santo Loquasto's beautiful scenic and costume designs pop with technicolor flair, a gorgeous juxtaposition of movie musical richness and late 19th Century woodcut sketch illustrations. The entire show and cast is bathed in Natasha Katz's painterly lighting design. Warren Carlyle's dance staging and choreography feels fresh but also a throwback homage to its classic Gower Champion roots. Jerry Herman's score sounds absolutely perfect under the baton of conductor Robert Billing, under the musical direction of Andy Einhorn---again, reminiscent of the lush orchestral sounds of the original.
And the addition of a roundabout catwalk ledge built over the orchestra pit gives Dolly and company that extra added umph to strut forward towards the enchanted audience in all their lovely Sunday best.
What about the narrative that props up HELLO, DOLLY? Is it still an enjoyable aspect of the show in 2019? Absolutely.
A simple enough plot but still immensely satisfying in its lack of extreme complication, HELLO, DOLLY basically tells the story of a smart but meddlesome woman's ease in seeing the economic possibilities of controlling, er, I mean, assisting the machinations of other people's lives---and their shockingly easy willingness to surrender some of that control to her.
"Just leave everything to me!" she proudly bellows, as if she knows she alone has the smarts and the know-how to control any and all situations, particularly when it comes to matters of coupling. But hey... just because other people can have their romance, doesn't mean she has to be left out, too!
Surprisingly enough, the hilarious bon mots and G-rated sight gags that pepper Michael Stewart's amusing book---adapted from Thorton Wilder's The Matchmaker---hold up quite well even with contemporary audiences, a sign that this classic can successfully transcend generations, even ones forced to turn off their mobile devices for a few hours to actually pay attention to something. The trade off? A resplendent and sensational show that pokes some silly fun at courtship, love, and the art of attraction. Even in our "woke" times, watching Dolly make her move while nudging situations for others isn't just mere meddlesome behavior, it's a throwback to a more naive, less complicated time when love can still surprise and, um, stun (in a good way).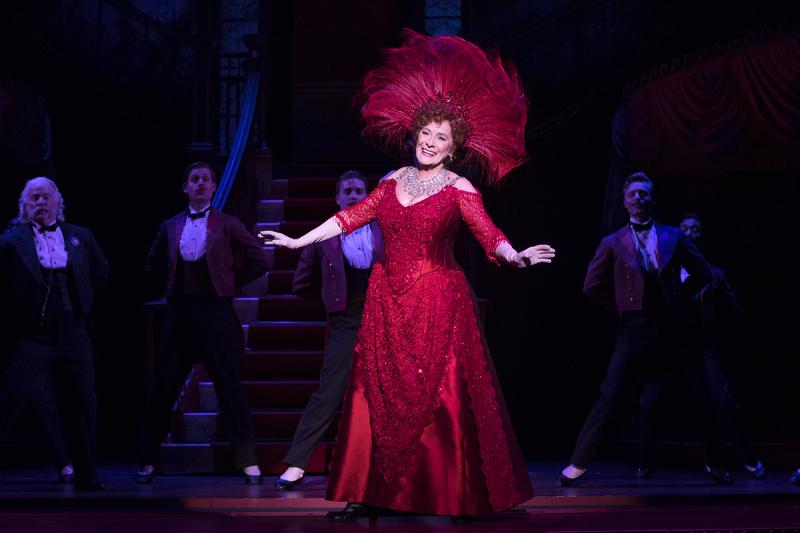 Overall, it truly is so nice to have this magnificent revival back where it belongs---on a theater stage in all its dazzling glory. The added plus of seeing Ms. Buckley in the role should definitely lure you in, but just in case she can't make it... be sure to stick around anyway and behold the wonders of this genuinely entertaining musical classic---from its unforgettable score and visual appeal, to its laugh-inducing silliness and cheeky fun. Wow wow wow indeed.
----
HELLO, DOLLY!
Book by Michael Stewart. Music and Lyrics by Jerry Herman.
Based on "The Matchmaker" by Thorton Wilder.
Scenic and Costume Design by Santo Loquasto. Lighting Design by Natasha Katz. Sound Design by Scott Lehrer.
Musical Direction by Andy Einhorn. Orchestrations by Larry Hochman. Vocal Arrangements by Don Pippin.
Choreography by Warren Carlyle. Directed by Jerry Zaks.
Photos from the National Tour of HELLO, DOLLY! by Julieta Cervantes.
Performances of the National Tour of HELLO, DOLLY! at Segerstrom Center for the Arts recently completed its week-long run and are scheduled next at the Hollywood Pantages Theatre from January 29, 2019 through February 17, 2019. For more information or to purchase tickets, visit hollywoodpantages.com.
** Follow this reviewer on Twitter: @cre8iveMLQ **