Review: Three Cheers for the Talented Kids in SCHOOL OF ROCK

As kid musicals go, SCHOOL OF ROCK isn't half bad. It falls somewhere between ANNIE and MATILDA on the Richter scale of stories about downtrodden kids overcoming obstacles to win in the end. It's got enough emotional oomph to tug on your heartstrings and it gives you plenty of reasons to happily cheer the underdogs on. It's also making stars out of its young cast members, right and left.
It should. These pint-sized phenoms are über-talented, both as actors and musicians. An announcement at the top of the show informs the audience that they are all playing their instruments live, which puts to rest what would have been the all-consuming question throughout the performance.


Instead of wondering whether Vincent Molden (Zack) is actually shredding that electric guitar himself, you can sit back and enjoy how well he's doing it. A girl bass player? Yes, please, and Theodora Silverman has the chops to kill it, along with the rocker attitude. Lovable Theo Mitchell-Penner is a monster on the keyboard and, in his final hour, proves to be quite the showman as well, while Gilberto Moretti-Hamilton tears it up on the drum kit every chance he gets.
There are big, bright performances by Iara Nemirovsky as an annoying goody two-shoes turned band manager, Huxley Westemeier as a pre-teen costume designer destined to give Project Runway's Michael Kors a run for his money, and Grier Burke, who blossoms from the shy new girl to a determined young lady who knows she's lead singer material. Back-up girls Olivia Bucknor and Alyssa Emily Marvin have some surprisingly hip moves, and it keeps going right on down the line.

Their goal is to enter and win the Battle of the Bands contest, a secret school project led by their fake substitute teacher, Dewey Finn (Rob Colletti). They don't know he's really an out of work, wannabe rocker who's been thrown out of the band he created and who happened to hijack a substitute teaching gig meant for his best friend, Ned (Matt Bittner). Dewey pretends to be Ned thinking it will be an easy way to make the rent money he's behind on so Ned's fiancée (Emily Borromeo) won't throw him out.
But this is no gravy gig. He'll need to pull out all the stops to keep up the charade in front of the militaristic principal, Rosalie (Lexie Dorsett Sharp), and the rest of the school. It's a set-up for plenty of laughs as Dewey goes from being a loser to the kids' champion, and everyone - kids, parents, teachers, and even Dewey - get an education they never expected.
The family-friendly musical is based on the 2003 beloved Jack Black comedy and while Colletti doesn't have Black's childlike charm, watching him improvise under cover is a lot of fun. The upbeat score consists of music from the film and new songs by composer Andrew Lloyd Webber and lyricist Glenn Slater. Two of the best are "You're in the Band," a rousing ensemble number built to reveal each student's talent and "Stick It to the Man," which becomes the kids' show anthem. Julian Fellowes, of Downton Abbey fame, gives the book a youthful excitability.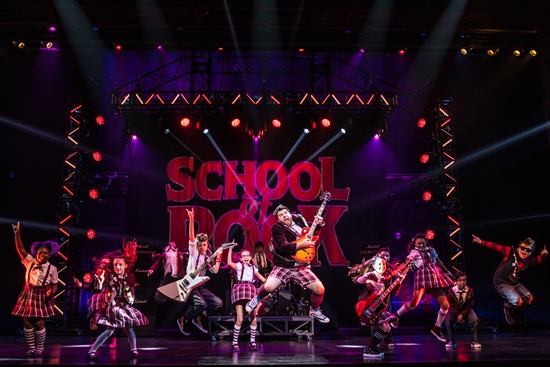 The touring design has the electrified, amplified look of a traveling after school special and morphs nimbly from school to home to the concert hall.
Direction by Laurence Connor pushes everything to a feverish pitch, which can sometimes feel like an assault on your senses. Everyone speaks loudly in a high-pitched voice (where diction tends to suffer) and the adult performances have a harsh edge to them that isn't always necessary. Regardless, there's no denying that SCHOOL OF ROCK is a hyper-energetic crowd-pleaser.
Take the kids, take the family, and go have fun!
SCHOOL OF ROCK
Hollywood Pantages Theatre
6233 Hollywood Boulevard
Los Angeles, CA 90028
Tickets: www.hollywoodpantages.com
Photo credit: Matthew Murphy