BWW Review: SPRING AWAKENING at The Lounge Theatre is Exactly What America Needs Right Now
Andrew Gleckler (Melchior), Asha Noel Iyer (Wendla), and the cast of Me + You Productions: Spring Awakening. Gigi Greene Photography
Spring Awakening opened to a sold-out crowd last night in West Hollywood's The Lounge Theatre, this being the premiere project for Me + You Productions. The rock musical, known for being groundbreaking on Broadway in 2006, is looked at through a new lens in this production: Gun Saftey. With 100% of proceeds going to Everytown for Gun Saftey, Me + You Productions find the intricate balance of connecting current struggles and honoring the original story.
With music by Duncan Sheik and book/lyrics by Steven Sater, Spring Awakening is a musical adaptation of the 1891 play, "Spring's Awakening" by Frank Wedekind. Described as "a haunting and electrifying rock n' roll musical" with "shimmering sensuality," Spring Awakening tells the story of adolescents in 1890s Germany, experiencing the confusion of teenage sexual awakening in the midst of an ultra-conservative, repressive society.
West Hollywood's The Lounge Theatre is the perfect space for this intimate musical, having only 46 seats, you are right up in the action with these characters, living and experiencing their story as if you are also a part of the narrative.
Spring Awakening is often produced with the inconsistent convention of actors using handheld microphones to rock out and share their inner thoughts and desires. But in this production Director Travis Kendrick breaks down that barrier, by taking away the artifice it allows the audience to connect deeper with the story.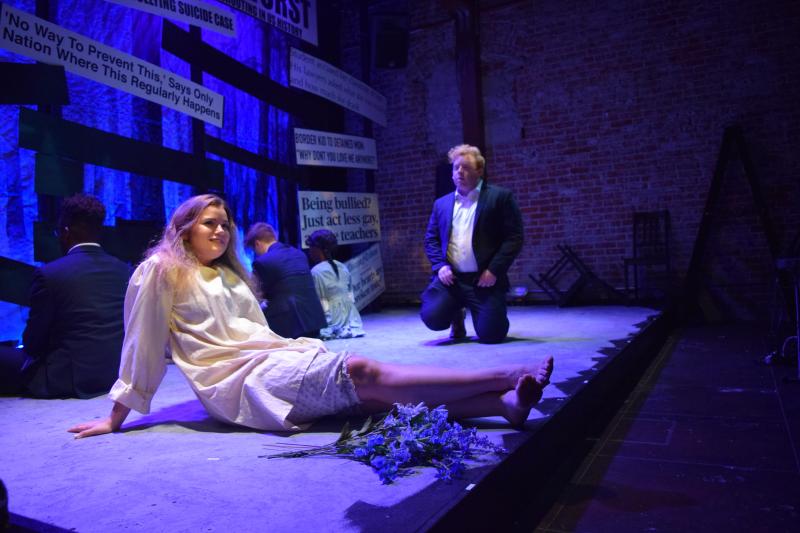 Emma Lou Delaney (Illse), Thomas Adoue Polk (Mortiz). Gigi Greene Photography
Asha Noel Iyer achieves such a beautiful harmony as the character Wendla, being both grounded and naïve while giving depth to Wendla's struggles and desires throughout the story. Andrew Gleckler is effortlessly charming as Melchior, a character who can be interpreted as an unlikeable teenager. Gleckler is raw and honest in his portrayal of a young man ahead of his time.
Another standout performance is Emma Lou Delaney as Illse, the free-spirited outsider. Delaney brings a magical quality to Illse through her authentic inner life, just by looking into her eyes you can experience what she is feeling. Emma Lou Delaney possesses that star-power that is unteachable, a gift to witness.
The thing that makes this show work so well with this concept is how all the design elements and vision from both the director and producer flow so seamlessly together. Sound designer, Franklin Kramer, skillfully underscores the beginning of both acts with audio of current news reports on topics like gun control, suicide, and women's rights. Thus integrating the 'old' with the 'new' in more than just rock music, Kramer displays specific instances that these issues in 1890 are still alive in 2018.
Andrew Gleckler (Melchior), Thomas Adoue Polk (Mortiz), and the cast of Me + You Productions: Spring Awakening. Gigi Greene Photography
Director Travis Kendrick assembles stunning stage pictures and utilizes the ensemble in a Brechtian style. When not directly involved in the scene, actors will sit on the sides of the space and watch, thus exploring the dichotomy of private or intimate things being witnessed by a larger group of people. Duncan Sheik's catchy score is beautifully represented in Myrona DeLaney's Music Direction, with lush vocal lines and emotional dynamics. Martha Carter works magic with her lighting design. By using vibrant colors and exquisite timing, Carter expertly personifies the characters' thoughts and feelings into a visual masterpiece. David Goldstein's scenic design really spoke on the current struggle of censorship, by having large black censor bars velcroed on the back wall that actors use to cover or hide behind, enforcing this idea that we as a society hide things from children. Sera Borgeau's costume design is actually faithful to the time period, having the characters represented as how they would've looked only strengthened this production's connection from the past to the present.
A unique and strong choice made in this production was during the scene when Mortiz confronts his father about the hypothetical scenario of his failure, his father is seen polishing a gun moments before, the same gun that is later discovered by the troubled teen during a breakdown. Mortiz's scenario that befalls him has always spoken on mental health and what happens when you do not know where to turn, but in this production, his tragic 'implosion' could have also turned to an external 'explosion' hurting those around him; becoming the next school shooter we see on the news.
This production of Spring Awakening is exactly what America needs right now.
2018's America needs to be reminded of the past in order to move forward to a more progressive and accepting future. We cannot imagine that these issues have been resolved nor that we can sit back and not do anything about them. An exciting surprise in this production is during the final number 'Song of Purple Summer', which has been uniquely staged to leave you inspired and invigorated to make a change.
Run, don't walk to the Lounge Theatre to see Spring Awakening, running now until Sept 9th. Tickets are available at www.springawakeningforgunsafety.com.
---
Me + You Productions' Spring Awakening features Andrew Gleckler as Melchior, Asha Noel Iyer as Wendla, Thomas Adoue Polk as Moritz, Emma Lou DeLaney as Ilse, Anthony Cloyd as Hanschen, Michael Waller as Ernst, Timothy Reese as Georg, Laila Erica Drew as Martha, L.E. Woods as Otto, Juj Seeley as Thea, Abbey Kate as Anna, Kris Robinson as the Adult Woman, and Jack Stuart as the Adult Man.
The creative team is led by Direction/Choreography by Travis Kendrick, Music Direction by Myrona DeLaney, Set Design by David Goldstein, Lighting Design by Martha Carter, Costume Design by Sera Borgeau, Sound Design by Franklin Kramer, Associate Choreography by Emma Lou Delaney, and Assistant Lighting Design by Avery Reagan. Stage Management by Sam Sherry, and Wardrobe/Dramaturgy by Bonnie Christiansen.
This show is for mature audiences. Contains strong language and sexual content
Get your tickets to Spring Awakening here or visit their website: www.springawakeningforgunsafety.com.
100% of ticket proceeds benefit Everytown for Gun Saftey.
Pictures by Gigi Greene Photography