Click Here for More Articles on SHAKESPEARE SPOTLIGHT
BWW Review: Pinter Plus Shakespeare Equals AN EVENING OF BETRAYAL

As its inaugural production, new classical theatre company The 6th Act, led by co-artistic directors Matthew Leavitt and Liza Seneca, presents two playwrights united by a common theme in AN EVENING OF BETRAYAL. Act One is Harold Pinter's BETRAYAL, which tells its story of marital infidelity from end to beginning. A condensed version of William Shakespeare's OTHELLO, also told in reverse, makes up Act Two.
Thematically, the plays work well together, regardless of their authors' different styles. Shakespeare's verse poetically reveals his characters' inner thoughts in a highly-charged verbal display delving into both real and perceived betrayal. For Pinter, the poetry is in the pauses, that emotional connective tissue between the lines that betrays surface pleasantries and tells you what a character is really saying. When done well, the truth of what isn't being said rings louder than what is.
Stylistically, they exist at opposite ends of the spectrum but each requires actors with a brain who can intellectually process the beats, make the turns naturally, and offer performances with enough emotional maturity to do justice to the characters' psychological intricacies. Pinter's text, in particular, is a minefield.
Director Elizabeth Swain is well-versed in the needs of both playwrights and has put together a cast that brings a considerable level of depth to the production. In BETRAYAL, British reserve crumbles as the central love triangle - Emma (Liza Seneca), her husband, Robert (William DeMeritt) and her lover, Jerry (Adam J. Smith), who also happens to be Robert's best friend - maneuvers through the secrets and lies that have taken place over a seven year period.
Smith and Seneca's [right] affair plays out much like the story of the spider and the fly, the latter lured into the former's web by flattery until it is too late to escape. The fly is also culpable but the spider sets the trap.
Seneca's closed off body language and tentative attempt at reconnecting with her lover two years after their affair has ended shows a woman who is still painfully vulnerable. Her thoughtful performance captures the ache of a naïve desire to create a home with a man who doesn't love her in the way she loves him. Which man? Take your pick. Both lover and husband are lacking in this scenario. Nick Neidorf's sound design adds another level of subtle irony to the production with underscoring like Debby Boone's 1977 version of "You Light Up My Life" accompanying Seneca's first uncomfortable scene.
Smith is, by turns, charming and infuriating, as Jerry. He's a smooth talker, smug in his wooing and persuasive enough to get what he wants without compromising his public life...so he thinks. DeMeritt spits out jabs with an undercurrent of venom and hurt that would make an audience feel sorry for him, but for the secrets he too is keeping.
The tension-filled first act is an hour and fifteen minutes of furtive irony that ends at the beginning of this compelling psychological drama. Act Two, though it is connected by the overarching theme, is at a disadvantage.
Structurally, taking OTHELLO's story line and telling it backwards creates new challenges. As written, Shakespeare's revenge tale moves forward with increasing urgency until it ends with the murder of three main characters - Othello (DeMeritt), Desdemona (Seneca), and Emilia (Luke McClure). All the action drives feverishly to this climax so to tell it in reverse means starting high and ending low. It isn't an impossible task but the trap in reversing the events of such a tragic story is the passions of the characters themselves.

DeMeritt yells his way through three quarters of the scenes, unable to find nuance within his pain or connection with his fellow actors. He also hasn't tuned the physicality of his performance to this intimate space. What may look natural on a larger stage here comes off as overwrought and overplayed, making it a stretch to believe the sweet romance between DeMeritt's Othello and Seneca's Desdemona ever existed. Dropping his line endings and rushing the text further weakens him.
The character arc that does work in this one hour and ten minute version of the story is Iago's. Driven by a seething desire for revenge, he orchestrates Othello's downfall by placing doubt in his mind about the fidelity of his young wife, and he continues to feed the green-eyed monster at every turn.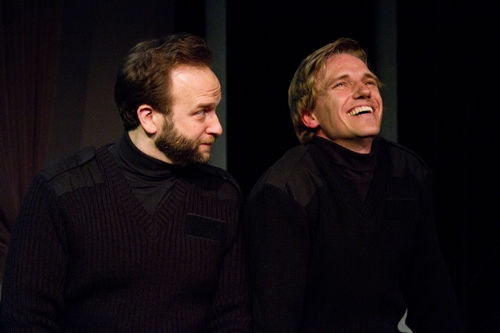 In his case, it doesn't matter if the scenes are performed forward or backward because they take us into the inner recesses of his mind, much like in Pinter's play, and Smith is exceptional in the role. He is devious one moment, defenseless and meek the next. All the while, his level of contempt rises, and when he breaks the fourth wall to share his sickening stratagem with the audience, we see the full fury and elation of a blackened heart. Smith's command of the language is superlative and his Iago is perhaps his finest work to date. One hopes some smart director out there will give this actor an opportunity to play the full role on an L.A. stage in the near future. For now, you'll have to do with his abbreviated performance in AN EVENING OF BETRAYAL.
Pairing Pinter's BETRAYAL with Seneca's adaptation of Shakespeare's OTHELLO is an adventurous undertaking. When it succeeds, as it does much of the time, it shows what can be possible when smart artists exercise creative license in their craft. More please.
AN EVENING OF BETRAYAL
June 1 - 24, 2018
The 6th Act at Theatre 68
5112 Lankershim Blvd
North Hollywood, CA 91601
Tickets and info: www.the6thact.com
Running time at the performance reviewed: 2 hours and 25 minutes plus a 20 minute intermission
Photo credit: Karianne Flaathen