BWW Review: OC's Chance Theater presents Thought-Provoking Play TRIBES
In its simplest form, a tribe is defined as a collective of people that unite because of either a direct tie with a common ancestor, a communal practice of customs and traditions, or a primitive-like adherence to a leader. Although the word has a mostly antiquated, old-world connotation, modern life repurposes the word and makes parallels and alterations to some of these descriptions, allowing us to create our own sets of tribes that vary from our very own families to the "families" we make and find as we explore the world around us.
Everyone, regardless of any category-defining personal traits, has a deep-seeded need to want to belong to a "tribe"---for commonalities, for fellowship, for comfort, for affection, for validation.
For the central character in Nina Raine's thoughtful, award-winning 2010 play TRIBES, the word can be attributed to two differing groups in his life: one that he has grown up with and has known for most of his life, and one that he recently discovers that helps open up an entirely new world he may have needed all along. As can be expected, a tug of war ensues---is it possible to choose one "tribe" over another, knowing what each brings to the table?
In its admirable Orange County premiere production directed by Marya Mazor that continues through October 22 in Anaheim, Chance Theater presents an intimately-staged version of the comedic drama that focuses on Billy (the remarkable Miles Barbee), a relatively chipper, easy-going young man who has returned home to his comically dysfunctional but highly intelligent British family after years away at university.
Billy's "tribe" is a colorful one---a collection of odd but creative and intellectually-stimulated personalities that seem to enjoy lobbing insults at one another like a sport. Leading the family along is Billy's curmudgeon of a father, Christopher (Bruce Goodrich), an academic that appears to be delighted in dispensing harsh insights and in having the last word, and slightly aloof mom Beth (Marina Coffee) who retreats to writing a novel to eschew any deeper involvement in the arguments. Billy also has two older adult siblings, whose lives are both in flux and are still living at home: older brother Daniel (Jonathan Fisher) whose smarts are often attacked by the torturous voices in his head, and Ruth (Piper Power) a seemingly flighty thinker who is an aspiring singer with visions of singing operatic arias at local dive bars (we're not actually sure whether she's any good or not).
As expected, these eccentric individuals' lively, fiercely volatile, and often politically-incorrect arguments---peppered with lots of curse words and deep burns, of course---get audibly louder with each retort and comeback (you have to wonder how these people are when they're not arguing... are they quiet? Boring? Kinder?).
Staying noticeably quiet amongst them, though, is Billy, who sits in his chair (with his back towards the audience) eating his food and watching the explosive back and forth from one side to another like a riveted spectator at a tennis match. There's a reason for his silence and non-contribution: it turns out Billy is hearing-impaired, the lone family member who is incapable of hearing the true volume of his family's shouting matches. Almost immediately, though, you know something's amiss here.
Curiously enough, the family doesn't bother to use ASL (American Sign Language) to enhance their conversations for Billy's sake. Instead, Billy has to contend with trying to read everyone's lips when they speak, a task that has proven to be highly inaccurate and cumbersome, and leaving Billy in the dark, in a way, with most of what's being said. Despite being part of a large, lively "tribe," Billy, for the most part, is isolated and, perhaps, maybe even a little lonely.
Sadly, it's a life he's used to---and, really, a life he's been forced to only know. By decree, Billy's dad refused to teach him or themselves to learn sign language, but instead forces Billy to learn to speak out words (as best he can) and read lips to understand others. Understandably, it's just as difficult as it sounds, especially considering how much rapid-fire tirades this family likes to throw.
Christopher, surprisingly, see this arguably selfish method as a more humane treatment of Billy, justifying it by saying that Billy's lip-reading makes him more "normal" in the eyes of the world, rather than seem broken or, god forbid, unnecessarily "special."
The rest of his family goes along with this selfishness, perhaps because they themselves, in a way, don't want to feel overshadowed by Billy's impairment. But to put it more bluntly, Billy's family doesn't want to face the fact that Billy being deaf is quite the inconvenience for all of them. As hearing people, Billy's family takes full advantage of being able to hear each other even as they walk away or leave the room or don't face each other---while Billy just has to put up with not getting the whole picture or, rather, conversation, most of the time.
It's funny. Billy's family---equipped with the ability to hear clearly and speak loudly---are the absolute worst at listening and, hell, communicating.
Luckily, a chance meet-cute soon changes everything.
In a perfectly-timed entrance, Sylvia (Aly Easton) encounters Billy right at a time when both needed to meet each other. He is, of course, immediately fascinated and smitten with her. Billy learns that Sylvia grew up with deaf parents and is herself becoming deaf in a slow but progressing manner that seems to frighten her a bit. Yes, like Billy, she too is caught between the hearing and hearing-impaired worlds, but in a more literal way. Despite her inability to read lips and his inability to sign, the two somehow find each other and make it work.
Soon the two begin to nurture a romantic relationship, which, naturally, includes Sylvia giving Billy lessons in sign language basics and, later, having her introduce him to a new "tribe" that he had been shielded from his entire life---the deaf community.
Thus begins the so-called tug of war in Billy's life. Billy's newfound immersion in deaf culture and his blossoming love for Sylvia opens his eyes wider to possibilities and what he has been missing. It also enables him to really see his family for the first time---and what their roles are in his life moving forward.
Armed with a new way to communicate, will he finally be able to speak his true feelings out loud? And is his family willing to really listen to him now for the first time?
That test comes when Billy agrees to introduce his new girlfriend to the family over a dinner that, as one might expect, results in quite a comedic and dramatic perfect storm for the play.
Historically, potential paramours introduced into the family by either Daniel or Ruth have been met with disappointment, so for his part, Billy is prepared for the worst---which, actually, may not be enough. Beginning with a deer-in-the-headlights Q&A that is thrown at Sylvia by Billy's highly critical dad, the evening progresses into an all-out debate that exposes wild theories, communication gaps, and even long-held resentments.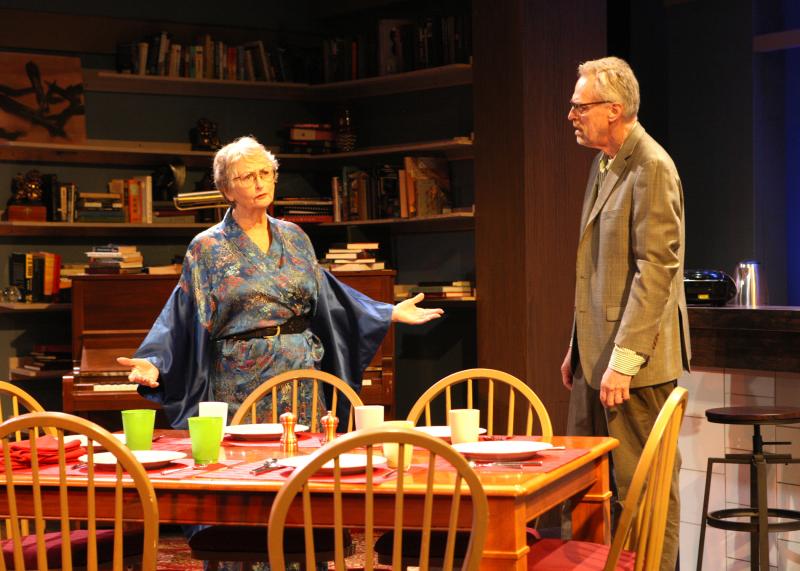 And for the first time, Billy participates more, rather than be the usual silent observer, emboldened by Sylvia's backing and his affiliation with a new found "tribe." Poor Sylvia, though, is caught off guard being the impromptu spokesperson for all things deaf culture, but still holds her own against the wildly erratic personalities that make up Billy's family. In the end, Billy's loud silence is what it takes for them to finally really listen to him.
Smart and thought-provoking, TRIBES not only touches on the idea of one's need to belong to a group whose members thrive on having mutual affections and goals, it also addresses the very nature of communication within such groups---that what one often hears may not be all that's being said; that context is key to understanding; and that effective communication is in truly listening with an open mind and heart rather than reacting to selectively chosen words or sentences. And in a smaller sense, the play also explores the touchy subject of whether one person is "better" than another.
Beautifully acted by its cast and fully formed by its meaningful staging and theatrical enhancements, this production of TRIBES allows for the heightening of all the senses, whether you're a hearing or non-hearing audience member. There's an added significance in observing what characters can and cannot access as a communication tool, and at times, we even notice how having access to such tools doesn't mean they are utilized properly.
What makes TRIBES an outstanding piece of theater is that it allows audiences to observe---in the very same space as its actors---the actions that hearing-impaired individuals must tackle on a daily basis as well as the actions hearing people do when it comes to interacting with deaf people.
Raine places a spotlight on what many of us hearing folks take for granted: the idea that we are able to hear and differentiate mere words from other words that are loaded with subtext and emotionally-tinged inflections. While hearing people certainly don't own the monopoly on contextualized communication (words in ASL could be communicated with just as much sensuality, passion or rage as spoken words can), the play also props up the importance of listening to someone else's words, no matter how they are communicated.
To wit... when was the last time you really looked at someone as they expressed themselves? Are you looking at their eyes while they speak, which on their own could also speak volumes? Are you looking for context clues in body movements or even minuscule gestures? Do you sometimes talk over someone rather than to someone? It is a universal feeling to feel frustrated when we ourselves feel like we are not understood or when others fail to really listen to what we're trying to explain.
These are many of the themes explored in TRIBES that transcend one's ability to use their ears. Under Mazor's attentive direction, there's even more happening around conversations (or lack thereof) that audiences can appreciate.
The play's deployment of sounds designed by Cricket S. Myers that hearing audience members experience take on added connotation---from the unbearably loud music of Daniel's boombox that he uses to drown out nagging voices to the melancholy sounds of Sylvia's piano-playing that she will soon no longer enjoy first-hand. The play's sole set designed by Bradley Kaye is also rife with observable meaning, which is covered floor to ceiling with books and knick-knacks that suggest a smart family with comfortable tastes and intellectual leanings. There's also a large dining table smack in the middle that acts as a pseudo-boxing ring for the family's many squabbles.
Kaye's set also serves as a canvas for both Jeff Brewer's focused lighting designs and Nick Santiago's projection designs, the latter of which also involves occasional super-titles for interpreting ASL and for transitional digital wave-art that appears in the back brick wall. Depending on your place in the hearing spectrum and your personal interpretation, the audio-visual transitions could either be harsh and stabbing or mesmerizing and stimulating. Meanwhile, Kate Bergh's costumes, free of being time-specific, reiterates a British family who finds importance in comfort rather than style, which translates into their personalities as well (though Ruth gets to be more expressive slightly, just like her personality).
But it is this production's winning cast, of course, that makes this an outstanding effort overall. The endearing Barbee (last seen in the Deaf West revival of SPRING AWAKENING) turns in a spectacular job conveying a young man trapped between loyalty to family and the possibilities offered by a new "tribe." With well-crafted subtle gestures and an expressive face that hint at inner feelings, he easily gets the audience on his side and to care for his well-being and life-changing journey. As Billy's gal, Easton gives the role of Sylvia a grounded realism, a believably enticing lady with an attractive chutzpah, a caregiver's kindness, and a searing vulnerability that is well suited for Billy.
Fisher is also superb in portraying the unexpectedly weighty supporting role of Billy's loudmouth, snarky older brother Daniel, whose rage and jealousy is multi-layered and deep and causes a disguised rift between the brothers. The erratic behavior of Daniel is the complete opposite of flighty but smart sibling Ruth, played with great humor by Power. While Coffee's Beth is much more soft-spoken and subdued (a role, that, unfortunately, hardly registers), it is quite the contrast to Goodrich's laudable, overly judgmental Christopher, whose expletive-laden speeches are met with laughs and gasps.
While the play is certainly more dramatic than funny, I found myself laughing at times (along with the audience) when words are misunderstood by another via lip-reading, only to quickly realize how sad and unfortunate that must be to someone who has to deal with such frequent miscommunication. The ability for a play to create a safe space for an audience member to imagine oneself in someone else's shoes and see their lives from their perspective is the illuminative power of live theater and TRIBES is exactly the kind of play you shouldn't miss for this very reason.
Perhaps the ultimate takeaway from seeing the play, especially now in such volatile times in the world, is that the loudest voice in the room isn't necessarily the sanest. It is often the ones whose voices are silenced or ignored that we must strive harder every day to seek out, hear, and welcome with outstretched arms into our "tribe."
Follow this reviewer on Twitter: @cre8iveMLQ.
Photos from Chance Theater's production of TRIBES by Doug Catiller/True Image Studio.
-------
Chance Theater's Production of TRIBES continues on the Cripe Stage through October 22, 2017. The Chance Theater is located in the Bette Aitken Theater Arts Center at 5522 E. La Palma Ave., Anaheim Hills, CA 92807. For more information or to purchase tickets, call (714) 777-3033 or visit www.ChanceTheater.com.