BWW Review: MARTHA GRAHAM'S LEGACY CONTINUES, MORE RELEVANT THAN EVER at The Soraya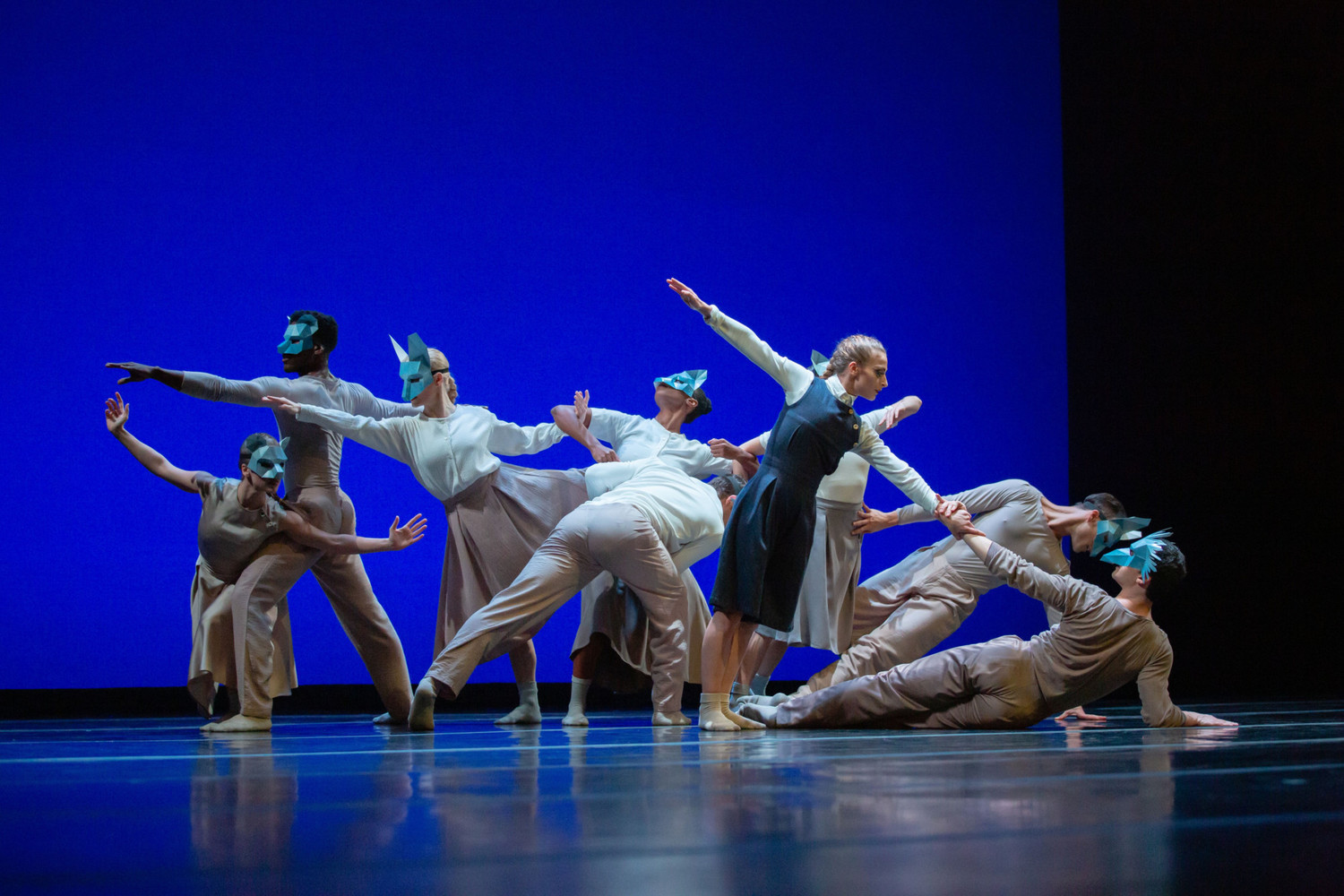 At the elegant Soroya Theatre in Northridge, CA, Martha Graham's Dance Company, under Artistic Director Janet Eilber's seasoned guidance, performed a most incredible group of works. Some were originally created approximately 80 years ago, by Martha Graham, a true icon in the Dance world. The EVE Project, as this evening, March 2nd, 2019 was entitled, gave us a wide variety of themes within a theme, that being Women and their significance, their power, their passion and their strength. It was polished to perfection, and each piece carried many meanings and concepts and was just so beautifully performed and articulated.
The Martha Graham Dance Company is the oldest contemporary dance company in the United States, founded in 1926. Since it's inception it has explored and encompassed political and humanitarian issues, as well as affairs of the heart and human interactions, while creating a prolific dance technique that is unequaled in it's scope. Graham created a total of 181 ballets during her long career, and is recognized as a primal artistic force of the 20th century, being named in 1998 as "Dancer of the Century" in Time magazine, and labeled one of the female "Icons of the Century" by People Magazine.
Janet Eilber, Artistic Director since 2005, and Senior Artistic Associate Denise Vale have preserved and kept alive the massive repertoire with loving care and authenticity. As a principal dancer for the company for many years, working closely with Ms. Graham, Janet Eilber performed many of Graham's greatest roles, some created specifically for her. I had the pleasure of seeing Ms. Eilber dance several times and she was always exquisite to watch. They are now focused on widening the company's exposure by combining Graham's masterpieces with new works by contemporary choreographers. It makes for a compelling evening of celebrating the beauty and longevity of the Art of Dance.
As in the title, "The Eve Project," this evening was dedicated to the celebration of women, and the hundredth anniversary of the 19th amendment; the women's right to vote.
The opening piece, entitled "American Document," which originally premiered August 6, 1938, choreographed by Ms. Graham has been "reimagined" in this evenings' World Premiere by Oliver Tobin. With music by William Schuman and lighting by Ye-Chung Chen, this "Document Dance" included spoken word from text by Graham, Maya Angelou and Emma Lazarus, as well as Abraham Liincoln. Embracing new goals, the use of university dancers from across the Los Angeles area at Cal State University of Northridge within the number was exhilarating, along with the impact the entire piece conveyed. The music was stirring, indeed, and coupled with the rhythmic and powerful choreography and the passionate recitation of valiant and proud poems and democratic declarations it was a grand beginning to this evening of tribute to the spirit and force of women thru the Century.
A whimsical take on the eternally undaunted antics of humans trying to impress each other, falling in and out of love, competing and indulging in pursuits for the enjoyment of it, "Secular Games" was wonderfully entertaining and beautifully executed. Choreographed by Graham in 1962, and reflecting her interest in Ancient Greece, it is set in three sections, on an island; the first section being "Play with thought - on a Socratic Island."
We see six men standing in different poses, scattered around the stage as if each were Adonis, flexing their muscles and looking quite manly as one begins to toss a silver ball in the air. As the others observe him showing off his agility he tosses it to one of the others. Each one takes a turn tossing and coming up with variations to impress one another, with the routines become more complex and showy each time it is tossed. There are giant stag leaps, high-flying barrel turns, and grand jetes that are interspersed with stopping to pose and portray their most masculine outline, each trying to outdo the other. The heuristic playful mood is in contrast with their strong desire to one-up the competition. There are many humorous moments as they challenge each other's masculinity.
Part two, "Play with dream - a Utopian Island," sets a scene where women are carefree and unencumbered, cartwheeling and prancing, both enjoying each other's company and frolicking with the men that enter and exit and pas de deux flirtatiously with them.
Part three: "Play - on any island," involves both the men and women co-existing, highlighting different interactions between them, courting and behaving amorously, the men showing off their ample dexterity and partnering the ladies through a lively staccato section, leaping vigorously, still obviously trying to outdo each other. They all stop moving and strike poses, then begin "air-clapping," or robustly clapping but making no noise, cheekily overdoing it, which sent an audible chuckle through the audience. As their partnering becomes more sensual, the silver ball reappears which starts a challenge among the men to out-step each other while tossing the ball, in new and different ways building to a climax performing intricate lifts, paired up in couples to the expressive music composed by Robert Starer. Each lift soars above the last one, finally reaching a pinnacle, as the dancer left "holding the ball" ducks beneath them, still tossing the ball... finis!
"Woodland," the next piece, choreographed by Pontus Lidberg and developed with the Graham dancers to music by Irving Fine, is a journey through a moonlit wooded forest that illuminates the contrast between a single entity versus a collective group, that longing to interact yet maintaining that individuality to feel distinct. A lone girl in a skirt and blouse, a dreamer, an outsider, walks on stage to center and begins to dance, as she makes her way through the woodland. Delightfully and skillfully portrayed by Marcia Memoli, she meets up and dances with a lone man at first, then encounters different creatures who intertwine with her in different groupings, where she sometimes becomes part of the group and at other times is dancing among them but keeping her distance, doing a different dance combination than the rest. The different couplings and groupings illustrate the many needs and desires we encounter through life.
"Untitled (Souvenir)" is a brand new work created by Pam Tanowitz, that utilizes both Graham technique and other styles of dance to create an homage to the past while modifying parts of it with new, fresh movements. Described as a process of taking historical movement and adding and shaping it into something new, it is intriguing and captivating to watch, putting a fresh and unique spin to this piece. The dynamic duo of musical scores were created by Caroline Shaw, and greatly enhanced the movements. I particularly enjoyed the costuming, very simple but effective and each one different, created by Ryan Lobo and Ramon Martin of Tome.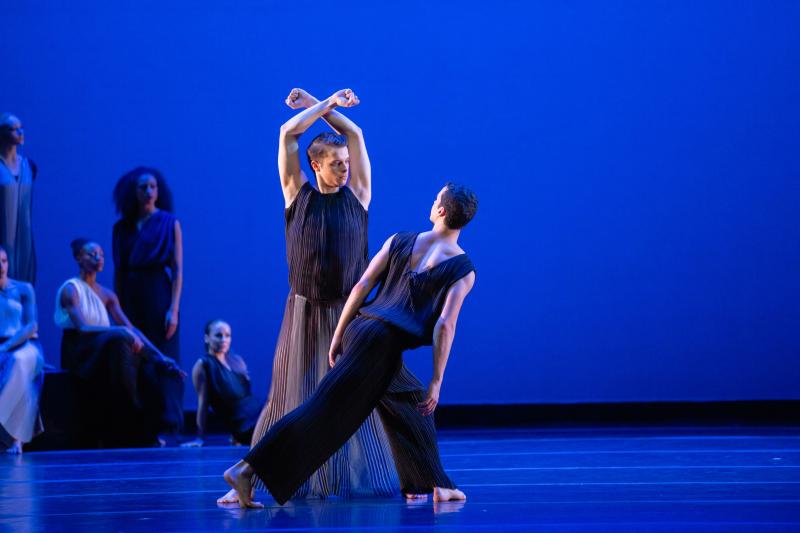 The amazingly powerful closer to the program, "Chronicle" choreographed in 1936 by Ms. Graham, is a phenomenal masterpiece of work, epitomizing the brilliance and relevance her creations impart to us. Featuring Xin Ying, who will astonish you with her fierce, flawless performance, commanding the stage in every moment. It's original concept was to give voice to protests against fascism during that time in American history. During that same year, Graham refused an invitation to take part in the 1936 Olympics games in Germany, citing many in her company would not be welcome.
With music by Wallingford Riegger, which drives the choreography with fervent, soul-filling intensity, and original lighting designed by Jean Rosenthal which captured each mood perfectly, this piece evokes the images of war, both before, during and after and the effects on humankind throughout; the determination to stand up for rights, the slow degradation of the spirit, and the unity of coming together to move forward with resolve. Martha Graham also designed the costumes, and is famous as well for her signature dress design that the lead dancers wear iin this piece.
It is currently done in three parts (originally five), the first being "Spectre 1914." A single spotlight, center stage, brightens to where we see a woman in a long black dress sitting still, facing to the side, her full skirt draped around her, atop a platform as the powerful music compels her to reach out with force, her arm movements conveying her anger, anxiety and dread. She begins to dance, effortlessly
developpeing slowly as her dress flows with her movement and her foot peaks and holds above her head, the dress creating a beautiful fan effect as we see red trim on the inside, and as she continues to move, she drapes the flowing skirt of the dress around her, making it into a shroud, wrapping it around her, enveloping her, constantly moving, flowing, and as the skirt reverses it is now red, as she creates angular and soft architectural figures, aided by the material that moves perfectly with her body and design of the costume. It is stunningly effective, and Xin Ying transforms her lithe body into images that sear into your soul with raw emotion. The second section, "Steps in the Street" shows the devastation and weariness, the hopelessness of how war affects the human condition. The music contains the sounds of battle and the choreography begins to reflect those sounds, with formations across the floor in groups of weary resisters.
And the last section, "Prelude to Action," unfolds with the rallying of survivors to forge ahead to the future, with renewed resolve, championed by Xin Ying and the extraordinary Anne Souder, with Xin Ying clothed in a similar dress to the black one, this time in white. The display of technique, passion and dexterity in this last section is gasp-worthy, with dazzling solos and trios bombarding the senses. The heavy thundering final chords are struck as the lady in white poses once again on the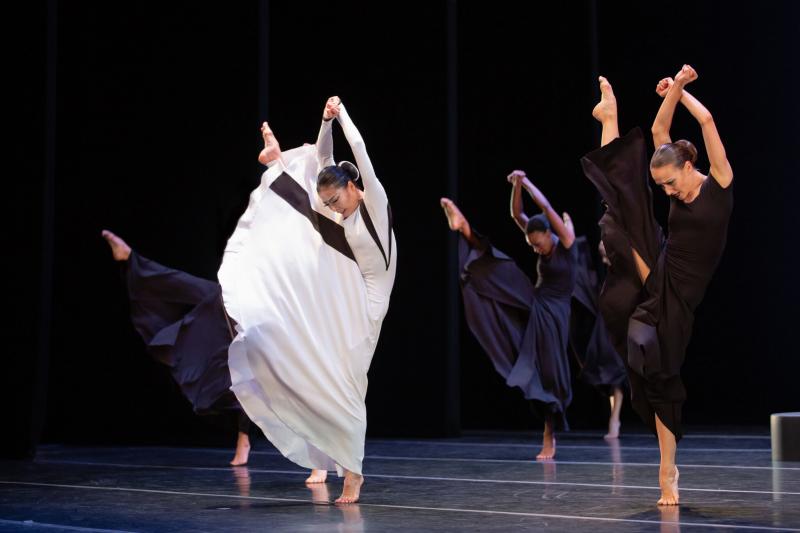 platform, arms raised in defiance. I found myself shouting "Victory" on that last note! The audience was carried away with the intensitywe were feeling and we all leapt to our feet to applaud profusely, as they took bows and many deserved curtain calls.
The talented conductor, Christopher Rountree, and his orchestra Wild Up magnificently played each score to the hilt. Live accompaniment during a dance performance brings so much more depth and energy to each movement and intention, and gives the audience that combination of heightened aural and visual pleasure.
The unflappable strength and versatility of this glorious company of dancers is extraordinary, and is distinct among the world of Dance Organizations. The impeccable artists of the company are: Lloyd Knight, Ben Schultz, Xin Ying, Natasha M. Diamond-Walker, Charlotte Landreau, Lloyd Manor, Lorenzo Pagano, Anne Souder, So Young An, Laurel Daley Smith, Jacob Larsen, Marzia Memoli, Anne O'Donnell, Leslie Andrea Williams, Alyssa Cebulski, Alessio Crognale and Cara McManus.
Photos courtesy of Luis Luque ~
Related Articles View More Los Angeles

Stories

Shows