Review: Inspired by a True Story, THE RED DRESS Reminds Us of a Time We Must Never Forget
When playwright Tania Wisbar was growing up as a girl in America, her mother shared little about her past in wartime Germany, other than Tania came from a very well-placed and highly respected film family. With her parents divorced, there was not much else Tania knew about her family history, at least not until 1999 when a German professor visiting the U.S. brought Wisbar a 60-year-old document he had discovered in a Harvard University archive. In the 86-page manuscript, Wisbar's mother, Eva Kroy Wisbar, who was Jewish, detailed her forbidden marriage to a German film director as the Nazis were coming to power. The manuscript held answers to many of the questions the playwright's mother never answered before her 1984 death
Fifteen years later, that document inspired Wisbar's play, THE RED DRESS, its World Premiere now at the Odyssey Theatre through November 19.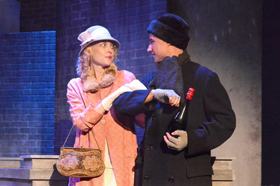 The story spans the years 1924 to 1936, beginning in the badly-defeated post-World War I Germany, which was falling apart due to limitations in the Treaty of Versailles. The central character, Alexandra Schiele (blonde and beautiful Laura Liguori) was born in Berlin and is now a wealthy and well-known German movie star, respected and loved by the people of her country. In fact, she often wonders and suffers great guilt thinking "men went to war because of me" due to her early films promoting the glory and greatness of Germany.
We meet Alexandra driving an old cab through the destroyed Berlin streets to visit Sybil Stein (Rebecca Larsen), her "sister" from the family who raised her after.
Living on the street in front of Sybil's former bar is a man in rags who looks out for the place since the area is no longer safe for women on their own. When he comes in for some warm soup, Alexandra discovers the virtually homeless serviceman is Franz Writrek (J.B. Waterman), a talented itinerant sketch artist who earns whatever he can (sometimes just head of lettuce) by drawing portrait memories of those who died in the war for their grieving mothers.
The two soon fall in love, and thanks to her family connections, Alexandra helps Franz enter the film business where he becomes a successful director.
As fate would have it, the now extremely handsome and well-dressed Franz winds up making propaganda films for the Nazis, soon becoming a favorite of Joseph Goebbels. But while Franz expresses sympathy for some of the Nazi ideology and policies, Alexandra detests them, causing much stress in their marriage.
Events come to a head when she defies the Nazi dress code requiring black-and-white attire at an awards ceremony honoring her husband, and walks in wearing a beautiful, beaded red dress. This causes the Nazis to investigate her background, revealing she is 1/8 Jewish, something Alexandra never knew. (This plot point varies from the true fact that Wisbar's mother always knew she was Jewish.)
When confronted by the short and menacing Nazi Officer Dieter Keller (Dylan Wittrock, perfectly channeling the type of character you love to hate), Franz and Alexandra are informed that marriage is forbidden between Germans and Jews, and certainly no German children can be born with Jewish blood in their veins. With Alexandra pregnant with their child, in order to keep his high-ranking position with the Nazis, Franz is forced to choose between fame, which means divorcing and allowing Alexandra and their unborn child to legally emigrate out of Germany, or staying in his marriage and aborting their child.
And of course, Alexandra has been identified as a Jew making her an undesirable in her own country, and they both can see the writing on the wall where that will lead. Franz makes the only decision he feels he can make, and the two agree to sign divorce papers to set her free to leave. But of course, it's not as easy a task as presented to them.
Director Kiff Scholl is to be commended for keeping character portrayals top notch throughout, with emotions brilliantly stretched to the breaking point as the story plays out. Liguori is especially adept at allowing us to see her frustration with how her life has turned out after so much success at first, as well as with her husband as his beliefs take a turn so far from the ones on which their love and marriage had been based. Tech credits are solid, especially scenic design by Pete Hickok, period perfect costumes by Shon Le Blanc, historical projections designed by Nick Santiago, sound design by David B. Marling, and lighting designed by Kelly Finn, highlighted by Liguori's final moment defiantly standing in the spotlight in her glorious red dress.
Playwright Tania Wisbar, who I was fortunate to meet after the performance (and share my own Jewish grandparents' stories of their hardships while legally emigrating to the United States from Eastern Europe in the early 20th Century), shared the play was not an easy one for her to write but it needed to be done.
Quoting her program notes, "The unfolding of this tragic era between 1924 and 1936, during which Germany's fragile democracy erodes to be replaced by tyranny that in small and then huge steps adopts genocide as a legal government policy, is the focus of this play. The play deliberately stops in 1936. There is still time to save the world from looking in the mirror and seeing reflected the image of total evil. THE RED DRESS, I hope, takes a close look at the high cost of accepting the slow erosion of human and humane rights on national and often international levels." Truer words were never spoken and I thank Ms. Wisbar for her dedication and devotion to reminding us of a time we must never forget, lest it be repeated.
Performances of THE RED DRESS, produced by Racquel Lehrman and Victoria Watson of Theatre Planners, presented by Argyle Road Productions as visiting production at The Odyssey Theatre, located at 2055 S. Sepulveda Blvd., West Los Angeles, 90025, take place on Fridays and Saturdays at 8 p.m. and Sundays at 2 p.m. through Nov. 19. Reserved seat tickets are $30. For reservations and information, (323) 960-5521 or go to www.Plays411.com/reddress
Photo credit: Ed Krieger