Review: Independent Shakespeare Co.'s JULIUS CAESAR, a Political Crime Story Ripped from the Headlines

Taking its cue from Orson Welles' 1937 Mercury Theatre production of JULIUS CAESAR, Independent Shakespeare Co. exercises its exceptional ability to adapt one of Shakespeare's massive works for an intimate indoor setting without giving up any of the play's scope or impact.
The critical element is the audience, whose inclusion and participation helps overcome the limitations of a theatre by stretching its energy beyond four walls to create a story that feels big even without pageantry. Then, by stripping it down and focusing on the characters, Shakespeare's observations about politics and the abuse of power begin to resonate loudly as parallels to modern day political corruption are exposed.
In effect, co-directors Melissa Chalsma and David Melville turn what is often an intellectual take on the story into an active "ripped from the headlines" crime story that puts both the murder and its backlash in full view. It's incredibly exciting. Those watching become complicit by either their vocal support of the crime or lack thereof. Once again, Shakespeare's themes have their finger on the pulse and ISC has the insight to give his story popular appeal.
Lighting is key to the adaptation and Bosco Flanagan's sharp transitions build tension into the pacing while allowing scenes to flow uninterrupted. It complements the production design's lack of stage dressing and minimal scenic elements, leaving the characters to interact on an open playing field framed by a partial wall constructed of iron pipes at the back and television screens positioned around the virtual proscenium at the front.

A giant eye is often projected through the screens to further the idea that someone is always watching. They are also used to provoke a response from the audience throughout the play. It's a clever device that underscores how easily news - real, fake, or otherwise - has the power to rouse a crowd when deployed strategically.
Caesar (David Melville) returns home victorious in battle, but a conspiracy to assassinate him is growing behind the scenes led by Cassius (Paul Turbiak), who is attempting to convince Caesar's friend Brutus (Faqir Hassan) to join them. Though not the title character, Brutus - and in this adaptation, Cassius - are the primary figures representing the ethical tug of war. Brutus' internal struggle is at the center of the play, but it is Cassius' verbal muscle that drives the action, and Turbiak plays it to the hilt. He is a venomous instigator whose first two speeches are constructed to play upon Brutus' belief that no one man should have complete authoritarian control. Ballistic consonants and an unrelenting performance intensity eclipse Hassan's subtler approach to the material but the dynamic between the two serves the political dance well.
Copious amounts of blood spill during the murder scene, a vicious affair that launches intermission on a sobering note. The company knows how to make its point, and the brutality of Caesar's death lands with a perfect sickening thud, prompting many conversations about political ambition, greed, and paying the ultimate price, during the break. Theatre ignites discussion and debate, and being able to ratchet up a play's themes to facilitate them is right in Independent Shakespeare Co.'s sweet spot.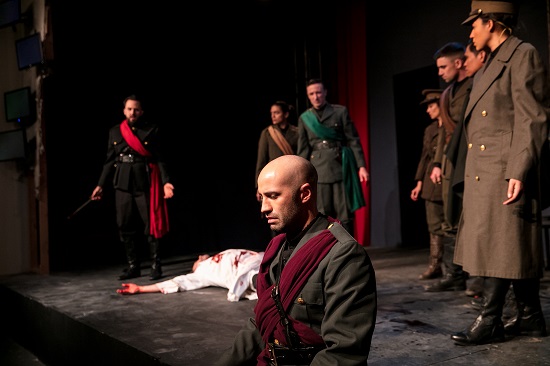 Seven additional actors play the rest of the characters, doubling as needed: Jose Acain, Cynthia Boorujy, Sam Breen, Kendall Byrd, Kelvin Morales, John E. Phillips, and Philicia Saunders. And, as this is an ISC production, humor bubbles up to balance the drama. At a running time of approximately two hours, this JULIUS CAESAR gets the job done, and then some. Just make sure you watch your back.
JULIUS CAESAR
March 15 - May 11, 2019
Independent Shakespeare Co.
ISC Studio, 3191 Casitas Avenue, Ste. 130
(between Fletcher Drive and Glendale Blvd.)
At the Atwater Crossing Arts + Innovation Complex, Los Angeles, CA 90039
Thursdays, Fridays, & Saturdays at 7:30 p.m.
Sundays at 2:00 PM
Tickets and info: www.iscla.org
Photo credit: Grettel Cortes