Review: Five-Door French Farce BOEING BOEING is Fabulously Fantastic at the Morgan-Wixson
Written by French playwright Marc Camoletti, and translated by Beverley Cross and Francis Evans, BOEING BOEING premiered in Paris in 1960, where it ran for 19 years. Nominated for six Tony Awards in 2008 and winner of Best Revival of a Play, it was once listed in the Guinness Book of World Records as the most-performed French play in the world. The riotous farce was made into a movie starring Tony Curtis and Jerry Lewis in 1965 and has left audiences airborne with laughter ever since.
Set in the 1960s, bachelor Bernard (suave and sophisticated Doug Mattingly) couldn't be happier. He has a beautiful flat in Paris near Orly with a fantastic view, his dedicated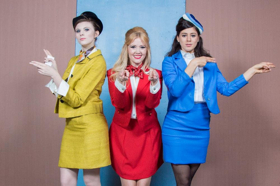 but slightly exasperated housekeeper Berthe (double take expert Maria Pavone), and three attractive stewardesses all engaged to him without knowing about each other. There's Gloria (Chrissy Leigh Anderson), the curvaceous and friendly blonde American stewardess from TWA in her red uniform, Gabriella (Sonja Kovacevic), the hot-tempered Italian from Alitalia in her blue uniform, and Gretchen (Kaylee Grace King), the tall and commanding German from Lufthansa in her bright yellow uniform.
And in the years before computers and cell phones to assist
Bernard with scheduling, he uses a datebook and the world globe sitting on his desk to keep track of where each of the three will be travelling, and has managed to keep "one up, one down and one pending." But Bernard's life is about to get incredibly bumpy when his friend, Robert (pratfall expert Brian O'Sullivan), comes to stay and unexpected schedule changes bring all three women to Paris and Bernard's apartment at the same time. And with Robert meeting all these lovely ladies for the first time on the same day, he soon forgets which lies to tell to whom to keep Bernard out of the doghouse.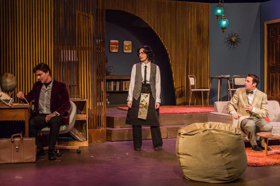 But with each of the three believing Bernard will be thrilled she is back in "their" flat and bedroom so soon, no doubt catastrophe looms. And as the situation gets more and more desperate, somehow the two men manage to sort all three women into different rooms with poor Berthe never knowing who is where or to whom she is serving which meal. Hilarity ensues!
From the moment you walk inside the Morgan-Wixson Theatre in Santa Monica and notice the marvelous, five-door,
60s style BOEING BOEING set designed by Tristan Griffin and lit by Donny Jackson, you can't help but wonder who will be running in and out or hiding behind each one of those doors in Marc Camoletti's brilliantly written French farce, directed to perfection by Branda Lock. The continuously hysterical action, for the first time ever, had me put down my notebook and focus only on the comedic vision being presented in front of me so as to not miss a thing, especially who was going to hide where!
Director Branda Lock shares how she loves the way the script hilariously satirizes the 1960s playboy.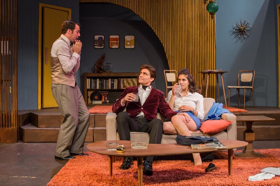 "The '60s era was the Golden Age of the 'alpha male' and the playwright saw the hubris in this character in many ways," Lock observes. "The play reminds me of the vibrancy of the works of Moliere, Restoration Comedy, and Commedia Dell'Arte." Her great skill is finding the real people behind the archetypes makes these characters more than just cardboard cutouts, because as she notes, "beneath every stereotype or persona we wear, there is an insecurity and vulnerability that can often lead to the most extraordinary and hilarious circumstances."
And given Lock's skill in keeping the action moving
and making the personalities of each BOEING BOEING character three-dimensional, I can honestly say this production is one of the funniest comedies I have even seen. Credit must also be given to the talented cast's ability to remember cues and enter or exit as perfectly required to keep the fantastic farce right on target, while managing to keep themselves from laughing at the non-stop nonsense taking place around them. And of course, this is live theater where improvisation will no doubt take place in every performance given how many props get used, thrown, dropped, or eaten!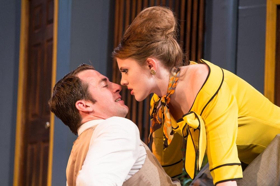 And I have one note for costumer Diana Mann - put that forceful German stewardess in black leather carrying handcuffs or a blindfold for her final entrance. It's a great laugh waiting to happen and an opportunity Robert would certainly appreciate!
So put up your tray table, fasten your seatbelt, and enjoy the fabulous BOEING BOEING flight through May 27, 2018 or Fridays and Saturdays at 8pm, Sundays at 2pm, at The Morgan-Wixson Theatre, 2627 Pico Boulevard, Santa Monica 90405.
Free parking about a block west of the theater at the Venice Family Clinic. Adults $23, Students and Seniors $20, with reserved seats available at www.morgan-wixson.org, by phone at 310-828-7519, or by email at mwtboxoffice@gmail.com. Please note that due to adult situations and sexual innuendoes, this show is appropriate for ages sixteen and up.
Photos by Joel D. Castro Photography