Review: A Brilliantly Acted THE JOY WHEEL Takes An Unexpected Dark Turn
THE JOY WHEEL/by Ian McRae/directed by Jason Alexander/Ruskin Group Theatre/thru March 24, 2019
Playwright Ian McRae's THE JOY WHEEL kicks offs with one of the most effective opening, introductory scenes I've seen in a while. Jason Alexander smoothly and sure-handedly directs his two top-notch actors, Dann Florek and Gina Hecht as husband and wife Frank and Stella Conlin, as they vividly describe their relationship (40 years married)) and back stories leading up to their present situation - preparing for Frank's retirement party that evening.
McRae has written a most witty, descriptive dialogue for Florek and Hecht to sink their talented teeth into, revealing their connections, their hopes and dreams - all in the opening scene! Very nice! Stella's friend Margie enters after the retirement party, played by the sharp-as-a-pistol Lee Garlington who masterfully spits out her biting lines from McRae.
This light comedic, heart-filled piece turns into a completely different play when Stew, a fanatical survivalist shows up in Frank's backyard, underground bunker. Maury Sterling totally commits to his most serious, completely unsympathetic character of Stew - a divorced, unemployed loner who's own child refuses to let him see his grandchild. Whereas, the characters of Frank, Stella and Margie have their light comic and dark serio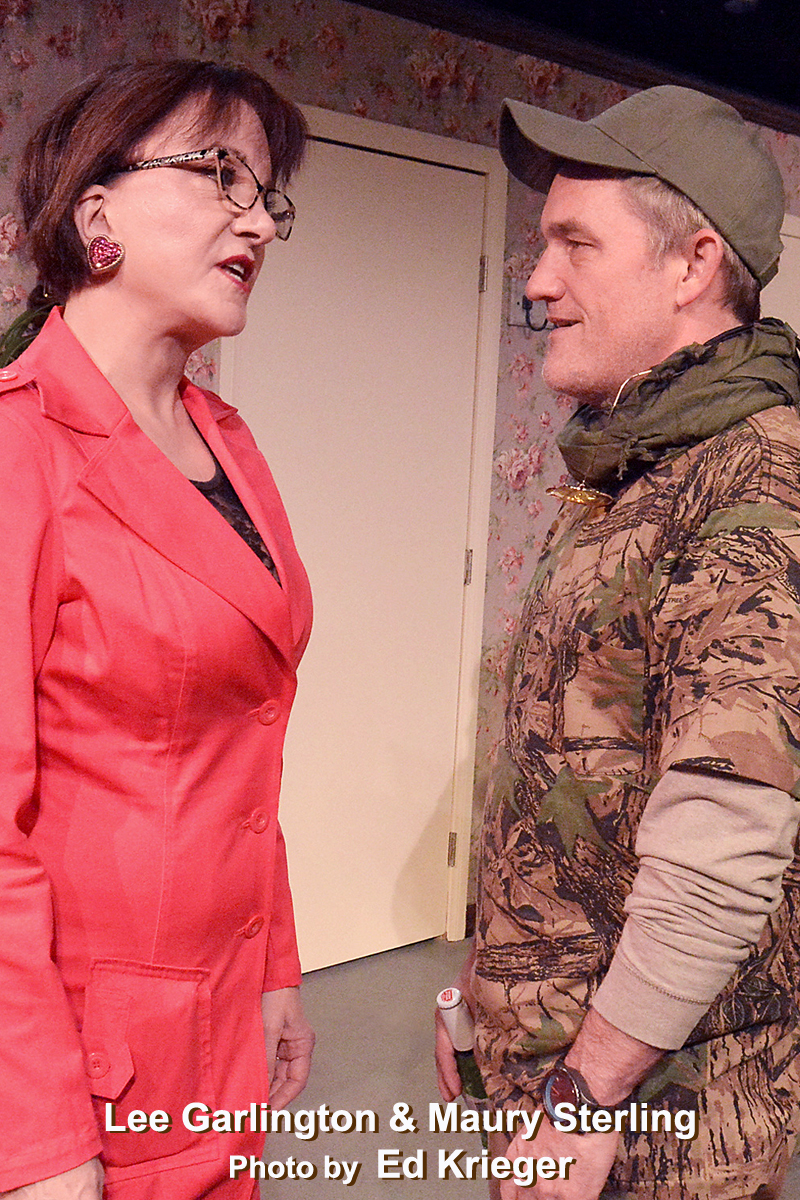 moments (which they all handle very well); Stew's singular focus only registers dark and serious. Curious, as to the origin of Sterling's slanty eye-pulling gesture during a Japanese reference. Does the audience really need another reason to dislike Stew? Besides being misogynistic, Stew's also a racist? Garlington's especially strong in Margie's retorts to Stew's put-downs.
Scenic designer John Iacovelli succeeds in creating a detailed, lived-in living room for the Conlins, which efficiently morphs into a stage for Stella's vagina discourse, Frank's bunker, and the Conlins' swimming pool.
The significance of this world premiere's title THE JOY WHEEL receives its explanation at the finale.