BWW Interview: William A. Reilly Talks About Future Plans for Crown City Theatre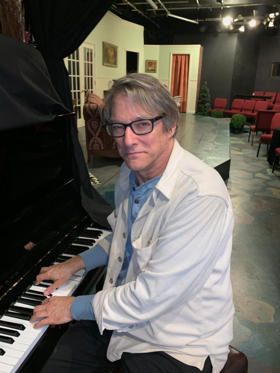 William A. Reilly has been co-producer/ co-artistic director of Crown City Theatre going on 22 years. Crown has been located at St. Matthew's Church in NoHo for almost 12 years. April 1 the company must leave, as St. Matthew's has received a grant to make the spaces a homeless shelter. Reilly sat down recently and talked about what the group will do as they look to the future. Close local spaces are being investigated as rentals until a new permanent space is found.
Reilly went on to explain in his dry and rather blunt sense of humor that his company will look at T. U. Studios down the street, and Coast Playhouse in WeHo who are interested in bringing in a new company.. The difficulty with North Hollywood right now is many theatres have already closed or are closing and the city either is not aware of this fact or are ignoring it. The once expanding North Hollywood art and cultural center is now sadly diminishing.
What are some of the problems in seeking out a new home?
As with The El Portal up the street in Noho, for example, they look for someone to bring in things. I think it is much better to bring in a company and let them build an audience. This is what we have been doing. Audiences know that every weekend of the year we have something running. The only question that they have is "Is it the next show yet or is it still the show we saw?" But they know that it is there, that our theatre is accesible to them. The problem with these erratic six week runs in LA theatres is getting audiences in, and it's expensive to run the shows without full houses to pay for the costs. We are amazed that The Importance of Being Earnest is doing so well, but people came in to see The Mousetrap, loved it and call in for upcoming reservations. We don't announce a season. There's a downside to that, especially if a show collapses quickly, or if you have some big time casting issues in keeping the show open, and then you figure out that you have to close the show.We're caught with our pants down.
That hasn't happened to you yet, has it?
Every now and then we have about a month's lag, and it hurts financially. There's not enough income so we have to retool. It's like, We were making golf clubs, now we have to make tennis rackets. Close the plant down, change the machinery. (he chuckles)
I can see the church making a homeless shelter there with the theatre space and the upstairs space. There's a nice soup kitchen behind the theatre...
The attitude when they got the grant was, "Well, we don't need your income now, we got a grant." I don't want to bash them, but ironically, this is a blessing in disguise.
And you got a grant too, correct?
We have a two year grant from the county. The main reason the church has stayed alive the last ten years is because of us and our steady rent checks to them. Over the years we've payed them millions of dollars. Don't let the door hit you on the way out, but that's alright. Everyone does what they need to do. In a way, as I said, it's good for us. At least it's good for me. Like Gary (Lamb, co-artistic director), I can't do this 24/7 anymore. It's hard work...a lot of stress. I've had some good support, but not enough. Whenever the theatre needs something done physically, I can't do that anymore. Keeping the plant in shape, all the lifting and carrying. It galvanizes the younger members of the company who already realize that I no longer have the same energy.
Is Gary (Lamb) totally gone at this point?
He's not around as much, but we talk to each other every day. He's still involved in the decision-making process. We do not like to have people think we are in a position of power, like Harvey Weinstein. No. It's our responsibility to help people put on good shows.. that's where it ends;.that's all the power we want...
I've seen many shows of yours through the years. I look at the set each time and see the same walls, but the adaptations from one show to the next make whatever needs to be seen work ... and well.
Basically, it's one of our cast members who keep putting different costumes on it. (he laughs) You have a curtain and you put the furniture in front of it, or you remove the curtain and rearrange the furniture behind. It's great for rentals. We clean off the scenery.. it's great for rentals, which is a huge source of income.
What are some possible theatres where you may rent on your way to finding a permanent home?
The Coast, the Colony, Sacred Fools, The Secret Rose...many more... an old friend and hoofer since the revival of Pal Joey in 1949 Judy Rose has many connections that we are checking out... it has to be a genuine path through Equity, not fictitious, so it may take 10 years to get what we're looking for...as long as we get in and produce good theatre...the irony is that we're in a better financial situation right now than we've been in for a long time.....we did Earnest because there are no royalties to pay...
Let's leave this topic and look at what, in your opinion, are your greatest achievements through the years.
I have my prejudices because of my personal involvement in certain shows... I think Gary (Lamb's) production of Cabaret (left) was an amazing accomplishment, The other is a toss up between two very different shows Stage Beauty and Two Grooms (below) - both with the brilliant Ben Rovner, who's left the business to continue his education - that we retooled into our own creation where we used the church for the wedding and then the theatre space for the reception...Gary would say Nosferatu; Michael J, Marchak was brilliant in that, as was Michelle Holmes...
What about future projects in rental spaces?

Marco Gomez who was brought in to save LA Stage Alliance, is developing a brand new multi-media performance space. He's going to have a lot of projections, and he wants to open with Nosferatu, with a whole lot of special effects, smoke, hydraulics... Of course, I would love to see us remount The Apple Tree and any other vintage musicals like Rodgers' and Hammerstein's Cinderella from the 50s and 60s Golden Age...
We wish Bill and Gary and Crown City Theatre the best of luck in finding a new home and continuing to pursue their dream of doing exceptional theatre...
Related Articles View More Los Angeles

Stories

Shows