BWW Interview: Long-Time Partners JW Walker & Pamela Gaye Walker Enjoying EMPTY-NESTing & Working Together
The couple behind (and front and center of) THE EMPTY NESTERS, JW Walker and Pamela Gaye Walker certainly validate the adage "A couple that works together, stays together." With a working and personal relationship spanning decades, JW and Pam take time from their respective day jobs, (he producing at Disney/Pixar Studios, she running their Production Company Ghost Ranch Productions) to bring THE EMPTY NESTERS to the Zephyr Theatre (beginning January 17, 2019) a play they both have a heartfelt connection to.
These two multi-taskers were gracious enough to carve out some time to answer my queries.
Thank you both for taking the time for this interview, JW and Pam!
JW, this production of THE EMPTY NESTERS at the Zephyr Theatre will the third time you're playing Greg, right? And Pam, this is the fourth time you are playing Frances?
JW Walker: We have played this two times together before, in San Francisco. The original was a short co-production with Playground and Virago Theatre Company. It was directed like a sit-com, a laugh a second.
After that run, we bought the rights from playwright, hired another director, workshopped the script to delve deeper into some themes. Pam's character became more three-dimensional.
Recently, our director Richard Seyd was busy, so we have been working alone together a great deal. Pam is guiding us and wanted to concentrate on character work and the dynamic between the two of them.
Pam, how did you and JW originally find THE EMPTY NESTERS?
Pamela Gaye Walker: A director involved with Playground brought the script to me, with an entourage: artistic director, dramaturge, playwright, and another actor. I was busy writing a screenplay, but agreed to read it for the company. JW was sitting in on that reading, and we kept looking at each other, sharing laughter and a few tears. Later I said to the producer - I would consider doing the play if they would audition JW, who had a rare break in his producing schedule. A week later, they read together, and he was welcomed on board.
You have both acted together in 25 shows before taking a 20-year hiatus. Was the long break due to other priorities, like raising kids and making a living?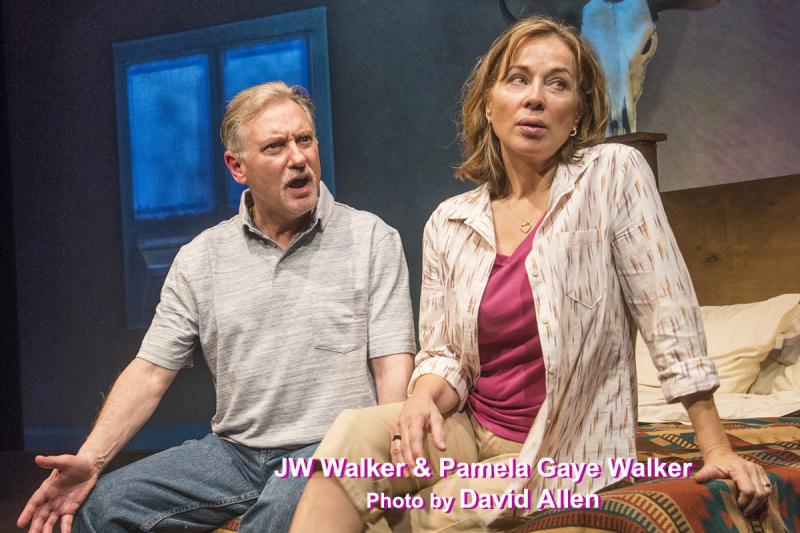 JW: That certainly had something to do with it. Pam acquired a Los Angeles-based agent who had seen her on stage, and that was the impetus for us to move from Chicago to Los Angeles.
PGW: JW started interviewing with anyone he could. He got a break in work on feature animation. JW took film-producing jobs to put shoes on our kids' feet, to be able to send them to good schools.
JW: It was also a dream of ours to get to this place where we could call some of our own shots. Pam was able to teach at Pixar and direct a short live-action film there through an in-house program they have, but she wasn't a part of that male club, which is finally seeing some changes now. It was painful for her to be left out.
It felt like a miracle when this script dropped in her lap. And the window of opportunity to do it together was slim. It felt "meant to be." Now, as a team, we're able to bring in some of our amazingly talented co-workers into the fold. We have a beautiful hand-painted backdrop by painter Bill Cone, who was production designer on many great Pixar films. And Andy Jimenez has put that artwork to motion behind us on a rear-projected screen.
How did you both come to form Ghost Ranch Productions in 2004? Did the release of Pixar's The Incredibles produced that year have anything to do with it?
JW: Pam lost me as her working partner, so she diversified and got busy directing, writing and acting. She had written a biopic about Georgia O'Keeffe, her passion project, and other screenplays, so we formed the company for her work, mainly, and to provide more work for women as part of the mission.
Where did the name Ghost Ranch Productions come from?
JW: Pam had also starred in a two-person play about Georgia O'Keeffe, with a wonderful actor and dear friend, Jim Ortlieb. This became her signature piece during our moves and beyond. She chose the name of what has become our Production Company based on (the home of) Georgia O'Keeffe, an alter-ego persona for her.
How fun was it to be able to have two references to yourself in the 2004 The Incredibles?
JW: Very!
As an actor, tell me about 'John Walker' to 'JW Walker'? I've seen both credits listed.
JW: I just changed my union name from my middle name, Patrick (which I chose 30-plus years ago), to JW, which was what I was called in college because they were a lot of Johns in my dorm. When the phone rang in Chicago, we always knew who was calling pertaining to what name they used. John was a childhood name, JW from college, and Patrick was my actor name. Finally, JW was available with the union, so I'll go with that for now.

I've also seen Pam credited with a hyphen and without (Pamela Gaye Walker and Pamela Gaye-Walker). Which is your official union name?
PGW: I think the 'hyphen' is due to auto correct! I've never had a 'hyphen' in my name. I did go by Pamela Gaye in my early years.
You progressed from earning degrees at Notre Dame, to studying at theatre conservatories, to the Peninsula Players in Wisconsin, to JW serving as managing director of Victory Gardens Theater in Chicago and producing over thirty new plays.
PGW: JW and I met doing shows at University of Notre Dame. We were then company members at Peninsula Players in Door County, Wisconsin, which is a beautiful Equity theater in the woods on the lake. JW ended up managing that theater. When we were finally in Chicago full-time, he ran The Royal George and then Victory Gardens. Victory Gardens didn't have an acting company. Their mission was new plays - they had a core group of playwrights they nurtured. I acted in a few shows there. We produced and starred in a couple there, too.
JW: And then going from theatre to feature animation is a whole flukey book of stories. Where do I start? To find out, I guess you'll have to read Pam's book On Stage Naked, from Salvation Army to the Academy Awards. She has kept a journal since she was nine years old and she tells all the stories, and mentors while doing it. It's close to being published so be on the lookout soon on Amazon.
By the way if you look me up on IMDB, it credits me with producing episodes of Great Performances. It isn't my credit! Maybe someone can show us how to fix that!
All those years relishing the latest box office returns on your film projects, did you miss soaking up live audience adoration and responses?
JW: Well, certainly there is a chemical reaction, an electricity between performer and live audience. That's been our first love, where we met and have shared some of our most memorable moments. It's an actor's medium, the stage. We hope to be able to meld our backgrounds in many mediums.
Pam, now that you're wearing your actor's cap again, do you sometimes find it hard not to switch to your producer's chapeau?
PGW: JW and I are producing this piece too. So we have become comfortable wearing many hats.
JW, will you be multi-tasking during this run of THE EMPTY NESTERS campaigning for awards for Incredibles 2?
JW: It looks like it. The movie is starting to pick up some nominations. During rehearsals, we were hopped on a plane to New York for an event, and I'm sure they'll be others.
Pam, what near future plans in 2019 can you share with us?
PGW: We want to carry our productions into the future, whether it be theatre, television or film. We feel comfortable being back in the arms of this collaboration. It's something we missed, out of necessity, for way too long.
Thank you both again! I look forward to seeing you both spar in your empty nest!
PGW & JW: Thank you so much! We appreciate it.
For ticket availability through February 17, 2019; log onto www.EmptyNestersPlay.com
Related Articles View More Los Angeles

Stories

Shows
From This Author Gil Kaan