BWW Interview: Chelsea Sutton Muses on WOOD BOY, Garry Marshall & Going Rogue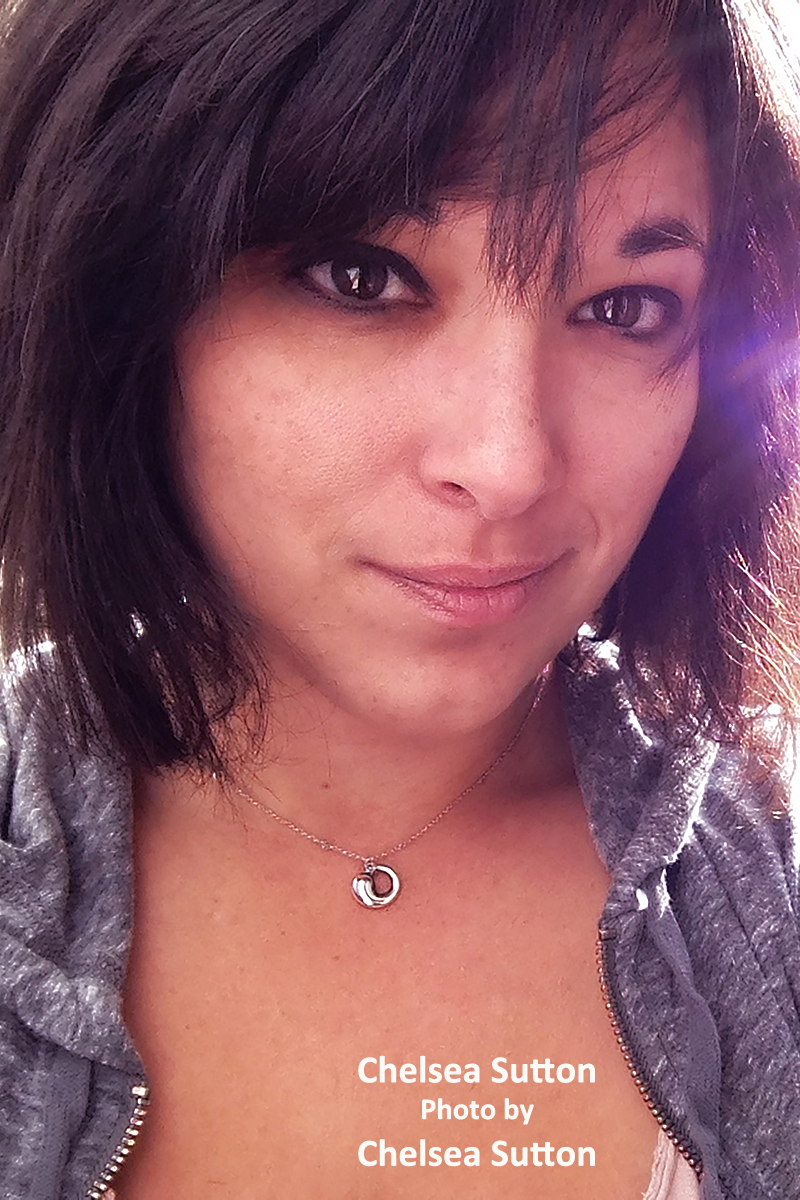 Rogue Artists Ensemble's 2015 world premiere of WOOD BOY DOG FISH, their unique retelling of The Adventures of Pinocchio, will be receiving a spiffy remounting at the Garry Marshall Theatre beginning May 12, 2018.
We had the most opportune opportunity to talk some serious talk with the playwright of both WOOD BOY DOG FISH editions - Chelsea Sutton, as she shared her histories with the Falcon Theatre, Rogue Artists Ensemble and the late Garry Marshall.
Thank you for taking the time for this interview, Chelsea!
I experienced and was in awe of your WOOD BOY DOG FISH in 2015 at the Bootleg Theater. Have you tweaked that world premiere edition at all for its latest incarnation at the Garry Marshall Theatre?
I'm so glad you saw the 2015 incarnation! I was so proud of what we were able to accomplish with that one, but for 2018, we have tweaked it quite a bit. The script has been rewritten - there are new scenes and new songs and the character arcs are deeper and more well-defined. Nate Hodges our choreographer is perfecting the dances in the show, we have new puppet designs, new prop designs, new set designs, new costume designs. We are keeping the aesthetic of the first production, but the volume and specificity of everything is getting turned up. PLUS we are adding an immersive experience in the lobby. The show takes place in a grimy tourist trap carnival town called Shoreside - and you get to experience that world before the play even begins.
A second production is a real gift. Plays sometimes lose a lot by not getting a second shot - you're so worried about birthing a thing, that the small threads and detail work can be forgotten.
How did the title of WOOD BOY DOG FISH come about? Do you remember some of the other suggestions?
Oh, man! This was definitely an ensemble creation. I had to look up my old notebook and find the page where I jotted down ideas. In the end, we felt WOOD BOY DOG FISH encapsulated the main conflict and magic of the play. For years and years, it was just THE PINOCCHIO PROJECT. Some particularly terrible ones from my notebook: ON HUNGER AND HEARTS, DOGFISH WOOD, THE MONSTER IN THE WOOD, THE CORE OF YOU, THE RUNNING BOY, SHARK IN THE HEART, A BOY AND HIS DOGFISH and, simply, STRINGS.
Describe how did the embryo of the idea of adapting Carlo Collodi's 1883 The Adventures of Pinocchio into WOOD BOY DOG FISH initially formed?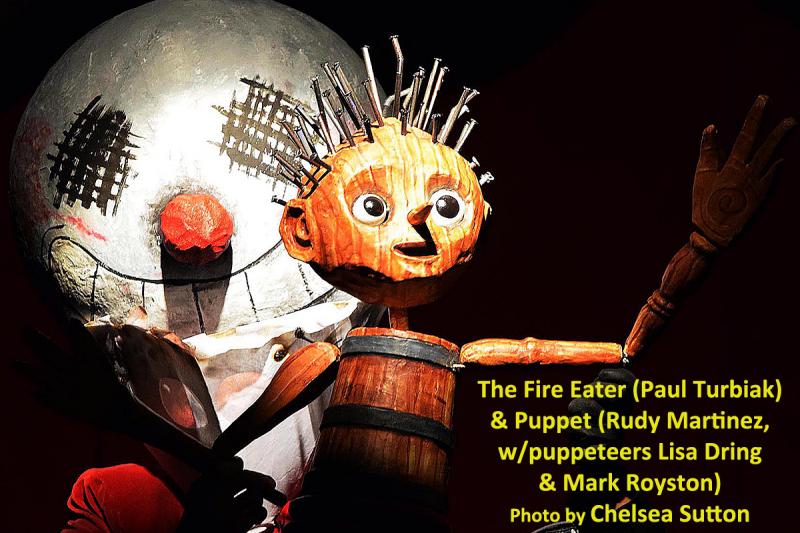 As legend has it, Sean T. Cawelti, the director and Artistic Director of Rogue, was having lunch with one of our past board members Lynn Jeffries at the Blue Bayou at Disneyland, and the idea that Rogue should do their version of Pinocchio rolled out of his mouth. It was obvious. It was destiny. It happened over ten years ago. I got involved long after that, but I always wished I was there, listening in, smelling the chlorine of the Pirates of the Caribbean, and eating a Monte Cristo sandwich.
What impetus encouraged you to join the Rogue Artists Ensemble?
I first saw their production of GOGOL PROJECT and was hooked. They made the kind of magic on stage I wanted to make. I became their marketing manager in 2012 or so, mostly to get to know them, and did not start working with them artistically until jumping onto WOOD BOY DOG FISH. They inspire me to make impossible theatre.
What other puppet-driven stories do you and Rogue Artists Ensemble intend to transform into a stage presentation?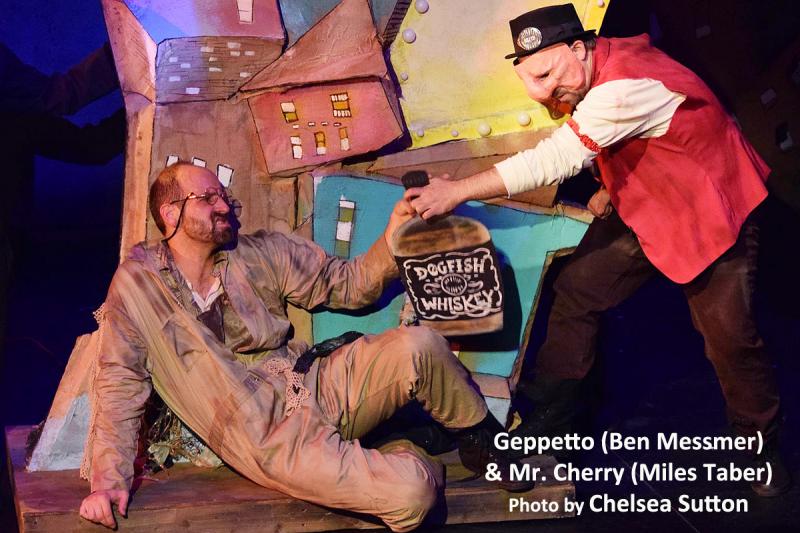 We just did our first immersive piece based on Japanese ghost stories, KAIDAN PROJECT: WALLS GROW THIN, back in the fall, and we really want to work on a new immersive piece. This summer, we are producing a collaboration with the City of West Hollywood, SEñOR PLUMMER'S FINAL FIESTA, based on the life of Eugenio Plummer, namesake of Plummer park. it involves a life-size Eugenio puppet, a shark, a sheep, various birds, and more. In 2019, we're doing COWBOY ELEKTRA, a mash up of Greek theatre and spaghetti westerns, written by Ovation Award-winning Meghan Brown. We have a lot of works we are starting to develop in the meantime. Ensemble member Lisa Dring and I (we co-wrote KAIDAN PROJECT) are starting a writers group with Rogue which will focus on writing "the impossible play." Personally, I want to do a retelling of FRANKENSTEIN with puppets. I have a thing for monsters.
What was the first puppet you yourself ever saw? On TV? Live?
Honestly, I think Pinocchio was the very first puppet that entered my consciousness. I grew up in SoCal and went to Disneyland all the time. I have a home video from Christmas 1988 when I was three years old, opening a present that happened to be a cup with a decal of Pinocchio on it, and I got SOOO excited. I screamed Pinocchio's name. I have never been as excited about anything as I am in that video. I also loved the TV show Fraggle Rock. Couldn't get enough of it.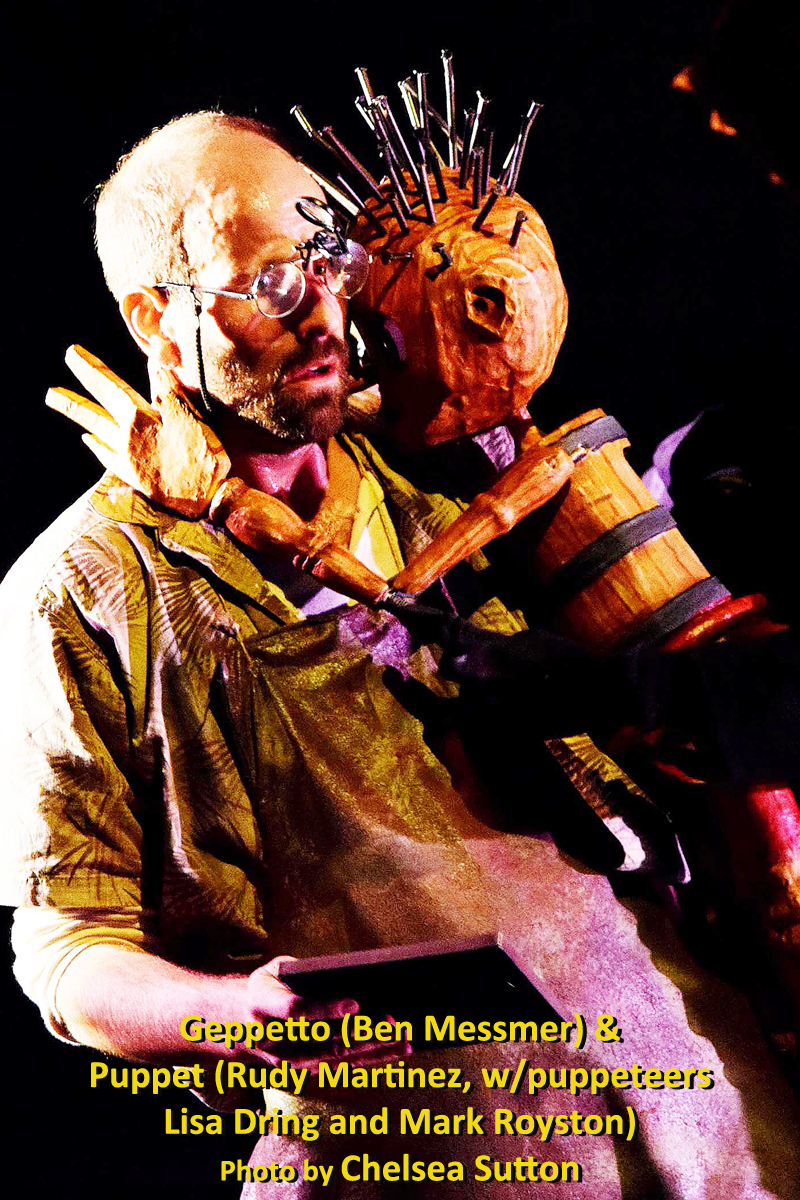 I see that Rogue Artist Ensemble's co-founding member and current artistic director Sean T. Cawelti (who directed the 2015 world premiere) will again be directing WOOD BOY DOG FISH. Will any of the original 2015 cast be in the Garry Marshall production?
Yes! Rudy Martinez is returning as the titular Wood Boy - he is part of "Team Puppet," a team of three puppeteers who make the Wood Boy puppet come to life. Mark Royston, the second puppeteer on WOOD BOY, is also returning. Ben Messmer is returning as Geppetto and Miles Taber as the MC of Funland. Lisa Dring is returning but in a different role. In 2015 she was a part of Team Puppet, but now she is playing Wick, Wood Boy's first friend. Paul Turbiak is also returning and also in a different role - he was amazing as the Fire Eater in 2015, but this year, he's playing the Terrible Dogfish and The Cricket. In my rethinking of the piece, I made the Fire Eater (Act 1's villain) a female character - which is a great service to the story, but also meant Paul couldn't play the part. I love working with Paul, he's always up for a new challenge and the ridiculous demands Rogue puts on artists, so I'm glad he's back. Everyone else is new to the project, though Amir Levi, who is playing Fox, has read that part in MANY workshops over the years. He was basically made for it.
Falcon Theatre devotees might recognize you as a frequent and familiar presence at the theatre. Tell us how you first started at the Falcon? And in what capacities?
The Falcon was my first job right out of college. I was hired as the marketing assistant while Cheryl Games was the marketing director at the time. After Cheryl left, I still hung around and eventually became the marketing director. Seven years! I was also the assistant director to Dimitri Toscas on BUNNY BUNNY in 2014 - and now he's one of the Artistic Directors.
Would you share some memorable moments you had working with the late Garry Marshall?
Garry was the kind of person who would offer his time and support when it was never expected. When he found out I was a writer (thanks to Katie Witkowski, the current Managing Director at The Road, who worked in his office at the time) he insisted on reading a script of mine. I only had my first silly full-length play 99 IMPOSSIBLE THINGS to give him - which I was embarrassed by. He also came to see a play I directed, LOW TECH, which also happened to star Amanda Smith who worked in the Falcon box office at the time. He came to this little rinky-dink black box theatre in the Valley and hung out after to congratulate us. He told me (and others) I had directing chops. He told me to keep writing. He didn't have to do that. And it meant the world.
He also had a great story I heard over and over again about his play THE ROAST, which opened at the Winter Garden Theatre in New York, which ran for three days and closed. The next play that opened there was CATS, which ran for 18 years. In other words, don't give up. (Garry tells it better.)
It must have been a no-brainer to re-name the theatre Garry Marshall christened the Falcon Theatre to its present the Garry Marshall Theatre. Any interesting hurdles there?
I didn't come on to help with the theatre's new incarnation until summer of 2017 - at that point I'd been away for three years, so I'm not sure about all the difficulties leading up to the decision. How I see it, though, is that part of the challenge is in doing two things: honoring Garry's memory while also creating a new, forward-thinking identity for the theatre. It's always a challenge for a new space to find its voice. In this case, one that is influenced by Garry's legacy, while also having its own point of view. Finding your voice is a process not done overnight.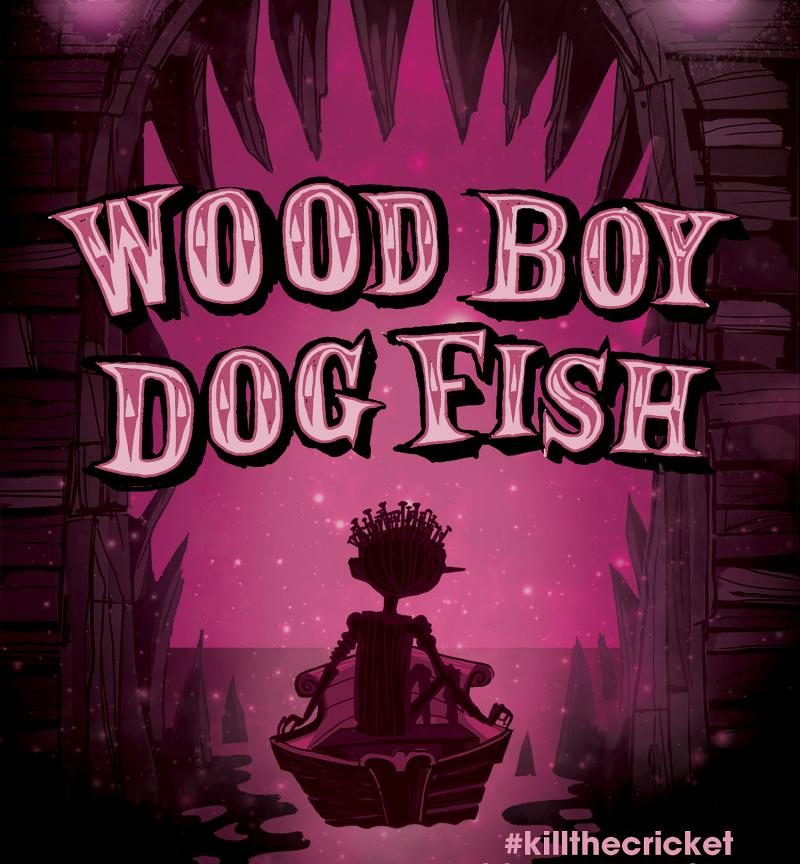 What's in the near future for Chelsea Sutton? More collaborations with Garry Marshall Theatre? Rogue Artists Ensemble? Solo efforts?
I'm part of the writing team on SEñOR PLUMMER'S FINAL FIESTA, Rogue's next project in the fall. I'm also in grad school at UC Riverside. I'm working on a short story collection and my first novel. I'll be directing a reading in the Garry Marshall Theatre's first New Works Festival in May, as well. Plus a couple screenplays, workshopping new plays, the Rogue writers group, yadda yadda. Always lots of projects in the fire.
What was the best and/or most surprising reaction you received from the Bootleg Theater audience for your WOOD BOY DOG FISH in 2015?
One of my friends was full-on weeping at curtain call. My best friend also came to opening night, nine-months pregnant, and went into labor THAT NIGHT after the show. I like to think WOOD BOY scared the baby out of her.
With which emotions would you like the Garry Marshall audience to leave after WOOD BOY DOG FISH's curtain call?
A little bit of heartbreak - the healing kind. The kind that turns into hope.
Thank you again, Chelsea! Can't wait to you make me laugh and cry with Puppet again.
Click "review" to link to my review of the 2015 production.
For ticket availability and schedule through June 24, 2018; log onto GarryMarshallTheatre.org