Award Winning Musical NEW DAWN Returns at Secret Theatre's UNFringed Festival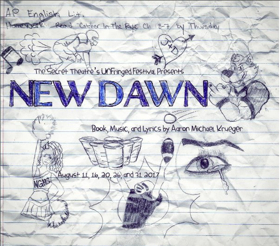 New York's Aaron Michael Krueger brings his award winning show New Dawn to the Secret Theatre's UNFringed Festival this summer. New Dawn tells the story of high school football captain Joey Johnson, whose seemingly perfect life begins to fall apart around him, causing him to turn to self-destructive methods of coping. As secrets come out and emotions run high, Joey, his family, and his peers struggle to regain control of their lives and move past the darker times that they're currently in.
This high energy coming-of-age musical features an electrifying rock score and a dynamic original book that is sure to move hearts and minds. New Dawn was a part of the Midtown International Theatre Festival (MITF) at the June Havoc Theatre in 2014 where it was nominated for 9 awards, taking home 4 (Best Lead Actor in a Musical, Best Supporting Actor in a Musical, Best Book, Music, and Lyrics, and Best Musical). In January 2016, a second production blew audiences away at the Venus/Adonis Theatre Festival, and now Writer/Composer Aaron Michael Krueger is bringing the show back this summer.
The show features Jordan P Schroeder (Joey), Kristen Seggio (Kristin), Chloe Search (Stephanie), Lane Northcutt (Drew), Michael Waller (Travis), Anna Laura Strider (Jill), Stephen Savage (Luke), Nick Ong (Chad), Rachel Pedinoff (Taylor), Nathaniel Gregory (Chris), Kyle Price (Jesse), Amanda Wilson (Courtney) and Paul Mitchell Wilder (Dave).
Director: Aaron Michael Krueger
Assistant Director: J. Ethan Henry
Choreographer: Carmela Girdlestone
Producer: Garreth Browne
Instagram: instagram.com/NewDawnMusical
Facebook: facebook.com/NewDawnTheMusical/
Twitter: twitter.com/NewDawnMusical
https://www.youtube.com/watch?v=-GCq5E6W0f4
Featured This Week on Stage Door
Shoutouts, Classes, and More from Your Favorite Broadway Stars




More Hot Stories For You