Casting and Program Announced For American Ballet Theatre at the Staller Center For The Arts This March
The event is on March 4 at 7pm.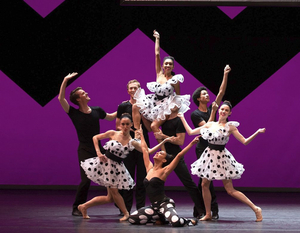 The 2023 Staller Center Gala features the one and only American Ballet Theatre (ABT) in their first-ever appearance at The Staller Center for the Arts and their first-ever full company appearance on Long Island. This thrilling evening of dance on March 4 at 7pm, America's National Ballet Company, AMERICAN BALLET THEATRE, will celebrate the Staller Center in a glamorous evening for their 2023 GALA.
Widely recognized as one of the most outstanding dance companies in the world, AMERICAN BALLET THEATRE remains unparalleled in size, scope, and outreach. A living national treasure since its inception in 1940, ABT annually performs for more than 300,000 people nationwide, making it the only major cultural institution to do so. In its over 80-year history, the Company has appeared in a total of 45 countries and has performed in all 50 US States. In recognition of its storied history, incredible depth, and high-caliber quality, Congress declared American Ballet Theatre as America's National Ballet Company on April 27, 2006.
Regular tickets are still available and can be purchased by clicking here. Limited VIP Gala Supporter tickets remain. Click here for Gala Supporter Ticket information.
Program & Principal Casting Information
Songs of Bukovina
Christine Shevchenko, Calvin Royal III
Songs of Bukovina by Alexei Ratmansky, set to the music of Leonid Desyatnikov, explores the folk traditions of the Eastern European mountains.
Some Assembly Required
Katherine Williams, Jarod Curley
Some Assembly Required by Clark Tippet features an intimate and unconventional pas de deux that follows the arc of a relationship, exploring the moments of tension and companionship that make two into one.
ZigZag
Devon Teuscher, Cory Stearns
Cassandra Trenary, Joo Won Ahn
ZigZag by Jessica Lang is set to songs by the legendary Tony Bennett, including a special duet with Lady Gaga.
PRINCIPAL DANCERS
Joo Won Ahn
Wonju, South Korea
Joined ABT 2014
Principal since 2020
Sponsored by Mr. and Mrs. William H. Told, Jr.
Mattituck, New York
Joined ABT 2005
Principal since 2011
Sponsored by The Mathey Family
Calvin Royal III
Tampa, Florida
Joined ABT 2010
Principal since 2020
Sponsored by Sharon Patrick
Devon Teuscher
South Burlington, Vermont
Joined ABT 2007
Principal since 2017
Sponsored by Donna Calamari
Odessa, Ukraine
Joined ABT 2007
Principal since 2017
Sponsored by Avery and Andrew F. Barth
Cassandra Trenary
Lawrenceville, Georgia
Joined ABT 2011
Principal since 2020
Sponsored by Amy and Gary Churgin
A Local Connection: LONG ISLAND BALLERINO - PRINCIPAL DANCER IN AMERICAN BALLET THEATRE
From Seiskaya to America's National Ballet Company: Born on Long Island, Mattituck's Cory Stearns began his classical training at age five with Mme. Valia Seiskaya at the Seiskaya Ballet. At age 15, he participated in the Youth America Grand Prix and was offered a full scholarship to The Royal Ballet School in London.
Stearns joined American Ballet Theatre Studio Company in September 2004, the main Company as an apprentice in January 2005, and became a corps de ballet member in January 2006. He was appointed a Soloist in January 2009 and a Principal Dancer in January 2011.