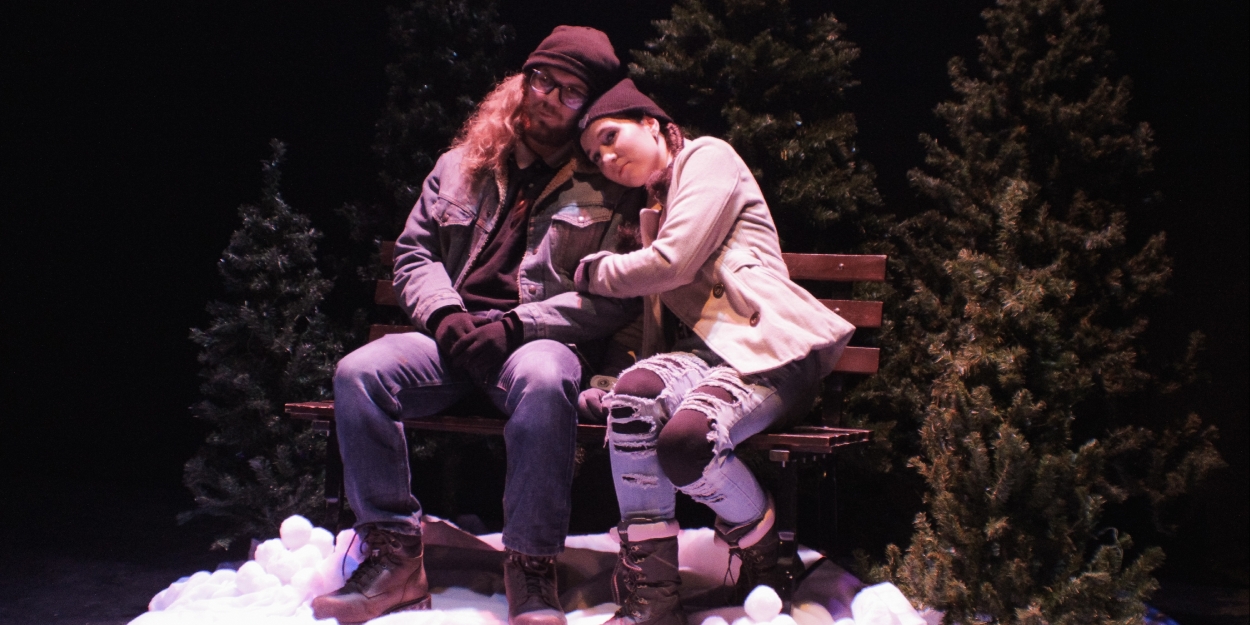 Review: ALMOST, MAINE at The Lyric Theatre
Presented by the Theatre Company of the Ozarks.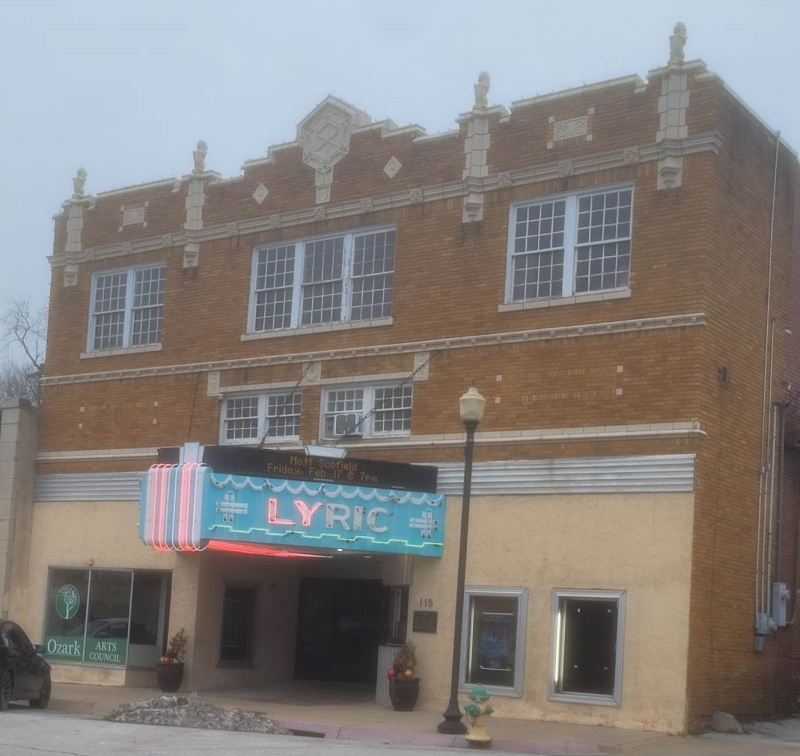 I always love driving through the Ozark mountains, especially if I get to see a historic theatre new to me. Sunday, Jan. 29, I caught the last performance of ALMOST, MAINE at the beautiful Lyric Theatre in Harrison, which is home to the Ozark Arts Council. These people are taking great care of their historic theatre, and they have exciting things planned for their future. I can't wait to see what comes next.
ALMOST, MAINE, written by John Cariani, is about the people in this specific location that never got around to filing the proper papers to become an actual place, so they call themselves Almost. Each scene is a snippet of life between Almost's inhabitants. Pete (Jude Bilbee) and Ginette (Candance Lambert) have a moment on a bench; Glory (Elizabeth Lambert) and East (Brandon Lambert) deal with her broken heart; Jimmy (August Gideon) and Sandrine (Jessica Noel Adams) are exes that see each other at a restaurant and interact with their waitress (Edie Leonard); Marvalyn (Andi E) finds out that Steve (Preston Garrison) doesn't get hurt; Gayle (Abigail Coble) gives Lendall (Andrew Coble) back his love; Chad (Preston Garrison) and Deena (Abigail Coble) literally fall in love; Phil (Andrew Coble) and Marci (Jessica Noel Adams) are married and looks like they may end in divorce; Hope (Kelly Petree Goodwin) goes back to the location of a former boyfriend (Fred Lutz) to give him an answer; and Dave (August Gideon) gives Rhonda (Andi E) a painting. Without giving the
whole story of these interactions, they all have to do with love in some way. Most of it is happy and/or humorous and has a lot of charm being blessed by the Northern Lights.
Co-directed by Debbie and Shelby Waters and assisted by AJ Womack, this was a cute, endearing show. The couples worked well with each other to tell their story in a short amount of time. Jude Bilbee and Candance Lambert had the role of setting the tone of the show. I could feel Lambert's frustration with Bilbee's indecisiveness; I give the good kiss award to Andrew and Abigail Coble for their scene; and August Gideon and Andi had really good chemistry as Dave and Rhonda. On the back of the Playbill, the OAC is asking for people to vote in their People's Choice Awards, and though I'm not answering all of them, I want to give my SCENE STEALER vote to......Preston Garrison....for both of his scenes. He cracked me up! During his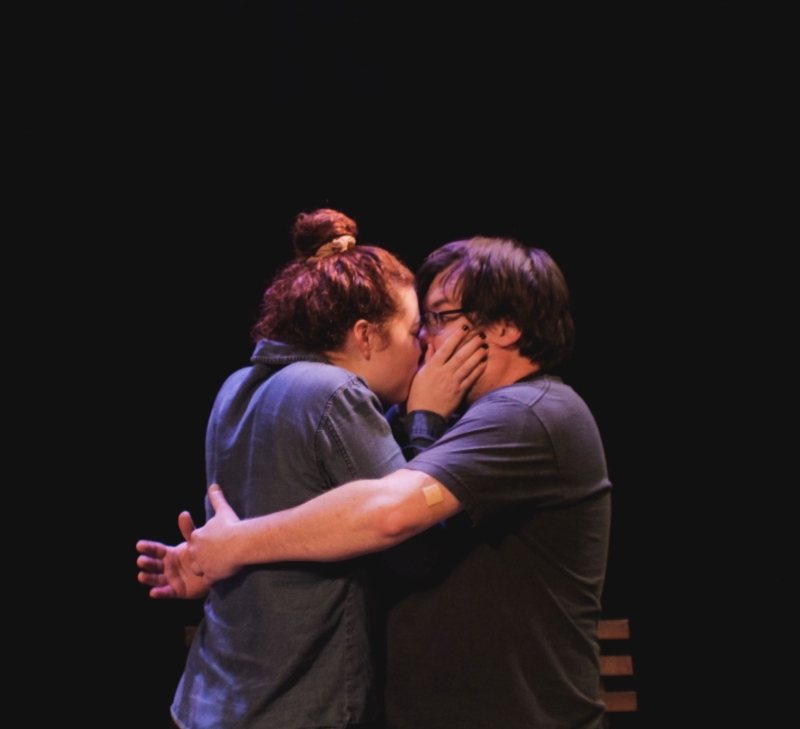 scene with Andi E, his physical comedy was riotous. I really thought he was going to get hurt....so funny. Then again, when he was paired with Abigail Coble, their comedic timing was perfect, and the constant falling over was hilarious. I don't want to see anybody injured, but he was nailing both roles.
I like it when theaters start their theme right when you walk in the doors. At the front of the theater, they had a wintery decorated table that represented ALMOST, MAINE. Then when you walked into the auditorium, they had romantic music and the lights dimmed low to emulate a chilly northern town in the midst of the Northern Light phenomena. The set was beautiful and cleverly placed where they didn't need any scene changes.
I want to give a special 'thank you' to Directors Debbie and Shelby Waters for giving me a tour of their glorious facility. I do have a love for historic building, especially theaters. Built in 1929 by the Fittons, The Lyric was the first theater built in the area for "talkies." It functioned as a theater until 1977, when a new theater was built at the mall. What impressed me the most about this company is how well they have been restoring this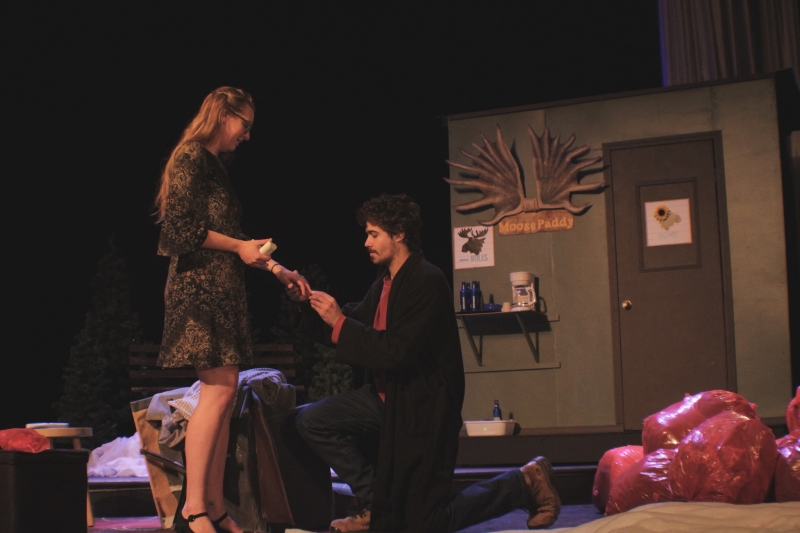 building. It is worth the visit just to see the original Zelm murals that were covered and preserved in burlap during the time it was ran by Continental Theaters. They are amazing! A comprehensive history on the building and arts council can be found at thelyricharrison.org.
The square in Downtown Harrison is making some big moves to get more activity to the area. They are hoping to turn it into a designated entertainment district, so they can block off the zone and serve alcohol during special events. This will bring more revenue, which should benefit The Lyric. Broadway World is interested in seeing how this development unfolds and hopes to return soon. For more information about upcoming productions at The Lyric, visit their website at www.thelyric.org or www.theatrecompanyoftheozarks.com.