BWW Feature: A MOB STORY at Plaza Showroom In The Plaza Las Vegas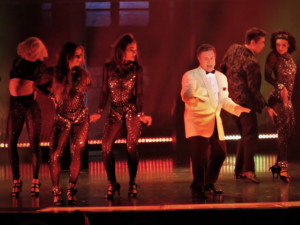 Suave and debonair, a gangster saunters onto the stage, sizes up his audience, and the tale of the story of how the mob helped to make Las Vegas bursts into the showroom. Along with commentary about the life of "The Prince of the Mafia" Michael Franzese, John "Handsome Johnny" Roselli is captured by one of the leads-narrator and storyteller Marcel Forestieri. A cautionary tale with an ending of redemption, A Mob Story combines song and dance with recounting this fascinating story at the Plaza Showroom in the Plaza Las Vegas.
While the audience learns about the rise, fall, and ultimate personal success of Franzese, the Roselli character ties the show together. He was also part of the Chicago Outfit, at first controlling Hollywood and then later Las Vegas.
Unlike his other contemporaries, Roselli liked to stay under the grid. Forestieri did extensive research including reading American Gangster-The Johnny Roselli Story to give him insight to the man who changed Vegas. The back of the book includes a photo of Roselli's business card with his phone number, address, name, and then the title of "Strategist."
"Johnny [Roselli] laid very low, and his name was not on anything. Johnny was a unique personality. Yes, he was a mobster and got stuff done, but he was also very charming and ingratiating. He made friends very easily, people loved him, and he was quite the ladies man. Johnny got things accomplished because of his personality," Forestieri explains. "People honored and respected his input. He ran Vegas, and nothing got in or out without him getting a piece of it."
As part of history dramatized in the show, in the early 1960s, Roselli was recruited by the Central Intelligence Agency to assassinate Cuban leader Fidel Castro. He was good friends with Chicago Outfit boss Sam Giancana and used party girl Judith Exner [nee Cambell] and Marilyn Monroe to pass information between President John F. Kennedy and Giancana about the assassination attempts.
There is the authenticity of Franzese sharing his heart, not apologizing for his past but using it as a life lesson. The same truth is brought to the stage with Forestieri as he embodies the code of the mobster living-and dying-by the sword.
Forestieri has been an entertainer and performer beginning with his groundbreaking Elvis impersonation in 1971. He has won applause and awards as a tribute artist as Jay Leno and President Donald Trump. Forestieri also landed the title role in the Broadway musical Bring Back Birdie, the sequel to Bye, Bye Birdie starring Chita Rivera and Donald O'Connor. Although the show was short-lived, he won rave reviews and continues his successful career.
Still, A Mob Story is a departure for Forestieri since it is his first straight acting job in a production in Las Vegas. While he has appeared on the Strip, it is always as a tribute artist. Forestieri is definitely up to the challenge of personifying a real person.
"In fact, an older gentleman came to the show and afterward introduced himself as Bernie Sindler, who was best friends with Johnny [Roselli] in Los Angeles," Forestieri said. "He is in his 90s today, but when they were young, they would compete for the ladies. When I asked him how well I captured the essence of Johnny; he told me that I have it down and he really enjoys it." Sindler even gave Forestieri a present of a pristine business card of Roselli, which Forestieri plans on framing it.
However, this production is not just two guys talking to the audience. This is Vegas with incredible dancers adding the depth to the storyline. Music enhances the scenes, much like the soundtrack of Las Vegas with its shows and lounges. There is even humor involved because life includes laughter.
As Michael Franzese states during the show, "please understand we are not here to glorify this life. We are here to tell a story. It is an intriguing story, but it is nothing to be glorified."
A Mob Story was created and directed by Emmy Award and Golden Globe Award winner Jeff Kutash and performs Wednesday to Saturday (dark Sunday, Monday, and Tuesday) in the Plaza Showroom at the Plaza Las Vegas. To purchase tickets, visit the Plaza Las Vegas box office or online at amobstorylv.com.