BWW Review: SHOW BOAT at Musical Theater Heritage
Jerome Kern and Oscar Hammerstein II touched off an earthquake in Musical Theater with their 1927 musicalized version of Edna Ferber's "Show Boat." A new iteration of "Show Boat" has shoved off from the dock inside the MTH Theater on the third level of Crown Center for what will be pleased audiences.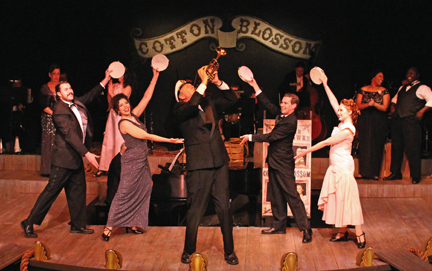 There have been so many versions of "Show Boat" since 1927 for so many different reasons, it is tough to isolate this performance or definitively associate it with any of earlier efforts. The starting place for MTH's "Show Boat" is Goodspeed Musicals. Director Jeff Church has further customized this "Show Boat" to conform to the unique confines of this particular theater space and this particular company's founding.
For pure entertainment value, "Showboat" clicks on all its steam driven maritime cylinders. It is performed in concert dress to honor the original MTH shows performed as concerts on a loading dock, but adds much more in the form of excellent dance and interplay between the characters.
MTH Executive Director Chad Gerlt has done a fine job of suggesting a paddlewheel riverboat for act 1 by showing us suggestions of the wharf, the high smokestacks, the mid-deck fronts piece, and twin gangways on and off the ship. The orchestra is located upstage center with the musical director / conductor in a well in the dead center of the performance area. The upstage wall tells us that the ship is called "Cotton Blossom."
Seth Jones and Elise Poehling as Gaylord and Magnolia Ravenol respectively are nicely matched lead players. Mr. Jones is an exacting tenor who recalls Allan Jones from the 1936 film version. Mr. Jones is impressive in all ways and sings in the original tenor range for which the songs were written. Ms. Poehling's impressive first soprano and tight vibrato reminds me of the excellent Katherine Grayson from the 1951 Cinemascope iteration. Their immediate collaboration from the early on "Make Believe I Love You" establishes a connection that continues through both acts.
Morgan Walker as Julie cannot be overlooked for a heart-rending turn as the mixed-race leading lady who passes for white in the Jim Crow South of the late 19th century. We get to hear her again and see her heart almost invisibly in Act 2.
Likewise, Robert McNichols, Jr. as Joe and Enjoli Gavin as Queenie deliver many of the show's best light- hearted moments. Mr. McNichols offers us a creditable "Ol' Man River," but the duet "I Still Suits Me" shows off both to maximum affectionate effect.
Not to be slighted, Abigail Becker as Ellie Schultz and Phil Newman as Frank Schultz make a formidable team delightful to any Vaudeville stage. They are very good and work together seamlessly to advance the storylines throughout.
Marc Wayne is "Show Boat's" choreographer. His inventive plan utilizes seriously tiny and cut up stage space and is one of the things that keeps this production moving full steam ahead.
Director Church has created a notion of a controversial story that uses all possible entrances and exits to keep the characters and complex story moving. I did find myself want to see more plot development between some of the leads, but on research, this is consistent with the Goodspeed Musicals script upon which this production is based.
The original 1927 "Show Boat" was four hours long. By the time it got to Broadway, it had been trimmed to three hours. This version is a more booty-sensitive length without sacrificing much of the forty-year story.
What makes the MTH "Show Boat" stand out from the crowd waiting in front of the "Cotton Blossom" is the part that MTH Founder George Harter plays in the proceedings. We are used to seeing George appear at the beginning of MTH shows and explaining some of the history behind the Musical Theater Heritage. For "Showboat," George is snappily attired in semi-formal wear with a bow tie. We see him for a minute at the outset, but enjoy him periodically during the course of the performance. Somehow, this is (I suspect) an MTH invention that works and enhances this production.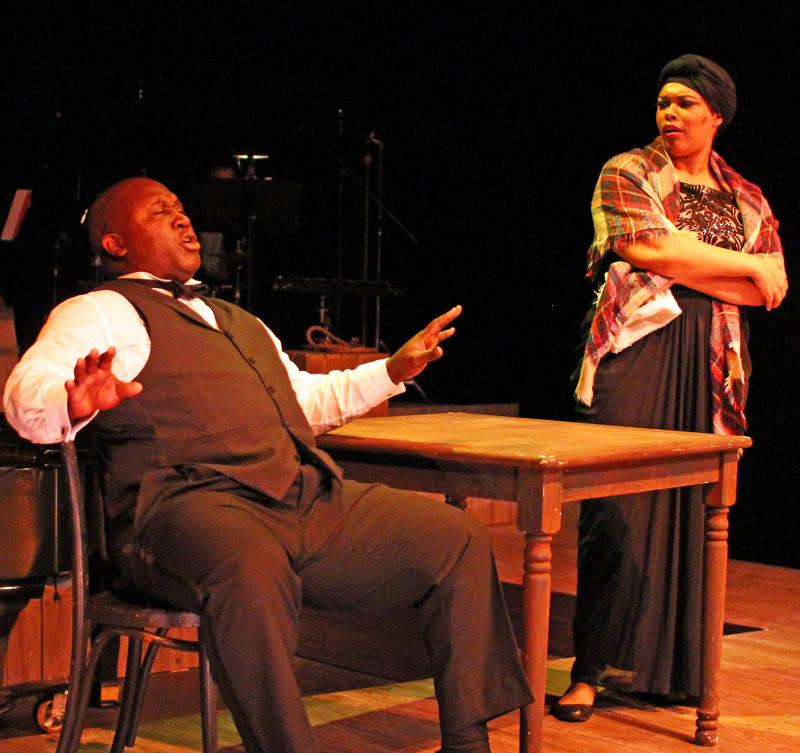 "Show Boat" is remarkable for what it did for musical theater and for the controversy that changing mores have pointed up over the years. "Show Boat" was the first musical play to seriously attempt to tell a story advanced by the music embedded in it. It was a step beyond Operetta and away from Grand Opera. Most presentations at the time were revues or minstrel shows. Blacks and whites did not appear onstage together. They did here for the first time.
The lyricist and librettist Oscar Hammerstein II was among the least bigoted people who ever walked. Throughout his career, he promoted tolerance and equality including his later efforts like "Carmen Jones," "South Pacific," and "The King and I." Still, many have criticized "Show Boat" for racial insensitivity in much the same way that Mark Twain's "Huckleberry Finn" has been taken to the woodshed for its use of common language.
Changing mores require us to re-examine past works, but shouldn't allow us to condemn what was written with the purest of intention.
This past week, in the wake of the Pittsburgh Synagogue shootings, I happened on a column by Ruth Marcus of the Washington Post. It is almost never appropriate to use this platform to reference biblical imperatives, but the continuing criticism of Hammerstein calls out for a thoughtful rebuttal.
I was touched by a passage Ms. Marcus cited; a reading from Leviticus at her daughter's Bat Mitzvah which also reveals, I think, Oscar Hammerstein's heart. "The stranger who resides with you shall be to you as one of your citizens; you shall love him as yourself, for you were strangers in the land of Egypt."
"Show boat" continues at the MTH Theater at Crown Center through November 18. It is a delightful evening of excellent music and dance with subplots that have become ever more relevant in the almost century since the curtain first rang up. Tickets are available at https://musicaltheaterheritage.com or by telephone at 816-221-6987.
Photos courtesy of Musical Theater Heritage and Tim Scott