BWW Review: CAMELOT at White Theatre
Now playing at the White Theatre inside the Jewish Community Center in Overland Park is their community theater production of Lerner and Loewe's 1960 classic "Camelot." Featuring a hidden away orchestra of twenty-three and a cast of seventeen, "Camelot" is always a challenging project.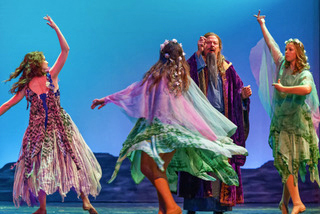 The White Theatre production of Camelot features some very representative voices and an enthusiastic supporting cast.
"Camelot" is one of the last of the "Oklahoma" style musical theater properties. It has nineteen scene changes in just short of three hours run-time. It was Lerner and Loewe's final stage collaboration although they did write a 1973 film adaption of "Gigi.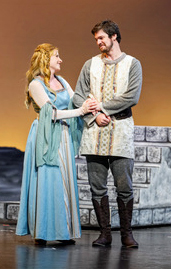 The King Arthur legend comes to life as told via musical theater from the longer, earlier novel "The Once And Future King" by T.H. White. Arthur is said to have been a Welsh ruler around the sixth century A.D. No one really knows if there was a King Arthur or a Camelot, but notions of knightly chivalry and might for right and equality for have proven so hypnotic that they have persisted over time and were even adopted for a time at 1600 Pennsylvania Avenue.
There are many tales surrounding Arthurian legend. Scholars have been searching for him and Camelot for a millennium and a half without definitive success. Arthur's queen, Guinevere, does not appear until five centuries after he was said to have lived. Arthur's friend and Guinevere's lover Lancelot does not surface in the written record until two centuries after Guinevere.
"Camelot," the musical was born in an era when scores were lyrical and individual tunes migrated quickly in the popular songbook. President John Kennedy is said to have enjoyed listening to the score before falling asleep. The title tune "Camelot," "How To Handle A Woman," "If Ever I Could Leave You," "What Do The Simple Folks Do," and "I Loved You In Silence" still remain standards.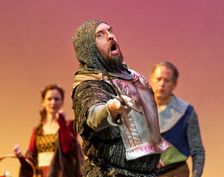 This White Theatre community production of "Camelot" features Tyler Walker as Arthur, Betsy Bledsoe as Guinevere, Scott Fagan as Lancelot, and Steven Ansel James as Arthur's surprise son; the evil Mordred. The vocal standouts are the rich baritone of Scott Fagan and the strong soprano of Betsy Bledsoe. Choral blends are also excellent.
The number of scene changes required for "Camelot" makes it a challenge for scene designers and directors. These kinds of shows featured a number of scenes presented as runners. An intermediate curtain descended mid-stage and scenes was played in front of it while the main set was changed behind and continuity was maintained.
Design fashion has changed. Moving set pieces have been substituted for the runners. The audience is expected to accept a rotated scene element as an entirely new location. All this rotation and the addition and subtraction of furniture tends to make an already lengthy show seem even longer. "Camelot" in general and this production in particular are a little guilty of this fault.
Audiences at the original tryout for "Camelot" in Toronto starring Richard Burton, Julie Andrews, Robert Goulet, and Roddy McDowell sat in their seats for four and one half hours. Through several serious illnesses on the part of the original director and one or more of the creators, the show was trimmed down to a bit less than three hours by the time it opened in New York. The score, the no-fault love triangle, and the great optimism of Arthur save the show.
In more modern parlance, design consciousness of stage geography, more permanent platforms stage left and right, stage pictures with triangles, eye contact between characters on multiple levels, more contained gestures, and downstage crosses with pivots timed to specific places in dialog and songs would take a respectable production and make it a great production.
White Theatre is one of the most outstanding proscenium facilities in the metro area. Although the proscenium is perhaps a little narrow, nice wings, a more than adequate stagehouse, ample beam light positions, and five-hundred comfortable audience seats in a luxurious auditorium make the White Theatre a great place to see and produce a show.
Camelot continues at the White Theatre through November 18. Tickets are available at www.jkc.org or by telephone at 913-327-8054.
Photos courtesy of the White Theatre