BWW Review: ULYSSES Reincarnates at the Abbey Theatre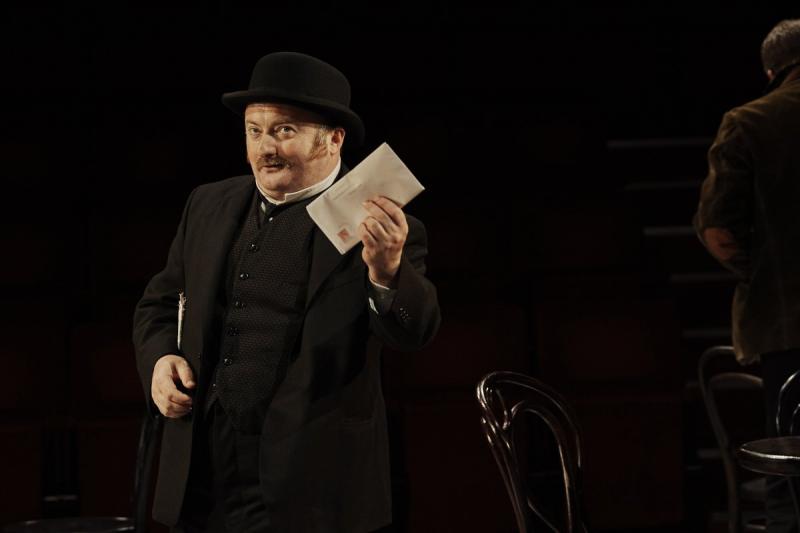 Never Read the Book? Take a Stroll to The Abbey
On Thursday, June 16th, 1904 a young man and his new belle spent their first day together wandering the streets of Dublin. The experience had such a profound impact on him that over the following 2 decades he commemorated the milestone by writing a fictional account about the lives of a group of Dubliners on that eventful day.
The young man was James Joyce, that day is now universally known as Bloomsday, and his immortal novel, is Ulysses.
A cursory online search for Joyce reveals around 186 million hits with amusing and frequently opposing accounts of the man and his work. He was a genius. He was a twit. He was distinguished. He had no breeding. He was revered. He was an outcast. He was a lapsed Catholic who frequently attended church.
Ulysses received similar praise and rebuke. Although initially censored for its perceived obscenities, today it is lauded to be arguably the greatest literary novel in the world. Joyce's own peers were divided. T. S. Eliot professed: "I hold this book to be the most important expression which the present age has found," whilst Virginia Woolf chastised it as "pretentious" and "a misfire."
In 1993, poet, playwright and novelist, Dermot Bolger was commissioned to undertake the herculean task of adapting Ulysses for the American stage. His mandate was to distill 18 episodes, 265 thousand words and myriad literary styles into a play palatable to theatergoers. Following a single staged reading in Philadelphia, revisions to EU copyright law prohibited European productions for another 2 decades. Notice the recurring theme?
More recently Bolger reworked his adaptation, premiering to significant acclaim under the auspices of director Graham McLaren at The Abbey Theatre (Ireland's national theatre) as part of the 2017 Dublin Theatre Festival. "The fact that the show is selling out suggests just how many people are fascinated by this book," affirmed Bolger.
Graham McLaren once again directed and designed the current revival at the Abbey. The play focuses on three major characters: Leopold Bloom, the endearing husband; Molly Bloom, earnest but unfaithful wife; and Stephen Dedalus, a teacher and loner. The trio are joined by a colourful cluster of Dubliners.
The set, an Irish pub, feels familiar and welcoming with the audience seated in the auditorium and upstage on risers. Stage left is the bar, stage right sits an upright piano, and a dozen or so audience members are clustered around cabaret-style tables onstage. Incongruously, center stage, lies Molly and Leopold Bloom's bed which sets an intimate mood. Discreet conversations, private thoughts, and clandestine acts all converge here.
The play opens with Leopold serving his wife Molly breakfast in bed. Molly remains languishing in bed for Act 1 and much of Act 2, chanting excerpts of her famous monologue from the book's concluding episode. Her florid babble is adeptly interspersed with a series of gaudy and uproarious vignettes each representing an episode of Ulysses.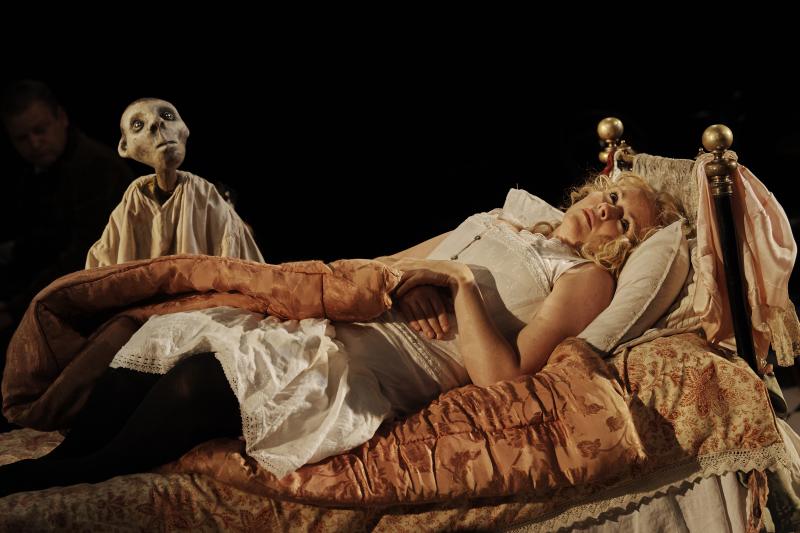 Without a single set change we are whisked from the Bloom boudoir through the streets of Dublin as the motley crew carry about their daily affairs. An argument, a history lesson, a walk on the strand, a birth, a funeral. A sales pitch, a meal, and a drink. More drink, hallucinations, and debauchery. A homecoming. The play gallops through each episode pausing only at the finale where we are privy to the intimate musings of Molly's mind.
The production does not shy from the frank sexuality that made the novel so shocking to early 20th century sensibilities. In this 21st century production, these elements vividly illuminate the human condition with candor, affection, and frequent hilarity. We can readily appreciate how Joyce is said to have often kept his wife awake at night as he laughed aloud while working on the book.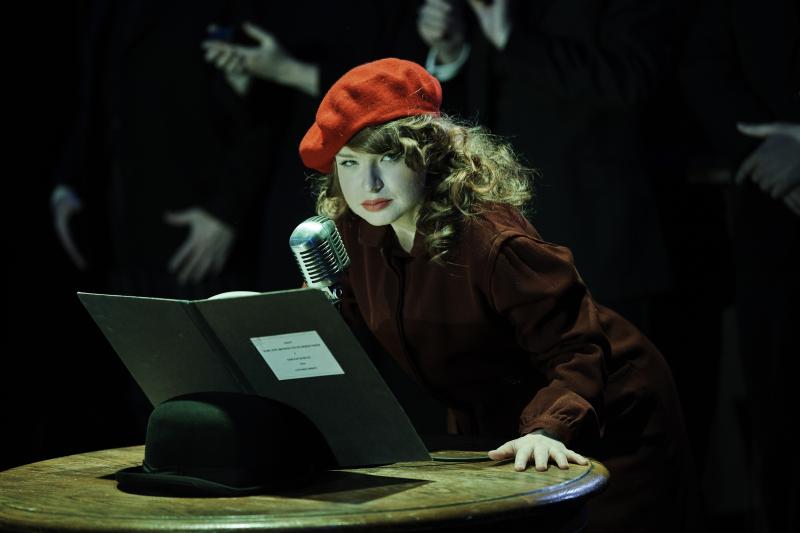 Unsurprisingly, seven of the eight cast members have reprised their roles from the 2017 inaugural performance. All incredibly versatile and accomplished actors, deft puppeteers and several triple threat fiends, they morph seamlessly between their multitude of characters, occasionally breaking into song and even performing a Russian folk dance - perhaps a nod to Zero Mostel, the original Tevye in Broadway's immortal Fiddler on the Roof. Zero played Leopold Bloom in an Off-Broadway production and starred opposite Gene Wilder's neurotic "Leo Bloom" in Mel Brooks' 1967 movie The Producers.
David Pearse's affectionate portrayal of Leopold Bloom wills the audience to be sympathetic to his wholly human character flaws. Donal Gallery is the embodiment of disillusioned Stephen Dedalus, his mind dragging a load far too heavy for his lean years.
New cast member Stephen Jones was superb as the flamboyant and salacious Blazes Boylan in addition to his numerous ensemble incarnations. His performance was reminiscent of Hogwarts' Professor Gilderoy Lockhart played by Sir Kenneth Branagh (did anyone notice the resemblance?). Janet Moran was rapturous as Molly. Her famed 'stream of consciousness' soliloquy was honest and unrepentant as she languidly contemplates her clandestine affair with Blazes and fondly reminisces about her first encounter with Leopold.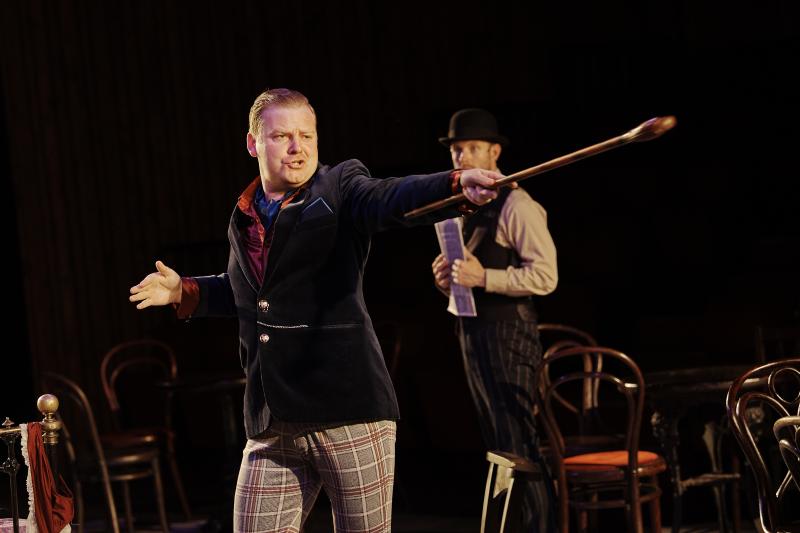 Musical Director Jon Beales was terrific at the piano (and indeed several ensemble roles) - discreetly dialing up the charged atmosphere. Gavin Glover's puppets were a delightful addition, deliciously macabre whilst at other times baudy and boisterous. Sound designer Ben Delaney clearly had a field day with this production. His sound effects were cheeky and completely audacious!
Joyce declared, "I've put in so many enigmas and puzzles that it will keep the professors busy for centuries arguing over what I meant. That's the only way of ensuring one's immortality." With this lush and beguiling production, Bolger and McLaren are both safeguarding Joyce's legacy and ensuring his immortality by attracting new followers to the Joycean flock.
Bolger claims, "My ideal audience is people who always wanted to read the book but felt daunted." That certainly includes me. I arrived intimidated but left happy and inspired.
The show runs at The Abbey Theatre until July 21st, 2018.
Related Articles View More Ireland

Stories

Shows