Industry Pro Newsletter: The Cancellations, The Policy Changes, and The Worry
As the globe grapples with the latest variant, COVID protocols are put to the test.
December 20, 2021 -
The cancellations. The story in the industry of the last week or so has been reminiscent of March 2020, though as many observers and epidemiologists have reminded theatre fans - it isn't as bad as that. First, the cancelled performances are a sign that testing programs are working, and while they aren't completely eliminating exposure, they are mitigating the risk. While they may cause the loss of a handful of performances, they aren't causing a complete and total shutdown. Second, this is an early sign of a new era in theatre where performers, technicians, and staff members aren't forced to work sick. As theatre producers across the globe get a better understanding of just how many contingencies need to be in place for the show to go on, adjustments will continue to be made operationally. While our stories below discuss shutdowns in many markets, these are certainly not the only places currently impacted by new cancellations.
The Rockettes Cancel All Remaining Shows for 2021
The Christmas Spectacular announced an early closing due to COVID related concerns. After playing more than 100 performances, breakthrough cases and other challenges from the pandemic forced the closure. It is worth noting that Radio City Music Hall was being operated as a venue, which came with different restrictions and requirements than are currently being observed on Broadway and other live performance venues around New York City.
12 Shows Forced to Cancel in the UK
Major West End productions have also been forced to cancel performances due to COVID concerns. Earlier this month, UK Prime Minister Boris Johnson announced an expansion of masking requirements in performance venues, but a dozen shows have still been forced to cancel performances due to positive tests within the company.
Stay up to Date on the Broadway Show Schedule
In an effort to keep audiences informed and up to date in the midst of late breaking cancellation announcements, BroadwayWorld has an up to date calendar of show times, performances, and cancellations amidst a continually evolving situation with the latest COVID variant.
The Metropolitan Opera To Require Booster Shots for Staff and Audiences
Starting January 17th, the Met will require all audience members to show proof of having received a Booster shot to enter the Opera house. They are the first major performing arts venue to announce such a requirement.
The Public Theater Now Requires Proof of Vaccination and a Negative Test
Starting December 17th, The Public Theater is now requiring all patrons to not only show proof of vaccination in line with other live theatre venues, but to require patrons to show a negative COVID test before entering the venue. These changes are out of concern for the latest variant of COVID.
The Westcoast Black Theater Troupe - Live Theater and Community Outreach
Despite a myriad of challenges over the last two years - all stemming from the pandemic - the Sarasota based company has reopened in their new performance space, which they had tried to open right before the pandemic brought about the first round of shutdowns. Now reopened, Nate Jacobs, the Founder and Artistic Director continues to work to not only be a leader of his company, but within the community as a whole.
Writing for American Theatre, Jenna Clark Embrey discusses the need to reexamine the post-show talkback - starting with the structure itself, and why audiences seek out the talkback - is it to have a conversation about the show they just saw? Or is it about proximity to the artists? While talkbacks are typically scheduled with the best of intentions, much of the time they create an opportunity for great harm to be inflicted upon the artists of the show.
Emilie Kouatchou to Take Over Christine Full Time in January
Currently the Christine Alternate, she made history as the first Black actor to play the role on Broadway in October. This is her Broadway debut, and she will take over the role on January 26th - the 34th anniversary of the production on Broadway.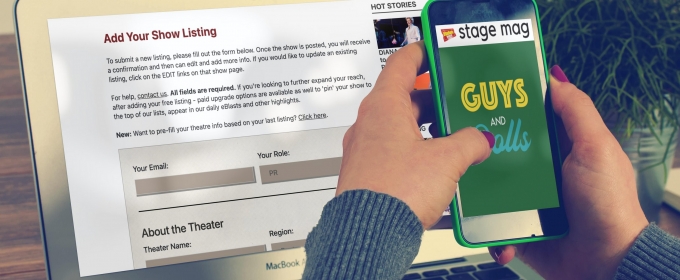 Turn A Listing into a Stage Mag - Automatically!
Now, when you build a listing on BroadwayWorld, the information that you enter will automatically be transferred into a free Stage Mag for you - saving you the time and effort of double entering information. Plus, when you enter information into your Stage Mag, that information will also automatically update on your Stage Mag.
Grants Lack Wage Requirements to Make Industry More Inclusive
A new study commissioned by Actors Equity Association found that the majority of grants do not require many of the elements that could lead to great equity and inclusion in the industry including wage requirements, DEI statements and KPIs, or demographic data of the community (and the ways that the company will work to reflect those demographics).
Add Your Show to our Regional Events Calendar
As audiences get set to return to in-person performances, and as your company works to market your own return to the stage, make sure you've got your upcoming shows in our regional events calendars. Listings are free of charge, with boosting options available. Get your show listed now!
BroadwayWorld Stage Mag - A Fully Interactive Show Program
The digital solution to your show program needs - want to see what's possible? Check out the Stage Mag's for off-Broadway's Blindness and for Next on Stage Season 3! Then start building your own at stagemag.broadwayworld.com.
Want more information about marketing options with BroadwayWorld? Request a media kit here and a member of our sales and marketing team will reach out promptly.