Review: STAGES Brings Politics to The Forefront in ROE
Now through March 4th, 2023.
Whoa! The literal words audience members exclaim after witnessing the powerful performances that are currently happening in Roe at STAGES. Houston's prolific theater, brings Lisa Loomer's play not only an important time but also does so with some of our city's brilliant actors.
Chronicling the history of Roe v. Wade is no easy task, and Loomer's play tackles its history by highlighting the two most important women in the story. Roe begins with a prologue that is specifically rewritten after the recent overturn of Roe V. Wade by the country's conservative Supreme Court. Spoken with gusto by the lawyer of the famous case, Sarah Weddington, Loomer discusses how the reversal may lead to the infringement of rights of other marginalized communities and how its impact will create issues for marginalized communities. After this rousing speech, audience members must buckle in because Loomer recalls the rivalry between Weddington and the infamous Roe, Norma McCorvey. Throughout the play, we see the "wild" Norma McCorvey and the studious Sarah Weddington as they would fatefully meet in a pizza parlor and begin the journey for the advocation of abortion rights. At the show's apex, their growing different views highlight the United States paradox on the subject of abortion. Whether it would be the eventual conservative views of Norma McCorvey or the feminist and liberal views of Sarah Weddington, at the center of it all Loomer wants audiences to remember that women's rights are at the forefront.
Since its reopening after the pandemic, STAGES has done a stellar job with its programming and casting. While Loomer's work is truly an ensemble piece, STAGES production of Roe has some spectacular performances given by three members of this production. First is Chaney Moore, who while playing several roles, plays best friend and fellow lawyer to Sarah Weddington, Linda Coffee. Moore does an exquisite job of portraying the woman's rights activist and easily melts into the comedic stylings of Loomer's Coffee. Second is Briana Resa, who after a star-turning role in Alley Theatre's What-A-Christmas portrays Norma McCorvey's partner, Connie Gonzalez, with so much emotion and effervescence. Resa continues to prove that she is one of the best actors in Houston in this role as she portrays the heartbreaking Gonzalez. Finally, the star of the production is Kelley Peters. It was such a delight to witness Peters in this role as I was often left breathless of her portrayal of Weddington. Recently, STAGES announcement of Peters portraying Patsy Cline next season is one I can't wait for.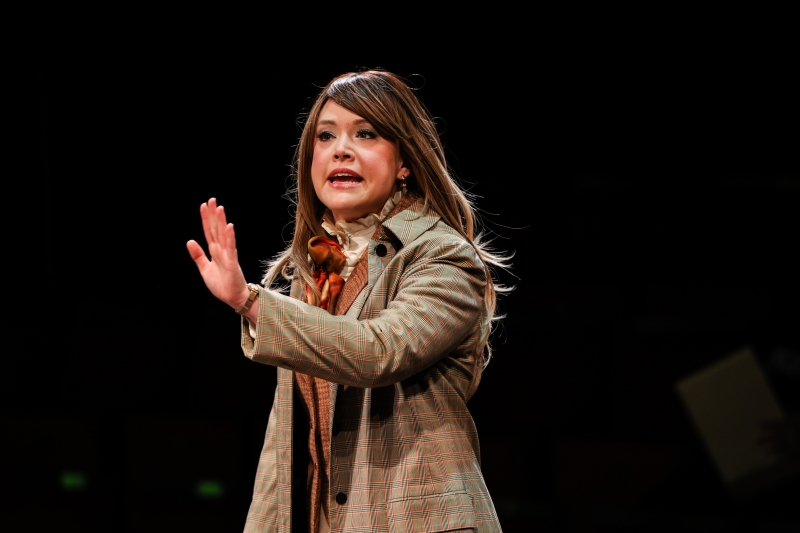 Design elements of the production are exceptionally well done. This all-female design team knocks it out of the park as their elements become characters. As usual, the scenic design of Afsaneh Aayani is phenomenal. Video design elements by Sarah Flores adds to Aayani's exceptional designs as they truly provide the historical realism Loomer's play calls for.
STAGES has been doing some amazing programming lately. As usual, their artistic merits are a cut above many Houston theaters, and I continuously applaud their remarkable direction of producing groundbreaking and phenomenal works. Here is to more "whoa" moments in the future from STAGES.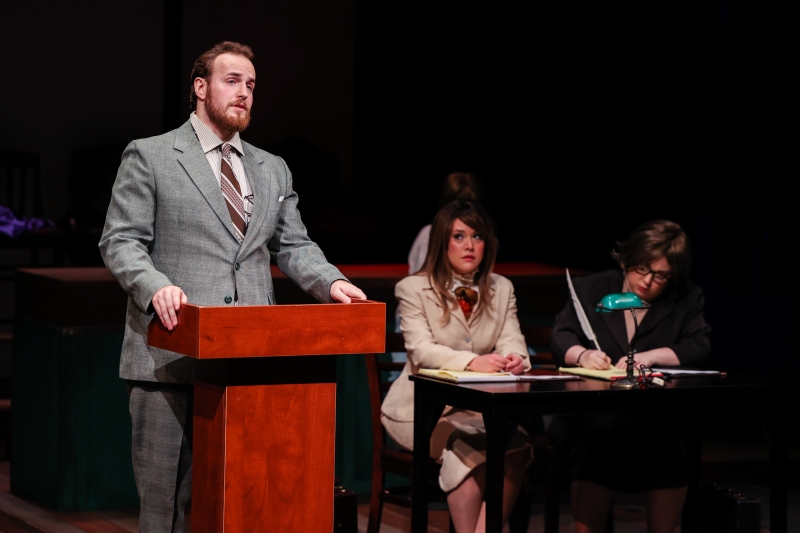 Roe by Lisa Loomer is running at STAGES until Sunday, March 5th. The final performances are Friday, March 3rd at 8:00 PM, Saturday and Sunday Matinees at 2:30 PM, and Saturday, March 4th at 8:00 PM. Tickets can be bought https://cloud.broadwayworld.com/rec/ticketclick.cfm?fromlink=2228416®id=77&articlelink=https%3A%2F%2Fstageshouston.com%2Fevent%2Froe%2F?utm_source=BWW2022&utm_medium=referral&utm_campaign=article&utm_content=bottombuybutton1 or at their box office 800 Rosine St. Their other groundbreaking production of Cullud Wattah is currently running and tickets can be bought at stageshouston.com.