Photo Flash: Alley Theater Presents A CHRISTMAS CAROL
Houston's seasonal favorite that the Houston Press described as having "Spectacular London sets ...the inimitable Dickens' tale - spiced with the usual fog and an unusual twist on the ghosts past, present and future." A Christmas Carol - A Ghost Story of Christmas returns this year with a re-telling of Charles Dickens' classic story, that follows Ebenezer Scrooge's journey with the three ghostly spirits that visit him on Christmas Eve. A Christmas Carol instills a powerful message about redemption and the spirit of the holiday season, through a dazzling production featuring a cast of more than 30 characters. Recommended for general audiences, children six and older.
This year, Alley Associate Director James Black directs this colorful, comical, and music-filled telling of Charles Dickens' "ghostly little book." Alley Theatre Artist Jeffrey Bean reprises his role as Ebenezer Scrooge and David Rainey assumes the roles of Mrs. Dilber and Jacob Marley. The Alley Theatre began producing an annual production of A Christmas Carol in 1988. Michael Wilson's adaptation is an imaginative re-telling of the classic story. In 1990, Wilson - in his first directing project for the Alley - adapted and directed a version of the story that became a national standout for its dancing apparitions and Wizard of Oz like storyline. Since its inception, the production has developed into a crowd-pleasing holiday favorite, delighting more than 33,000 individuals last holiday season. Dickens' classic tale is a heart-warming and bone-chilling story for audiences of all ages. Through encounters with ghosts - including his late business partner Jacob Marley - Scrooge learns what ill fate lies in store for him if he continues on his greedy and heartless course. An amazing story and an unforgettable theatrical experience, A Christmas Carol - A Ghost Story of Christmas fills audiences with warm sentiments of the holiday season.
In this production, the cast plays more than 30 characters. The cast features Jeffrey Bean as Ebenezer Scrooge, James Belcher as Bert/Spirit of Christmas Present, Elizabeth Bunch as Mrs. Fezziwig/Mrs. Cratchit, Dylan Godwin as Mr. Marvel, Paul Hope as Second Solicitor/Mr. Fezziwig, Chris Hutchison as Bob Cratchit, Charles Krohn as Undertaker/Old Joe, Julia Krohn as Mary Pidgeon/Spirit of Christmas Past, Emily Neves as Belle/Fred's Wife, Melissa Pritchett as Ghostly Apparition/Fred's Sister-in-Law, David Rainey as Mrs. Dilber/Jacob Marley, John Tyson as First Solicitor/Fiddler, among others.
A Christmas Carol - A Ghost Story of Christmas will feature Tony Award-winning scenic designer Tony Straiges (Alley's Who's Afraid of Virginia Woolf?) with costumes by Alejo Vietti (Alley's Alfred Hitchcock's The 39 Steps, Our Town, Rock 'n' Roll, Mauritius). Lighting is designed by Rui Rita (Alley's Alfred Hitchcock's The 39 Steps, Sherlock Holmes and the Crucifer of Blood, Eurydice, Cyrano de Bergerac), and original music composed by John Gromada (Alley's Our Town, Subject to Fits, Treasure Island, The Pillowman).
A Christmas Carol - A Ghost Story of Christmas, adapted and originally directed by Michael Wilson, from the story by Charles Dickens, directed by Alley Associate Director James Black, begins previews Friday, November 19, opens Saturday, November 20 and runs through Monday, December 27.
Charles Dickens
' novella, whose full title is A Christmas Carol in Prose, Being a Ghost Story of Christmas was published in 1843 to instant success, selling six thousand copies within its first week. Originally written as a quick money maker to enable Dickens to get out of debt, the tale of Ebenezer Scrooge and the three spirits that visit him on Christmas Eve has become one of the most popular and enduring Christmas stories of all time. The first stage adaptation of A Christmas Carol dates back to January of 1844 in London and movie adaptations of this story were filmed as early as 1910. A Christmas Carol is sponsored by Lead Sponsor ConocoPhillips and Supporting Sponsors Apache Corporation, Ernst & Young LLP and Latham & Watkins LLP. The
Alley Theatre
is supported by the 2010-2011 season sponsor Continental Airlines, the official airline of the
Alley Theatre
.
SPECIAL PERFORMANCES AND EVENTS
BIG SISTERS BIG BROTHERS $10 TIX
Saturday, November 20
The Alley Theatre continues its efforts to make the theatre affordable to patrons. Partnering with other social non-profit organizations, the Alley seeks to generate in-kind donations and reward patrons with $10 Tix for select performances. The $10 Tix are available in person only on Saturday, November 20 and are limited to two tickets per person. With your donation, you can purchase two $10 tickets to the Saturday, November 20, 2:30 PM performance. Donate and purchase in person at the box office (615 Texas Ave.) on Saturday, November 20th only. Limited availability. The $10 Tix partner for A Christmas Carol is Big Brothers Big Sisters. The date to donate and purchase is Saturday, November 20, beginning at noon. The donated item is games for children between the ages of 6 and14.
DECK THE TREES
November 20 - December 27
The Alley Theatre's Deck the Trees Celebration kicks-off with a Tree Lighting Ceremony on November 20. Trees will be on display until December 27.
CAPTIONED AND AUDIO DESCRIBED PERFORMANCE
Sunday, November 21, 7:00 PM
The Alley Theatre is pleased to offer open captioning and audio description for many of our productions throughout the season. To ensure that your seats will accommodate your needs, please call the box office 713.220.5700 when ordering tickets to this performance. Discounted tickets are available for groups of ten or more. Call 713.315.3346 for more information.
TICKET INFORMATION
Tickets to A Christmas Carol - A Ghost Story of Christmas start at $38. Performances of A Christmas Carol - A Ghost Story of Christmas are Tuesday through Saturday evenings at 7:30 PM, Sunday evenings at 7:00 PM and matinees at 2:30 PM. Discount family 4-packs are available for specific performances and seating locations. All tickets to A Christmas Carol - A Ghost Story of Christmas are available for purchase at www.alleytheatre.org, at the Alley Theatre Box Office, 615 Texas Avenue, or by calling 713.220.5700. Groups of 10 or more can receive special concierge services and select discounts by calling 713.315.3346. The added convenience of reservations by phone or Internet is available for a nominal fee. Tickets purchased in person at the Alley Theatre Box Office have a $1 building restoration fee.
Photo credit: Mike McCormick.


The Company in the Alley Theatre's A Christmas Carol – A Ghost Story of Christmas

Emily Neves and Andrew Love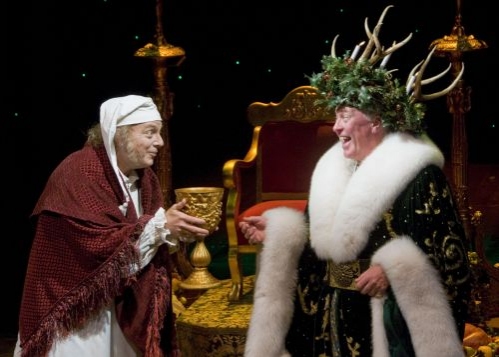 Jeffrey Bean and James Belcher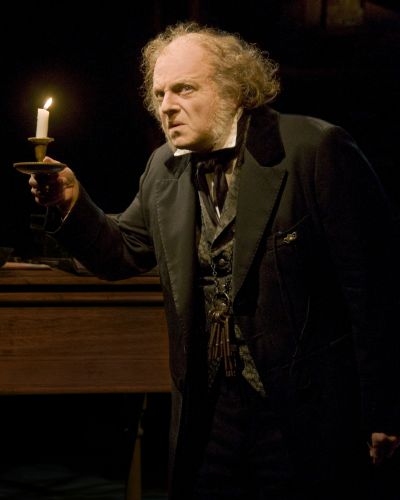 Jeffrey Bean

Julie Krohn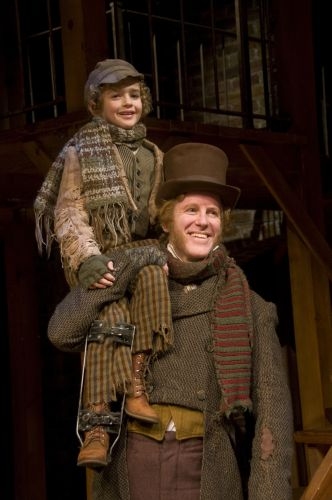 Chris Hutchison and Duncan Lambert