BWW Interview: From South Central to Zimbabwe: Dianne K. Webb Talks the Intercultural Play Reading Series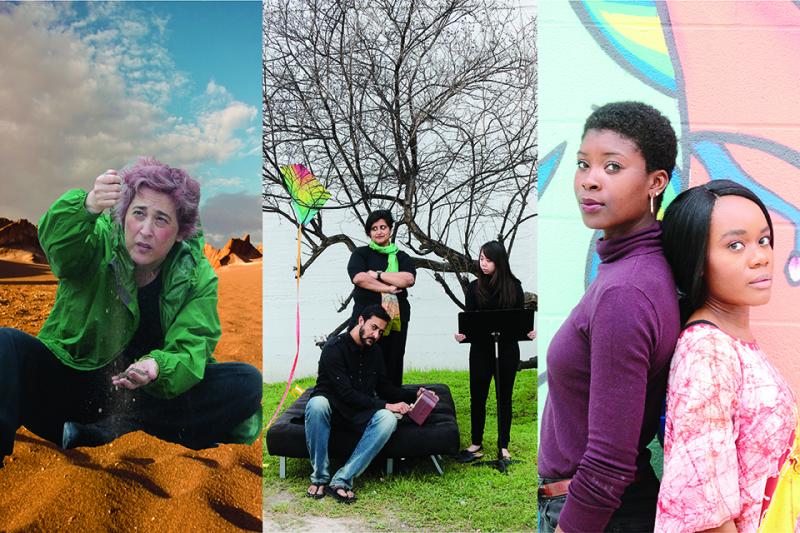 From the repercussions of a dirty war in the Chilean desert to a shared experience between two women a world apart and a post-colonial fantasy, the three works chosen for Next Iteration Theater Company's Intercultural Play Reading Series will take Houstonians around the world and into other people's shoes for the third straight year. Next Iteration's Artistic Director, and the director of all three staged readings, Dianne K. Webb joins us today to talk about the series, this year's playwrights, and plays that grab her.
---
Before we talk about this year's Intercultural Play Reading Series, can you give a little insight into the selection process and the goals of the series in general?
Dianne K. Webb: Great question. I read a lot of plays. I read plays all year long, looking for plays from a wide variety of authors and cultures to find plays that grab me, that allow actors space to dig in, even for a reading, that are well-written and that are new to Houston if not brand new.
When I created the Intercultural Play Reading Series it was to allow our brand new company, now ending its third season, to bring plays written by non-mainstream voices to the stage more quickly than we could if we had to produce them as full productions, which are much more expensive than readings. There are just so many plays I would like to produce. One step at a time.
When we spoke ahead of last year's series, you said, "I'm drawn to theater that has heavy themes or themes that give me a way into thinking more deeply about myself, about the world in which I live, about what I would rather have or what I like about this world or what I would change." How does this apply to this year's selections? What kind of themes can we expect to see explored?
Dianne K. Webb: This year the playwrights we are featuring - Danai Gurira and Nikkole Salter, Aditi Kapil, and Augusto Amador - have all written plays that make us laugh, cry, consider and reconsider ourselves for sure.
In Amador's ATACAMA we inhabit the period of time after the coup of the Pinochet regime, in the Chilean desert where the bodies of the "disappeared" were hidden before being finally dumped in the ocean. Amador weaves a story of loss, love, redemption through magical realism that is both chilling and surprising.
Aditi Kapil proves her prowess as a playwright once again in her play SHIV. Ever examining immigration, cultural assimilation and the effects of colonialism, and intergenerational understanding, her intelligent use of the form of the play creates a delightful, magical, funny and compelling tale that examines growth and humanness. Enjoyable and truly thought-provoking.
IN THE CONTINUUM, by Danai Gurira and Nikkole Salter, brings parallel stories from Los Angeles and Harare, Zimbabwe. In the U.S. and on the continent of Africa, black, cis-gendered, heterosexual women are the fastest growing group of people getting HIV. Gurira and Salter were both examining these circumstances in monologues which they eventually combined to create this award-winning play. The two characters, Nia and Abigail, on their separate continents, find themselves facing the life-changing news of their HIV status and in parallel try to come to terms with their new realities.
Augusto Amador's ATACAMA is the final play in his Latin-American Dictator Trilogy Series and, in an interview on the first play of the series, KISSING CHE, Amador stated he is "very obsessed with historical events and the impact on human lives that they exact, whether just or unjust." Can this be seen in ATACAMA?
Dianne K. Webb: Absolutely. One of the things that drew me to ATACAMA was how Amador was able to take such a gruesome and appalling time in Chilean history during and following the brutal regime change and death of Allende, and through two characters, Ignacia and Diego, offer us their struggles to come to terms with their own morality and humanity.
Interestingly, Aditi Kapil's SHIV is also part of a trilogy. This is also the second time a work by Kapil is being featured in the series (after last year's reading of AGNES UNDER THE BIG TOP). Specifically, what is it about Kapil's work, either in content or style, that has again caught your attention for the reading series?
Dianne K. Webb: Kapil's work is dense, and light and magical. I come back to her again and again when I feel dissatisfied by other works I am reading because inevitably her work captures so much more than the obvious. You can unpack her plays and keep finding more. Kapil hails from both a European and South Asian heritage, and in her work she captures, with great insight, the complexities for immigrants, and Americanized second generations, post-colonialism, and identity. Houston has so many people who can relate to her work, no matter what our heritage.
I saw that the Washington Post described IN THE CONTINUUM as "a pair of funny, compassionate solo shows rolled up into each other," and I remembered that you previously said you're always looking for plays with insight and humor. Did you see this in IN THE CONTINUUM?
Dianne K. Webb: Yes. Danai Gurira and Nikkole Salter, I think, without setting out to, created a play that works because there is so much empathy for the many characters played by the two actors. We know them all, recognize the archetypes, and without becoming preachy or pedantic the playwrights bring to light the very real lives of black women living and dying with HIV. That is accomplished, I think, because of their love from where they each come from - L.A. and Harare, Zimbabwe - and their ability to empathize with the humanity of these women who are ultimately in search of survival.
Next Iteration Theater Company's 3rd Annual Intercultural Play Reading Series will run April 5-7 at The MATCH, 3400 Main Street. For tickets, please call 713-521-4533 or visit matchouston.org. Pay-what-you-can; suggested price of $10 per staged reading.