Wayne State University Brings World-Class Dance Training With Complexions Contemporary Ballet For 8th Annual Detroit Summer Intensive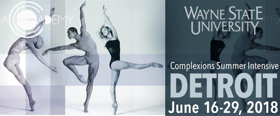 The Maggie Allesee Department of Theatre and Dance, part of the College of Fine, Performing and Communication Arts at Wayne State University, continues its commitment to excellence by providing the highest caliber of dance training with its Complexions Detroit Summer Intensive, June 16- 29, 2018.
Each summer, the Maggie Allesee Department of Theatre and Dance devotes itself to providing hundreds of dance students throughout Metro Detroit, and from around the nation, with a two-week dance training and performance opportunity not found anywhere else in the country. "It's critical to our mission that this level of dance training and professional preparation be provided to our dance majors and to our local and national dance community," said Director of Dance and Program Director
Meg Paul
. Students begin the intensive by attending the Complexions Contemporary Ballet performance held annually at the Music Hall Center for the Performing Arts. During the following two weeks, students train with Complexions' renowned artistic directors, Dwight Rhoden, whom the New York Times calls "one of the most sought out choreographers of the day," and
Desmond Richardson
, the first African-American principal dancer in the
American Ballet Theatre
. Working closely with current and former Complexions company members, students are immersed in many styles and learn the same choreography as the company's dancers, getting professional-level experience with Complexions' repertoire. Students return to the Music Hall for their student showcase and perform the rigorously beautiful and athletic Complexions repertoire alongside the company's faculty. There is no better way to learn, train and excel than directly with professionals of this caliber. This concentrated Complexions Contemporary Ballet Intensive instructs its students to achieve their full artistic potential with "NIQUE," the methodology exclusive to Complexions Contemporary Ballet. Students are exposed to the company's innovative approach to techniques designed to cultivate and develop strong, well-trained dancers who are educated to perform more skillfully, effectively and creatively while conditioning the mind, body and spirit to achieve maximum potential. The Complexions Detroit Summer Intensive takes place at Maggie Allesee Department of Theatre and Dance in Old Main,
4841 Cass Ave., Detroit, MI 48202
, on the Wayne State University campus. Registration is open and no audition is required for admission. Housing is available to students traveling from outside of Detroit. A placement class is held at the beginning of the intensive. Participating students should have a minimum of 3 to 5 years of ballet training. Tuition for the Complexions Detroit Summer Intensive is $1,015 (not including fees). Parents and interested students may apply online at
www.theatreanddance.wayne.edu/dance/complexions.php
. A public student showcase will take place at the Music Hall Center for the Performing Arts
350 Madison Avenue, Detroit, MI 48226
on Friday, June 29 at 3:00 p.m. Tickets to the public performance are $10 for students and $20 for adults. Tickets may be purchased at the Music Hall on Friday, June 29 prior to the show. Tickets may also be purchased by calling the Complexions Detroit Summer Intensive office at 313-577-2143. For more information, visit
www.theatreanddance.wayne.edu/dance/complexions.php
, call 313-577-2143, or email
ComplexionsDSI@gmail.com
. Complexions was founded in 1994 by Master Choreographer Dwight Rhoden and the legendary
Desmond Richardson
with a singular approach to reinventing dance through a groundbreaking mix of methods, styles and cultures. Today, Complexions represents one of the most recognized and respected performing arts brands in the World. Having presented an entirely new and exciting vision of human movement on 5-continents, over 20-countries, to over 20-million television viewers and to well over 300,000 people in live audiences, Complexions is poised to continue its mission of bring unity to the world one dance at a time. Complexions has received numerous awards including The New York Times Critics' Choice Award. It has appeared throughout the US, including
The Joyce Theater
/NY, Lincoln Center/NY,
Brooklyn Academy Of Music
/NY,
Mahalia Jackson
Theater for the Performing Arts/New Orleans, Paramount Theatre/Seattle, The Music Center/Los Angeles, Winspear Opera House/Dallas, Cutler Majestic Theater/Boston, New Victory Theater/NY, and Music Hall/Detroit, The Bolshoi Theater, The Kremlin, The Mikhailovsky Theater, Melbourne Arts Center, and will make its debut at the Kennedy Center in 2017, as a part of Ballet Across America. ?The Company has appeared at major European dance festivals including Italy's Festival of Dance, the Isle De Dance Festival in Paris, the Maison De La Dance Festival in Lyon, the Holland Dance Festival, Steps International Dance Festival in Switzerland, ?ód? Biennale, Warsaw Ballet Festival, Kraków Spring Ballet Festival, the Dance Festival of Canary Islands/Spain, and the Festival des Arts de Saint-Sauveur/Canada. In addition, Complexions has toured extensively throughout the Baltic Regions, Korea, Brazil, Japan, Egypt, Israel, Russia, New Zealand, Bermuda, Serbia, Jamaica, and Australia. The company's foremost innovation is that dance should be about removing boundaries, not reinforcing them. Whether it be the limiting traditions of a single style, period, venue, or culture, Complexions transcends them all, creating an open, continually evolving form of dance that reflects the movement of our world-and all its constituent cultures-as an interrelated whole. In 2006, Complexions held their first Summer Intensive program, serving 80 students in its first year. The program has grown to multiple cities and serves over up to 600 students annually. Since 2009, a Winter Intensive was added to the roster, serving an additional 400 students, and CCB added its Pre- Professional Program in 2016. Complexions' artistic directors and company members teach master classes throughout the world, sharing the Complexions technique with dancers of all levels. Together, Rhoden and Richardson have created in Complexions an institution that embodies its historical moment, a sanctuary where those passionate about dance can celebrate its past while simultaneously building its future. In the 23 years since its inception, the company has born witness to a world that is becoming more fluid, more changeable, and more culturally interconnected than ever before-in other words, a world that is becoming more and more like Complexions itself. Wayne State University is one of the nation's pre-eminent public research universities in an urban setting. Through its multidisciplinary approach to research and education, and its ongoing collaboration with government, industry and other institutions, the university seeks to enhance economic growth and improve the quality of life in the city of Detroit, state of Michigan and throughout the world. For more information about research at Wayne State University, visit
http://research.wayne.edu/
.
More Hot Stories For You