Ringwald presents SANTALAND DIARIES and SEASON'S GREETINGS, 12/14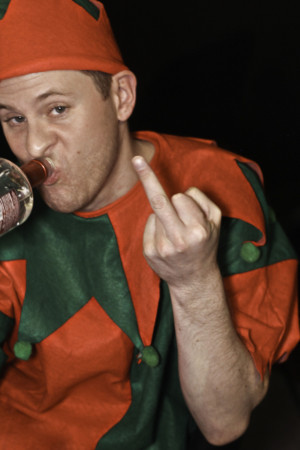 David Sedaris' delightful anti-holiday double feature The SantaLand Diaries & Season's Greetings makes its annual return to the Ringwald stage for another round of twisted Christmas fun. This year-our 11th annual production-Richard Payton takes over both roles for a limited five- show run.
For one week only, Ringwald fan favorite Richard Payton will be taking on both roles in Sedaris' classic messed-up monologues: the disgruntled department store elf Crumpet inSantaLand and the warm and welcoming matriarch Jocelyn Dunbar in Season's Greetings. This year's all-new production is directed by Dyan Bailey.
Performances will begin Thursday, December 14th and play through Monday, December 18th
Showtimes are Thursday, Friday, Saturday & Monday nights at 8:00 PM, with one Sunday matinee at 5:00PM
Tickets are $20 for Thursday, Friday & Saturday performances; Sunday matinees are $15, Monday nights-as always at the Ringwald-are $10
$5 Student Discount is available on Friday and Saturday performances, with valid student ID (Available at the box office on the day of the show)
Tickets can be purchased at www.TheRingwald.com or at the theatre box office. The Ringwald box office opens 45 minutes before performances and tickets can be purchased with cash or credit card. The Ringwald Theatre is located at 22742 Woodward Avenue in the Times Square of downtown Ferndale.
The Ringwald opened their on May 11, 2007 with Fatal Attraction: A Greek Tragedy. Quickly, The Ringwald became a mainstay of Detroit's theatre community. Past Productions include: Life Sucks, The Rocky Horror Show, Heathers The Musical, Hand to God, The Legend of Georgia McBride, Mr. Burns: a post-electric play, Glengarry Glen Ross, Stupid Fucking Bird, Angels in America, Into the Woods, A Streetcar Named Desire, August: Osage County, The Bad Seed, Making Porn, The Book of Liz, and Evil Dead: The Musical. The Ringwald was named 2009, 2012 and 2013 Best Theatrical Troupe by Real Detroit and Best Place to See Local Theatre in 2010, 2011 and 2012 by the readers of Metro Times.
THE SANTALAND DIARIES & SEASON'S GREETINGS CAST & CREW
Crumpet/Jocelyn Dunbar Richard Payton
Director & Stage Manager
Dyan Bailey
Assistant Director Nicole Pascaretta
Lighting Designer Brandy
Joe Plambeck
Set Designer Mike Suchyta
THE SANTALAND DIARIES & SEASON'S GREETINGS PERFORMANCE SCHEDULE
Thursday, December 14 8PM $20
Friday, December 15 8PM $20
Saturday, December 16 8PM $20
Sunday, December 17 5PM $15
Monday, December 18 8PM