Photos: Purple Rose Theatre Com Premieres CONSIDER THE OYSTER
The Purple Rose Theatre Company is proud to present the final World Premiere of the 20th anniversary season this summer: Consider the Oyster by David MacGregor. The production will enjoy a twelve-week engagement from Thursday, June 16 through Saturday, September 3, 2011. Seven low-price previews of Consider the Oyster will be performed from Thursday, June 16, through Thursday, June 23, with Press Opening on Friday, June 24, 2011. Regular performances for the duration of the engagement are Wednesdays through Saturdays at 8:00 pm with Wednesday and Saturday matinees at 3:00 pm and Sunday matinees at 2:00 pm. (Editor's Note: A complete performance schedule including pricing and added performance dates can be found on page 3.) All performances are held at The Purple Rose Theatre Company, 137 Park Street, Chelsea, Michigan 48118.
Consider the Oyster is a contemporary new comedy about what it means to love. During the celebration of a Detroit Lions Super Bowl victory, Gene Walsh impulsively proposes marriage to the love of his life. When she joyously accepts, he tumbles over the coffee table. This chance fall begins a hilarious cascade of startling twists that turn the happy couple's future upside down and inside out. Consider the Oyster contains strong language and adult themes.
 
Purple Rose artistic director Guy Sanville will direct Matthew David (Flint, MI), Stacie Hadgikosti (Roseville, MI), Sarab Kamoo (Lathrup Village, MI), Michael Brian Ogden (Berkley, MI) and Rhiannon Ragland (Flint, MI). (Editor's Note: Cast interviews and complete biographies are available by calling 734.433.7782).
 
Design for Consider the Oyster includes set by Dennis G. Crawley, properties by Danna Segrest, costumes by Sally L. Converse-Doucette, lighting by Reid G. Johnson and sound by Tom Whalen. Stephanie Buck stage manages.
 
Consider the Oyster is exclusively underwritten by The Mosaic Foundation (of R. & P. Heydon) and produced in media partnership with Michigan Radio.
 
Founded in 1991 by acclaimed actor and Chelsea-native Jeff Daniels, The Purple Rose Theatre Company is a leading American theatre dedicated to producing the new American play and creating opportunities for Midwest theatre professionals. The PRTC is a 501(c)(3) not-for-profit theatre operating under a Small Professional Theatre agreement with the Actors' Equity Association. The PRTC promotes the development of new American theatre and its practitioners, provides valuable educational opportunities for young artists, and through consistently high quality production values has earned the respect of both local and National Theatre communities.
 
Tickets are available by phone at 734.433.7673; Box Office hours are Monday through Friday from 10 am to 6 pm. Tickets are also available at www.purplerosetheatre.org.


Michael Brian Ogden and Stacie Hadgikosti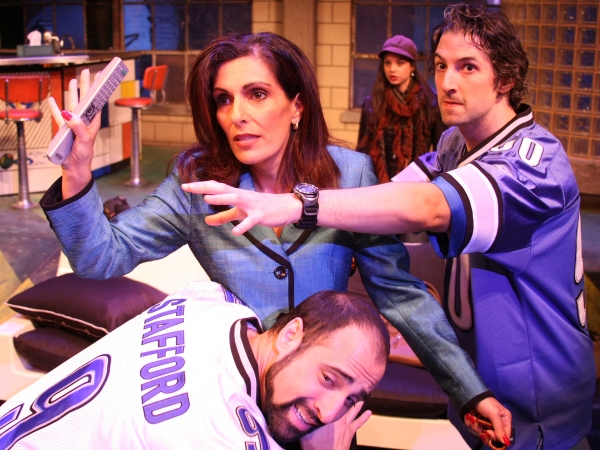 Matthew David, Sarab Kamoo, and Michael Brian Ogden

Matthew David and Michael Brian Ogden