BWW Review: Symphonic Return To Bid Farewell to John Varineau at An American in Paris!
The Symphony Returns to Live Shows!
I was fortunate enough to get to head down to DeVos Hall for the first live event I have been to there in over two years, the last being to see Charlie and the Chocolate Factory the week the tour was put on pause due to Covid. I was very excited to come back for a very special event, to not only hear a great concert but to help send off someone whom I've gotten to see quite a bit since starting BroadwayWorld Detroit back in 2018. Grand Rapids Symphony, Associate Conductor John Varineau, retired in May 2021. He was recognized at an outdoor event on August 1, 2021. This concert marked his farewell, where he lead the orchestra Grand Rapids Symphony Adult Chorus.
The 2020-21 season marked his 36th anniversary season as a conductor with the Grand Rapids Symphony and his 33rd as conductor of the Grand Rapids Youth Symphony and Classical Orchestra presented by Meijer. Additionally, he has conducted the Grand Rapids Symphony in performances with the Grand Rapids Ballet including the 2014 world premiere of a new version of Tchaikovsky's The Nutcracker, a production co-designed by Grand Rapids native Chris Van Allsburg, author and illustrator of The Polar Express.
Varineau's guest conducting appearances have included the Detroit Symphony Orchestra, the Indianapolis Symphony Orchestra, the Phoenix Symphony, the San Antonio Symphony, the Lansing Symphony Orchestra, the Kalamazoo Symphony Orchestra, the Arkansas Symphony Orchestra, the Duluth Superior Symphony Orchestra, and the Traverse City Symphony Orchestra as well as the Fort Wayne Philharmonic and Oklahoma City Philharmonic. He formerly served as music director of the Holland Symphony Orchestra.
For 38 years, he taught at the college level at Cornerstone University, Grand Rapids Community College, Aquinas College, and Grand Valley State University. Most recently, he was on the faculty at Calvin University where he conducted the college orchestra, taught academic courses and clarinet, and also conducted the Calvin Community Symphony. He is now retired from college teaching.
Committed to nurturing the next generation of classical music lovers, Varineau is a frequent visitor to area schools and shares an infectious enthusiasm with students throughout West Michigan.
A native of Laramie, Wyoming, Varineau attended Michigan State University and the University of Wyoming for his clarinet training and earned his master's degree at Yale School of Music. He has made three recordings with the Grand Rapids Symphony and three with the Royal Scottish National Orchestra.
With John being a clarinetist, the guest being Anthony McGill was a great way to say "farewell" to someone who has had such a positive impact on the Classical music scene in Grand Rapids and more!
We were so fortunate to hear the lovely title piece for the show, An American in Paris by George Gershwin, a cheery number with a strong rhythm and almost a blues sound to it. The next piece presented appropriately titled Concerto for Clarinet by William Bolcom, where our guest, Anthony McGill, shined though out Allegro, Cantabile, and Scherzo- Finale. This was an incredible piece as not only was he animated well he played, he was able to play for the full 23-minute duration of the piece!
Coming back after the intermission, Anthony wowed us once more with the same energy as the first number with Première Rhapsody for Clarinet & Orchestra by Claude Debussy, a piece with plenty of variation in its 8 minutes. It ranges from slow hushed melodies from the clarinet to quickened passionate tempos, along with a great built-up ending. Our final piece for the night was another multi-section piece Gloria written by Francis Poulenc. This contains six movements, which were accompanied by the Grand Rapids Symphony Chorus and special soprano guest Soloist Elena Villalón, whose beautiful opera-like voice was guiding the wonderful Chorus and Symphony through the full piece.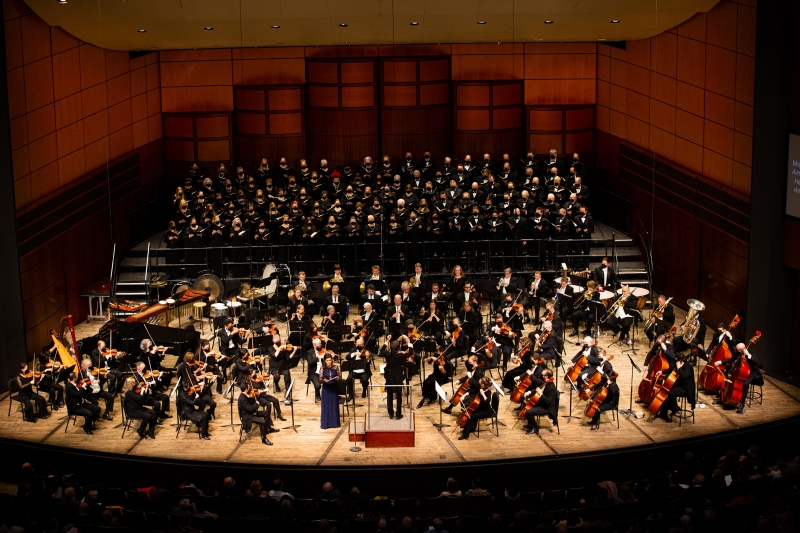 Coming up the Symphony has other great events such as: And The Award Goes To.... (Friday, Jan 21 - Saturday, Jan 22), New World Symphony (Friday, Feb 4 - Saturday, Feb 5), The Emperor: Beethoven's Piano Concertos (Friday, Mar 11 - Saturday, Mar 12). They also have a very special guest for an event that promises to be VERY popular coming to town following Broadway Grand Rapids engagement of Hamilton. Leslie Odom Jr. who originated the role of Aaron Burr in the Broadway cast will be joining Grand Rapids Symphony for Symphony With Soul, a one-night-only performance of Broadway, pop, and jazz hits.
To purchase tickets and for a complete list of shows go to: grsymphony.org/concerts-and-tickets.
Connect with Grand Rapids Symphony on Twitter at @grsymphony, on Facebook at facebook.com/grsymphony, and Instagram at instagram.com/grsymphony