TheaterWorks To Present THE HUNCHBACK OF NOTRE DAME This February
Local cast announced for this Final MainStage production of the 22-23 season.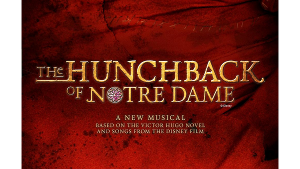 For the final MainStage production in the 2022-23 Season, Theater Works will present The Hunchback of Notre Dame from February 17- March 5 in Gyder Theater at Peoria Center for the Performing Arts, 10580 N. 83rd Drive. February 26 will be an ASL-accompanied performance.
From the Academy Award-winning team comes a lushly scored retelling of Victor Hugo's epic story of love, acceptance and what it means to be a hero.
Based on the Victor Hugo novel, with songs from the Disney animated feature, The Hunchback of Notre Dame showcases the film's Academy Award-nominated score, as well as new songs by Menken and Schwartz. Peter Parnell's new book embraces story theatre and features verbatim passages from Hugo's gothic novel. The musical begins as the bells of Notre Dame sound through the famed cathedral in fifteenth-century Paris. Quasimodo, the bell-ringer who longs to be "Out There," observes all of Paris reveling in the Feast of Fools. Held captive by his devious caretaker, the archdeacon Dom Claude Frollo, he escapes for the day and joins the boisterous crowd, only to be treated cruelly by all but the beautiful gypsy, Esmeralda. Quasimodo isn't the only one captivated by her free spirit, though- the handsome Captain Phoebus and Frollo are equally enthralled. As the three vie for her attention, Frollo embarks on a mission to destroy the gypsies- and it's up to Quasimodo to save them all.
This production is Directed by Chris Hamby with Music Direction by Lincoln Wright and Choreography by Paul Pedersen.
A sweeping score and powerful story make The Hunchback of Notre Dame an instant classic. Audiences will be swept away by the magic of this truly unforgettable musical.
The Hunchback of Notre Dame cast:
Dom Claude Frollo: Rob Watson
Quasimodo: Nicholas Gunnell
Clopin Trouillefou: Hector Coris
Phoebus De Martin: Austin Stuart
Esmeralda: Theresa Kellar
Congregant: Harrison Rosenberg
Congregant/Florika: Tawny Audi
Congregant/Madame: Jessica Wells
Congregant: Tenille Rivera
Congregant/Jehan: jack monson
Congregant/Frederic Charlus: Nick Gearing
Congregant/Father Dupin/St. Aphrodisius: Jonathan Landvick
Congregant/King Louis XI: Ryan Malikowski
Congregant: Lilliane Thelen
Congregant: Kori Stearns
Congregant: Marielle Tepe
Congregant/Official: Andrew Dell
Congregant: Pearl Guerriere
Congregant: Emily Andersen
Choir: Brady Anderson, Shane Aycock, Deatra Branston, Jairyn Bullinger, Todd Corbeil, Rhiannon Cummings, Cody DeLisa, Naya Dell, Shawn Emmerson, Wardeh Rose Hanna, Brenna Keck, Bela Margolies, Kristin Moran, Michael Potter, Kathryn Smithyman, Thylma StaMaria, Emma Torres, Shelly Trujillo
Tickets are $40-48 and are available at the Peoria Center for the Performing Arts Box Office or online at boxoffice@theaterworks.org. The Peoria Arts Commission and the Constance W. McMillin Trust of Sun City are the production sponsors.
For more information about Theater Works, visit www.theaterworks.org. For ticket information, call the Box Office at 623-815-7930. For ADA seating, call the box office-