The Firehouse Theatre Presents Monty Python's SPAMALOT!
Monty Python's SPAMALOT makes for an entertaining and unforgettable live theatre experience that will leave you in stitches!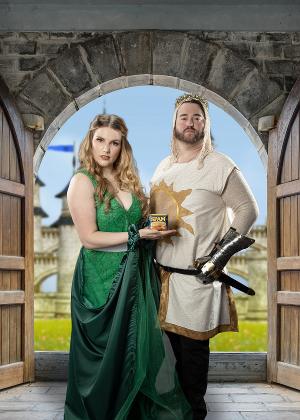 The Firehouse Theatre has announced the cast and creative team of their upcoming production of Monty Python's SPAMALOT. Inspired by the 1975 film "Monty Python and the Holy Grail", this Tony Award-winning musical follows the legendary King Arthur and his band of misfit knights as they journey throughout England on a quest to seek the Holy Grail.
Featuring wacky hi-jinks, high-energy dance numbers, and hit songs such as "Find Your Grail," "Always Look On the Bright Side of Life," and "You Won't Succeed On Broadway," the side-splitting Monty Python's SPAMALOT makes for an entertaining and unforgettable live theatre experience that will leave you in stitches!
When asked what drew him to this production, Director Alex S. Freeman stated, "At a time when there is so much tension, and fear, and dark emotion in the world, the opportunity to work on something that is pure silliness was a can't miss opportunity for me as a director."
Tickets to SPAMALOT, running at The Firehouse Theatre from February 3-19, are $32 for adults and $28 for students, seniors, educators, and first responders. Saturday matinee performances are $28. Walk-up Rush Tickets are available 30 minutes before Thursday performances and must be purchased in-person at the Box Office. Rush Tickets are $15 plus a $3 convenience fee and are subject to availability. There will be an Opening Night Champagne Reception on February 3 at 6:45 PM. Visit www.TheFirehouseTheatre.com for more information and to purchase tickets. The Firehouse Theatre is located at 2535 Valley View Lane in Farmers Branch.
Lovingly ripped off from the classic film comedy "Monty Python and the Holy Grail", Monty Python's SPAMALOT retells the legend of King Arthur and his Knights of the Round Table, and features a bevy of beautiful show girls, not to mention cows, killer rabbits, and flatulent French people. The 2005 Broadway production won three Tony Awards, including Best Musical, and was followed by two successful West End runs. The outrageous, uproarious, and gloriously entertaining story of King Arthur and the Lady of the Lake will delight audiences as they search for the Holy Grail and "always look on the bright side of life."
Monty Python's SPAMALOT

Rated PG-13
Book & Lyrics by Eric Idle
Music by John Du Prez & Eric Idle
February 3-19, 2023
Creative Team:
Director - Alex S. Freeman
Choreographer - Kelsey Jordan Ward
Music Director - Titus Kautz
Stage Manager - Hannah Tolle
Scenic Designer - Patrick Ulrich
Costume Designer - Dayna Dutton
Lighting Designer - Gabe Coleman
Sound Designer - Dylan Hearn
Props Designer - Sam Bell
Cast:
King Arthur - Grant Hollowell
Sir Robin - John Wenzel
Sir Galahad - Adam Seirafi
Sir Lancelot - Preston Isham
Sir Bedevere - Jason Philip Solís
The Lady of the Lake - Sara Williams
Patsy - Charles Barry
Historian/Not Dead Fred/Minstrel/Herbert - Nicholas Haas
Ensemble - Emily Dye, Kynzi Gumm, Lucas Haupert, Alexandru Istrate, Lisette Sandoval Perez, Daniel Vanegas, Ally Varitek, Herbert Welch
The Firehouse Theatre is committed to cultivating a creative environment that is inclusive of all peoples, honoring of cultures and communities, diverse across various layers of the organization, equitable in matters of policy and practice, intentional and thoughtful about building cultural competence, demonstrating our values through our actions and behaviors and supportive of our local community.