NTX Theatre Seeks Underrepresented Talent For Acting Competition, Offering Over Ten Thousand Dollars In Cash Prizes
From these submissions, 10 Texas-based MENASA actors will compete in the first annual SparkFest acting competition.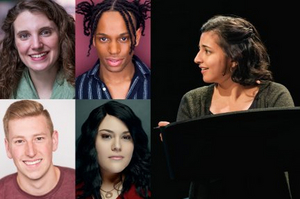 Amphibian Stage has now opened the call for submissions for a Texas-wide acting competition. From these submissions, 10 Texas-based MENASA actors will compete in the first annual SparkFest acting competition (June 8-10), including cash prizes for the top 3 competitors. Artistic Director Kathleen Culebro explains what inspired this year's focus.
"For years I've dreamed of hosting an acting competition that would not only reward actors for their years of training and experience, but that would also allow audiences to see the brightest Texas talent. There is a perceived absence of MENASA talent in the area, and this further limits the opportunities available to them. By showcasing them, we hope to introduce artistic leaders to more actors and thus encourage all of us to include their stories in our seasons." The entirety of the two week festival will center talents from the MENASA community.
Finalists will be announced on April 3rd. Those residing 50+ miles away from Amphibian Stage will receive travel compensation. Actors invited to compete in person will be asked to perform monologues, scenes, and "cold readings" (when an actor has very little time to prepare material). The 1st Place winner will receive $5000; the 2nd place finalist will receive $4000; the 3rd place finalist will receive $3000; audience favorite will receive $1000.
Finalists will be judged by influential figures in the performing arts industry from outside of Texas. The judging panel is made up of Taylor Blackman, Spencer Gualdoni, Kate Moore Heaney, and Sharifa Yasmin.
Taylor Blackman is an actor, writer, producer, director, and professor based in Brooklyn, NY, having recently finished the first National Tour of Tina: The Tina Turner Musical. Taylor can also be seen on Comedy Central's "Alternatino" and CBS" FBI". He holds a professorship with the New School.
Spencer Gualdoni is an Associate Casting Director with Tara Rubin Casting. His work spans across Broadway and National Tours, including Bandstand, Ain't Too Proud: The Life and Times of the Temptations, Trevor, Jersey Boys, Les Misérables, The Who's Tommy, MAMMA MIA!, and Sing Street, to name a few.
Kate Moore Heaney is a theatre director, producer, and dramaturg. As an arts leader, she holds positions at Long Wharf Theatre, Noor Theatre, and the Middle Eastern and North African Theater Makers Alliance (MENATMA).
Sharifa Yasmin is a trans Egyptian-American director, actor, playwright, and intimacy coordinator. Sharifa's play, Close to Home, was developed in the first SparkFest in 2021. She has completed directing fellowships with The Drama League, Actors Theatre of Louisville, Manhattan Theatre Club, Geva Theatre, and was a Eugene O'Neill national directing fellow.
For more details about how to submit your materials for the acting competition, visit this link. SparkFest is not the only time MENASA talent will be highlighted in Fort Worth this year. This Spring, Amphibian Stage will present Denmo Ibrahim's Baba (April 21 - May 7) as the second Main-Stage show in their 2023 season.
Baba chronicles the tender, funny, and complex relationship between a newly-immigrated father and his US-born daughter. Freedom and family collide when Mohammad's search for the American dream leads Layla on a quest home to Egypt thirty years after the story begins. This production features actress Savannah Yasmine Elayyach and costume designer Shahrzad Mazaheri, two DFW-based MENASA theatre-artists.