CONFESSIONS OF THE SLAVE NAT TURNER Comes to Addison Theatre Center This Month
Performances run from February 16 through February 26, 2023.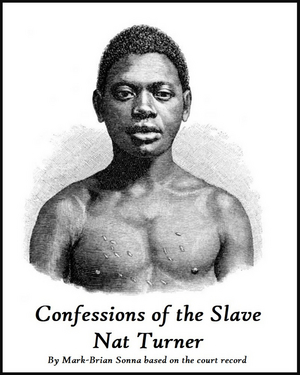 MBS Productions presents the world premiere of the play "Confessions of the Slave Nat Turner." The play will be presented at the Addison Theatre Center, 15650 Addison Road, Addison TX 75001 from February 16 through February 26, 2023. Tickets can be purchased online at www.MBSProductions.info or via phone at 214-477-4942.

"Confessions of the Slave Nat Turner" chronicles the trial and sentencing of Nat Turner. Nat Turner was the slave responsible for the first rebellion against white slaveholders that took place August 21-23, 1831. Based on the court record of the trial and his confession taken by Thomas Gray while Turner was jailed, the play details Turner's inspiration, planning, and harrowing story in his quest for freedom. Slave Songs from the era are incorporated into the narrative.

The play will be a World Premiere and stars Steven Singleton II as Nat Turner, Willetta Marie Davis as the Spirit Woman, with voice over performances by Mike Hathaway as Mr. Gray, and Richard S. Blake as The Magistrate. The play was created and conceived by Mark-Brian Sonna who directs the play and serves as music director along with his assistant director Sarah Nichole Thompson. After each performance there will be a discussion and Q & A with cast and crew for any audience members who wish to participate.

"What makes this play unique is that I used Nat's own words in the script," commented Mr. Sonna. "The play provides much psychological insight into his state of mind. He explains in detail and quite vividly the visions he had that inspired the rebellion. Because of this I created the character of the Spirit Woman. Is she a hallucination, a spirit, or an angel? We will never know, except that Nat credits these recurring visions as his motivation to free all slaves. Because he quotes this vision in his confession, for theatrical purposes I created the Spirit Woman character to speak the words so the audience can better comprehend his initial fear of the apparition to be followed by his motivation to fulfill her dictates to fight for freedom."

Songs from the era are also incorporated in the play. Mr. Sonna explains the addition of Slave Songs and Spirituals into the performance: "Initially Nat wanted his own freedom, but upon being baptized by the spirit, his goal changed." The songs selected reflect in their lyrics the key moments in which Turner's ideology evolved. All are all sung acapella as would have been customary during his lifetime. "Most of the songs have not been experienced in over a century, and we are shining light on this music that was important during his life," said Sarah Nichole Thompson who serves as the Assistant Director and Assistant Musical Director.