BWW Review: THE LION KING at DALLAS SUMMER MUSICALS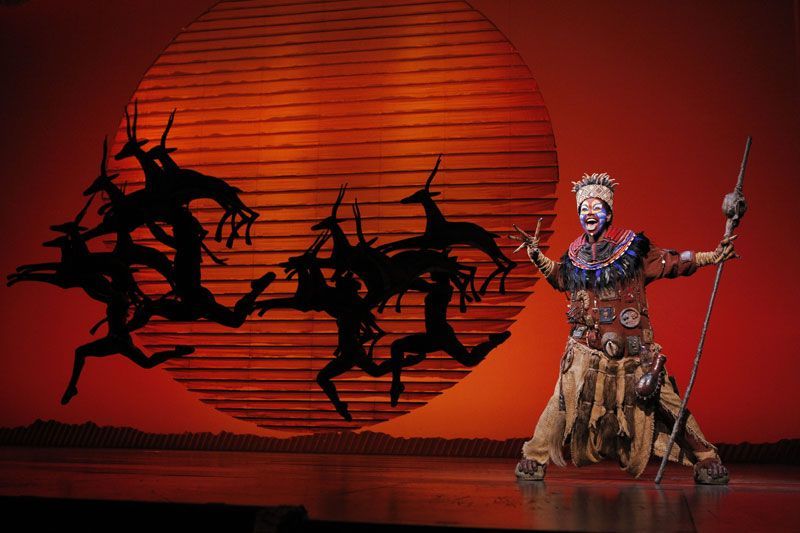 Everyone knows and loved the story of Disney's THE LION KING, with more than 19 million fans catching the touring production on the stage...not to mention the famous Broadway production and award-winning film. Having already played more than 70 cities across North America, THE LION KING now proudly makes its return engagement to the Music Hall at Fair Park. And there's never been a better time to "feel the love" than tonight!
On the eagerly anticipated opening night at Fair Park, the audience applauded gleefully as the curtain rose and we began our journey through the African Pride Lands. Intricately designed animals made their way through the audience to the stage: cheetahs, antelope, a large agile elephant and an array of wild, imaginative creatures! Each animal was craftily moved by performers whose every step perfectly represented the animals onstage and made you forget that they were only puppets! In the first number alone, the Cheetah, played by Sasha Caicedo, caught my eye. Caicedo had such ease with her cheetah counterpart and prowled with such agility and power. Birds manipulated by performers were flying high above the audience giving you the sense that you were transported into a new world. It's apparent from the beginning that every blade of grass along with every animal in the Pride Lands is involved in Simba's story.
Each time Rafiki (Mukelisiwe Goba) stepped onstage it was like an old friend was saying hello. Her commanding yet gentle presence left you feeling safe and full of joy. Being able to hear the "Circle of Life" so beautifully sung by Goba and THE LION KING ensemble was worth the ticket price alone. Gerald Ramsey commandeered the stage as Mufasa with an authoritative and loving portrayal, perfectly balancing the struggle between being King and being a loving father. Ramsey's heartfelt devotion to Simba was apparent through Mufasa's vocal power and tenderness. Kimber Sprawl's Sarabi was the perfect queen to Ramsey's King of the Pride Lands: fierce and loyal to the end Sprawl left her heart with Mufasa onstage.
As Zazu, Tony Freeman was arguably one of the best parts of the show. Freeman was quick and witty with not only his delivery but with his bird-like mannerisms as well. Side eyes and ruffled feathers were not missed on Freeman. Every moment he was onstage he gave the old Zazu charm we all know and love. One of my favorite moments that I wasn't sure would translate from screen to stage was "Timon's Distraction". Watching Timon, played by Nick Cordileone, bust out his best hula dancing left the audience in an uproar of laughter. Cordileone's Timon and Ben Lipitz' Pumbaa was a hilarious duo from beginning to end.
Jared Dixon's Simba was so gratifying to watch. Simba grows up from a young cub who believes to be the cause of his father's death to becoming the rightful King of the Pride Lands. Dixon's energy was magnetic and playful as he showed us all the best and worst parts of Simba. The moment during Hakuna Matata where the audience watches Young Simba transform into his older counterpart was breathtaking. Dixon leaped onto the stage like a flash of lightning and it was hard to take your eyes off of him after that!
Costumes designed by Julie Taylor were vibrant and colorful. The attention to costume fluidity for movement was taken into every animal design. From the hyenas' jumpsuits to the way Scar's pants made him look to have lion haunches performers were always reminded of their animalistic tendencies. Despite the multitudes of browns and yellows in the production, it seemed like the stage was always alive with color. Each animal had its own distinct pattern, which created a colorful tapestry when combined all together onstage. Masks worn by several performers were each unique to their character; lions and lionesses had large manes to play with while the hyenas had flouncing tongues and jawlines.
Overall, Disney's THE LION KING was a fun-filled family event with characters that we all know and love. Let Rafiki show you around The Tree of Life and the Pride Lands as you forget your worries for the rest of your days.
THE LION KING at the Music Hall of Fair Park runs until Saturday, July 7, presented by Dallas Summer Musicals and Broadway Across America. Tickets are currently on sale at DallasSummerMusicals.org or by calling Ticketmaster at (866) 870-2717.
Related Articles View More Dallas

Stories

Shows
Lorens Portalatin is a bionic go-getter with a passion for the arts. She is a native Puerto Rican island girl who has made her home (read more...)